Jeep Wrangler Rubicon 392 Hardtop - Photo Journal and Back Roads Review
The Jeep Wrangler Rubicon 392 is perhaps the world's most capable off-road SUV. It is also one of the fastest and best equipped. We took the Wrangler Rubicon 392 to the backwoods, byways, and mountain roads of rural New England to experience first-hand how well the Rubicon 392 Hardtop trim behaves when it is not rock crawling or mud whomping. What we discovered is that the Wrangler Rubicon 392 is a fantastic vehicle for rural mountain driving.
Related Story: Review: Jeep Wrangler Unlimited Rubicon 4Xe - PHEV For The Win
Having tested some soft-top Jeeps we wondered if the hard-top would be quieter. To our subjective ears, it seems to be. Even the performance exhaust volume is less intrusive in the cabin. Wind noise at lower than highway speeds is insignificant, and the tire hum is also a bit more muted than we remember. Jeep does a great job with background noise in all of its vehicles, and the Wrangler Rubicon 392 is no exception. Helping the cause is an outstanding sound system. As any open-top vehicle owner knows, a great sound system is a big benefit.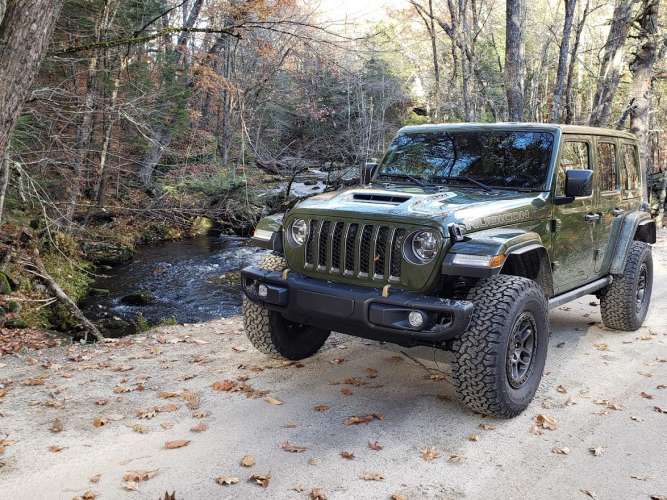 Driving Impressions
You need to steer the Wrangler Rubicon 392 in any of its configurations. The slightly taller 392 is no different. We like to steer, so corrections are not negative. Just an observation. The Wrangler Rubicon 392 has massive off-road tires, but they actually work very well on-road. Particularly dirt roads. Washboard areas and areas with large bumps and rocks are smoothed out nicely, even if you don't air-down a bit.
The Wrangler Rubicon 392's V8 engine never gets old. Merge from a side road onto a state highway with a 55 MPH speed limit and you go from a stop to that limit in under 4 seconds. That's fast in anything. In a large SUV, it's thrilling.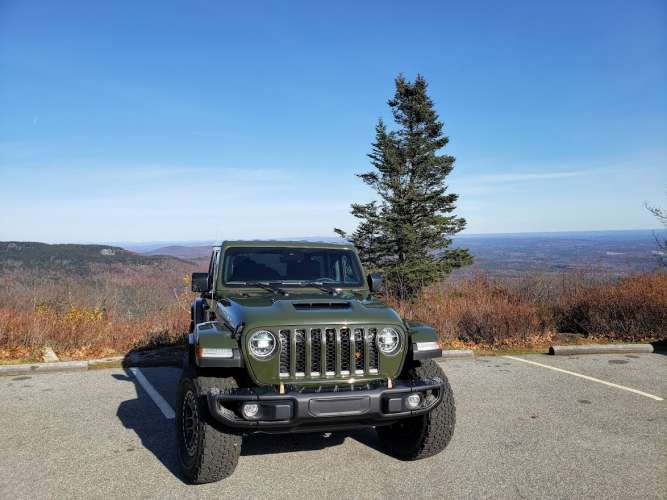 Enthusiast and EV publications like to point out that engines without turbochargers or superchargers lose performance as elevation changes. To test this widely-held belief, we took the Rubicon up one of the steepest grades in the area of Southern New Hampshire, the Pack Monadnock auto road. The elevation change is about 2,000 from top to bottom. We started out at the bottom with the 470 hp the V8 provides and took note. Up we went, using the paddles to keep the engine from shifting to a more fuel-efficient (and less fun) gear. While not scientific, we can report that when you start out with about 300 more hp than you really need to get the job done, the vehicle still feels the same at the very top of a climb. Those enthusiasts must be testing vehicles differently than we do, or starting with lesser models.
Heading down Pack Monadnock, we opted to use engine braking pretty much the entire drive. The Jeep's geared transmission and paddle shifters provide a satisfying way to control engine speed, and even on the steepest sections we never really needed the friction brakes.
Wrangler Rubicon 392 - Conclusion
We find Jeep's Wrangler line to be a fantastic adventure vehicle. Each one is more capable off-road than all but a handful of other vehicles. What we like about the Wrangler Rubicon 392, in particular, is that it's a joy to drive on-road as well.
John Goreham is a long-time New England Motor Press Association member and recovering engineer. John's interest in EVs goes back to 1990 when he designed the thermal control system for an EV battery as part of an academic team. After earning his mechanical engineering degree, John completed a marketing program at Northeastern University and worked with automotive component manufacturers, in the semiconductor industry, and in biotech. In addition to Torque News, John's work has appeared in print in dozens of American news outlets and he provides reviews to many vehicle shopping sites. You can follow John on TikTok @ToknCars, on Twitter, and view his credentials at Linkedin
Re-Publication. If you wish to re-use this content, please contact Torque News for terms and conditions.