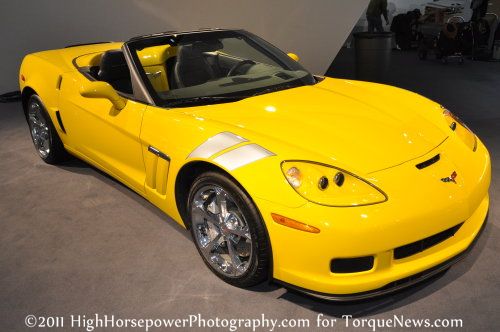 Win a 2012 Chevrolet Corvette Grand Sport Convertible from GM
The Ultimate Corvette Prize Package entitles the winner to an awesome new 2012 Chevrolet Corvette Grand Sport Convertible and a trip for 2 France to watch the 2012 24 Hours of LeMans Race, including 5 days and 4 nights in a swanky French hotel, airfare and "travel allowance"…which the fine print explains is $800 cash. The 2012 Grand Sport comes with a retail price of $62,715 and the trip has a price of $10,750 for a grand total value of the grand prize being worth almost $74,000.
Your shot at a 2012 Chevrolet Corvette Grand Sport Convertible (and a trip to France) requires very little to enter, as all you have to do is head to the contest website and answer three incredibly simple questions. The questions are all seemingly common sense but if you need a little help before answering the questions – with a little looking around on the website you can find the answers. Luckily, even if you get all three answers wrong you can still click ahead to fill out the entry form for a chance to win the Ultimate Corvette Prize Package.
The entry form itself is fairly straightforward, asking you for your name, address, phone number email address and date of birth. GM then does a little marketing work, asking you to tell them how long it will be before you expect to buy or lease a new vehicle along with asking for information on three new Chevrolet vehicles. GM will collect entries from now until June 30th with the winner of the 2012 Chevrolet Corvette Grand Sport Convertible and the trip to LeMans being announced on July 1st, 2011.
Click here to visit the Ultimate Corvette Prize Package entry page and good luck!
Other GM News:
Facebook comments negative on Chevy Cruze inflator replacing spare tire
Chevrolet Impala to get 302hp in 2012
GM to invest $109 million in Michigan engine facilities
GM CEO Akerson buys $939k in company stock
Paul Dehnert's 1994 Corvette ZR-1s sell at 2011 Mecum Indy
Source: GM's Twitter Feed
Please
SHARE
with friends and include TorqueNews in
Google Alerts
for tomorrow's interesting stories.