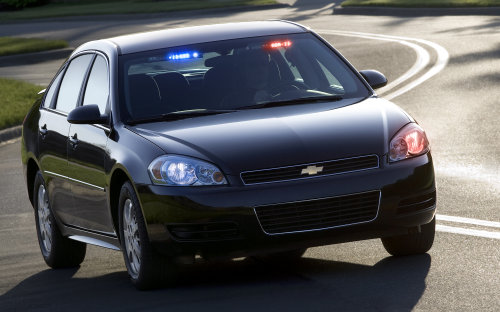 Chevrolet Impala to get 302hp in 2012
Please
SHARE
with friends and include TorqueNews in
Google Alerts
for tomorrow's interesting stories.
GM Inside News reports that the 2012 Chevrolet order guide explains that the new Impala will offer the 3.6L VVT V6 mated to a six speed automatic transmission. This engine is currently offered in the 2011 Buick LaCrosse but in the Buick, it is making just 280hp so an output of 302hp is a nice improvement over the current incarnation of that engine in other GM sedans. Also, 302hp is a massive step up from both the 3.5L and 3.9L V6 available in the 2011 Chevrolet Impala – making the Impala a more formidable opponent in the full sized sedan segment and a better police vehicle for those groups who don't opt for the new Caprice PPV.
The new engine and transmission options for the 2012 Chevrolet Impala are the main changes for next year; even though the full sized Chevy sedan has seen a real refresh since 2006. Many GM fans are hoping to see the Impala go after the Dodge Charger, which would mean the return of a rear wheel drive configuration and a big V8. GM has an amazing lineup of high performance V8 engines – now they just need that rear wheel drive layout. Rumors have been swirling that we could see the Pontiac G8/Holden Commodore return as a Chevrolet (possibly wearing the name Chevelle?) and that would satisfy the pleas for a RWD V8 sedan…but for the time being those are all just rumors. In the G8's short time in the US as a Pontiac, sales were light compared to those seen by the Dodge Charger.
The 2012 Buick LaCrosse is expected to get the same 3.6L V6 as the new Impala, although GMI did not verify whether it would offer the same 302hp as the Chevy. The current Buick LaCrosse, with 280hp, is very peppy so tacking another 22 horsepower under the hood of the flagship Buick could certainly up the ante against the likes of Lexus and Infiniti.
Other GM News:
GM to invest $109 million in Michigan engine facilities
GM CEO Akerson buys $939k in company stock
GM investing 2 billion in US plants, creating/preserving 4,000 jobs
GM leads all major automotive groups in April growth, sales
Camaro leads the Mustang, Challenger, 370Z in April 2011
GM recalls the 2011 Chevrolet Cruze for steering, trans issues
Image source: GM
Please
SHARE
with friends and include TorqueNews in
Google Alerts
for tomorrow's interesting stories.