The Ferrari LaFerrari was introduced to the world at the 2013 Geneva Motor Show and marked the dawn of a new era for Maranello as it embraced hybrid powertrains. Alongside the McLaren P1 and Porsche 918 Spyder, the LaFerrari rewrote the rulebook by using technology initially designed for efficiency to boost total performance. Ferrari's latest flagship featured a 789 horsepower V12 boosted by 161 electric ponies for a combined 949 horsepower. At the RM Sotheby's auction coming up on May 14th in Monte Carlo, Monaco, one lucky Ferrari collector with extremely deep pockets will be able to get their hands on a piece of history in the form of this early development test mule.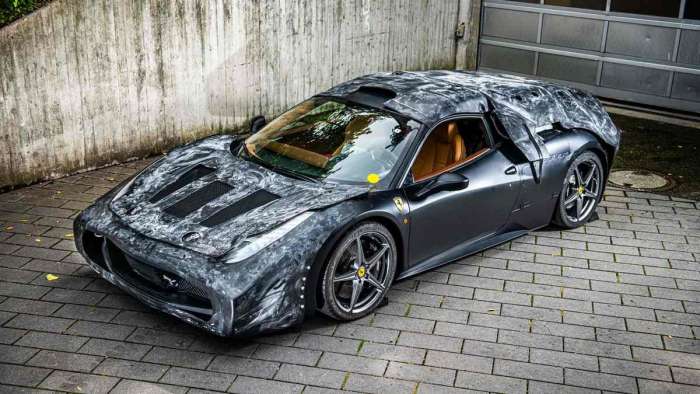 Among the arcane world of high-level Ferrari collectors, only the most loyal are offered the chance to purchase development mules. Once the testing's done, and possibly after some kind of blood sacrifice, Ferrari releases these rough-around-the-edges wonders out into the world. This example was first sold in July 2016 after a new matte black paint job and in-house tune-up, and now it's up for sale once again along with all the weird and wonderful bodywork additions that Ferrari used during the testing process.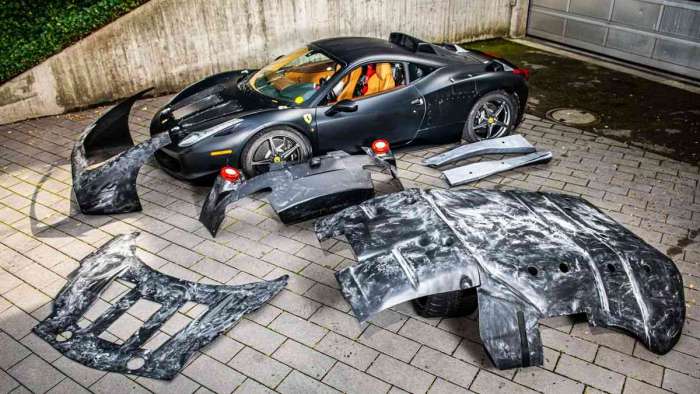 Under The Skin
Remove said additions and what you find underneath is a highly-modified version of the gorgeous 458 Italia. Known internally as M6, the prototype is an example of the first of three iterations of LaFerrari test mules with the second and third known as "Second Family Mulotipo" and "Third Family Preserie." The 458 had its aluminum chassis extensively modified to accept the prototype hybrid V12 powertrain, while production LaFerraris featured a full carbon tub produced in the same facility as the Scuderia's Formula 1 cars.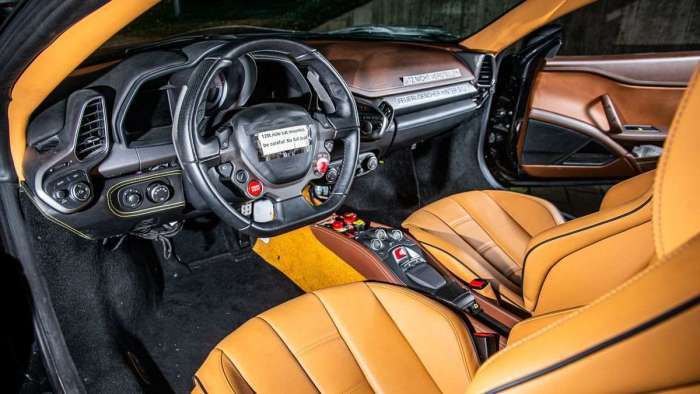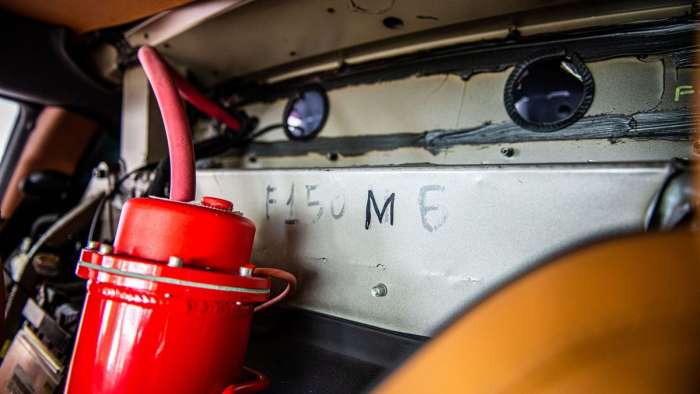 The interior features beautiful beige leather seating (do the Germans outfit their development cars so luxuriously?) with exposed structural metal behind the occupants, while hand-written marker notes can be found scrawled around the cabin. Printed-out notes from the engineers to the test drivers remain taped to the steering wheel and dash, and then we come to the engine bay which looks like it'd be more at home in the back of Doc Brown's DeLorean than anything with a Cavallino Rampante on its nose. Lacking all of the neatness and beauty we'd expect from a Ferrari engine bay, the M6's heart is a tangle of wiring and hoses with a "Not Street Legal" plaque in plain view in case you needed reminding. Knowing the kind of power that lurks beneath the mess gives a real mad science feel to the back of the M6 test mule, don't you think?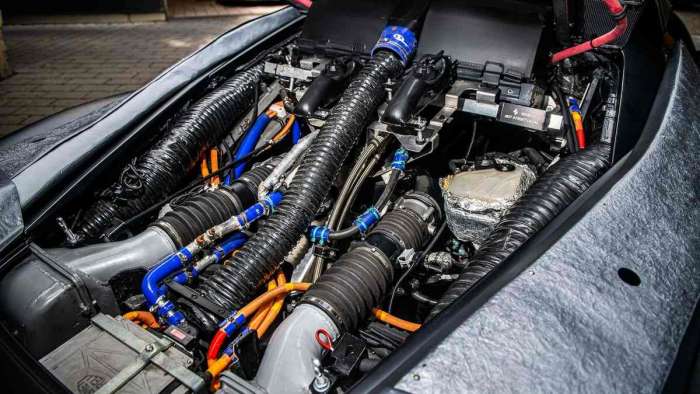 Other modifications include changes to the shock towers which allowed the engineers to tinker with weight distribution and the doors roughly cut into the 458's bodywork which provide access to the hybrid system's various components. Like something out of Mad Max, the 458's body has been modified with extra vents, matte black paint, exposed rivets, and science-y looking electrics galore. Used between May 2011 and December 2012, the test mule helped Ferrari's engineers to calibrate and test brakes, steering, suspension, stability control systems, and of course the prototype hybrid powertrain.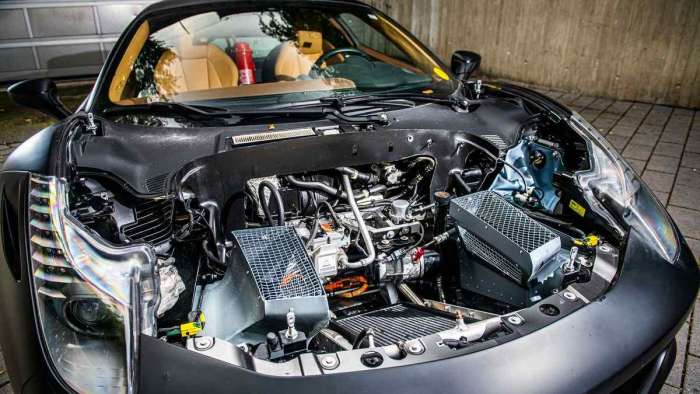 A Certified Classiche
The mule isn't homologated and therefore can't be registered for road use or raced on a public track, but it is fully functional and can be enjoyed on private land. Of major importance to anybody looking to spend at least six figures on a vehicle they can't drive in public is the Yellow Book supplied by Ferrari Classiche which comes with the car and proves its authenticity.
These books come in a few flavors, with most being hard-bound red examples given out after inspections, photographs and documents are submitted to Ferrari. Yellow Books are unique to LaFerraris, while Grey Books are reserved for the 350-car 70th anniversary production run. The holiest of the holy, so to speak, is the White Book, given to only the most unique and historically significant Ferraris like the one-of-a-kind 250 GT SWB Breadvan.
Related Story: One-Off Ferrari SP48 Unica Debuts With 3D-Printed Bodywork
Sticking with the historical theme, Sotheby's is presenting this LaFerrari test mule as a valuable piece to add to any Ferrari collection as it signifies the dawn of the hybrid hypercar era for the world's most famous car company.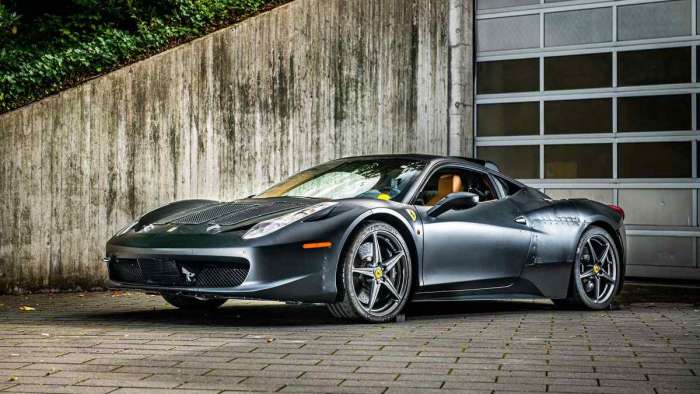 Mad Max 458?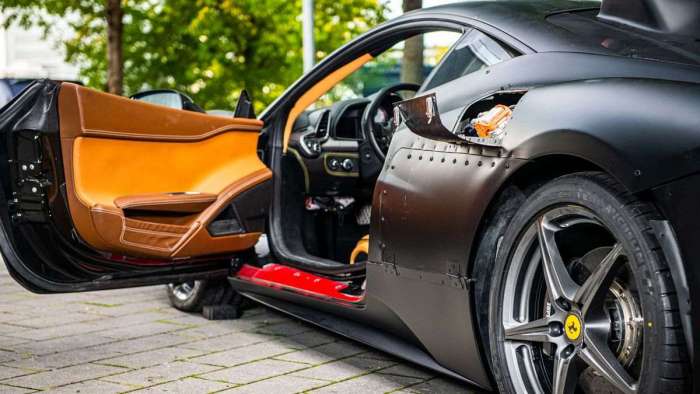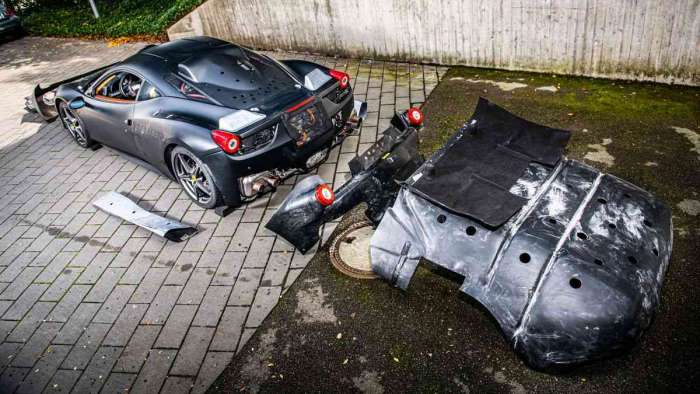 Related Story: Mercedes-Benz Rumored To Have Smashed Auction Record With $142 Million Sale
Images by Michael Jurtin/RM Sotheby's licensed by CC BY 2.0.
James Walker is an Automotive Journalist at Torque News focusing on Lucid Motors. If it's got wheels he's interested, and he's looking forward to seeing what kind of cars the EV revolution brings us. Whether it's fast, slow, new, or old, James wants to have a look around it and share it in print and on video, ideally with some twisty roads involved. You can connect with James on Twitter, Instagram, and LinkedIn.