2017 Chevy Bolt EV vs. 2021 Ford Mustang Mach E Select
In the days following the much-hyped unveil of the Ford Mustang Mach-E, the automaker has come under fire from many corners.
While plenty of positive reports have been written, Ford is being criticized for everything from copying Tesla - our reporter Eric Way disagrees - to betraying the Mustang brand with such a radical shift - again, a Torque News reporter, Patrick Rail, argues this is not the case.
With so many arguments raging about what the Ford Mustang Mach-E is and is not, I found myself comparing the new model to an electric car from Detroit that receives much less attention: our humble 2017 Chevy Bolt EV.
Chevy Bolt EV vs. Ford Mustang Mach-E: Why Even Make the Comparison?
This is a fair question, as the Mach-E is obviously a brand new electric vehicle and the Bolt EV's design is now some five years old.
Moreover, why compare the Ford Mustang Mach-E to an early version of the Bolt EV? Shouldn't we at least look to the 2020 model for a fair comparison? Well, perhaps, but this comparison is more compelling to me for two reasons:
The 2020 Chevy Bolt EV offers only minor changes to previous model years, so the basic design and value proposition are very similar to previous model years.
A comparison between the first affordable all-electric car to deliver more than 200 miles of range and a model that represents the next wave of EVs from legacy automakers should be illuminating.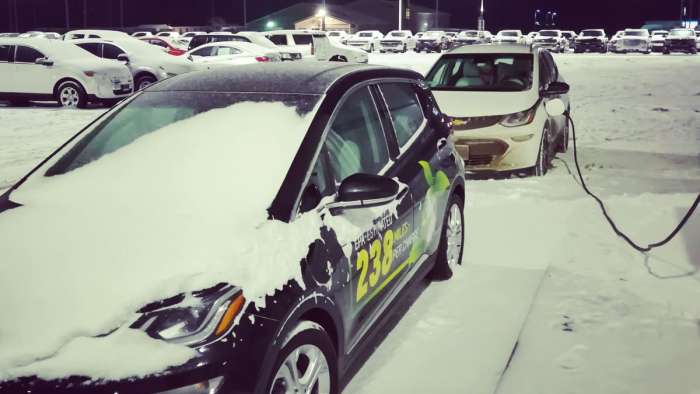 If I haven't convinced you that the comparison is valid, I completely understand. Framing the upcoming battle as the Mach-E vs. Tesla Model Y is undeniably sexier, but if you're interested in the Chevy Bolt EV and the progression of electric vehicles in general, let's dive in!
2017 Chevrolet Bolt EV LT vs. 2021 Ford Mustang Mach-E Select
There are plenty of specs to compare, so let's break them down into some of the categories that matter most to EV drivers: range, performance, price, and technology (including battery pack tech).
Note that for this comparison I'll only be looking at the entry-level Select trim of the Mach-E with standard range battery and RWD, as the Bolt EV has far fewer options and only one battery pack option. Select, then, is the most closely matched in terms of price and capability.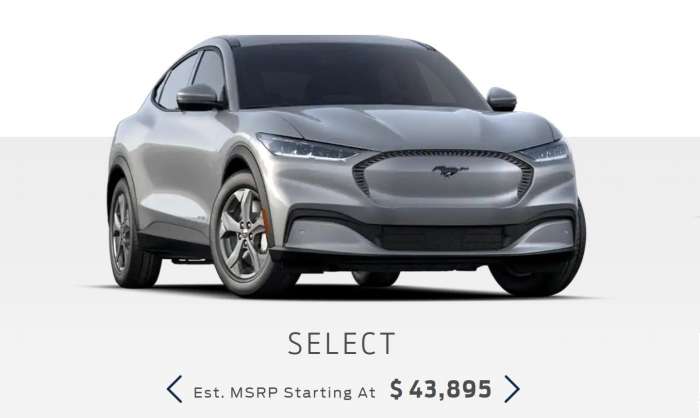 Range
On this front, the Chevy Bolt EV still comes out on top. The EPA estimated range of 238 miles puts the old Bolt ahead of the entry-level Mustang Mach E, which offers 230 miles, according to Ford's tests based on EPA methodology.
It's also important to note that the Bolt EV is a highly efficient vehicle in most conditions, which can push range as high as the 300-mile mark in some use cases. The Mach-E may well deliver on that front as well, but its estimated range is currently targeted rather than verified by EPA methodology, so we'll have to wait for real-world testing to find out.
The Mustang Mach-E Select also requires a 75.7kWh battery capacity to deliver that lower range, while the 2017 Chevy Bolt EV achieves its number with a 60kWh pack. Admittedly, with its bigger battery and larger form, the Mach-E will weigh significantly more than the Bolt. Nonetheless, in terms of average efficiency, the Bolt EV boasts 3.97 miles per kWh, while the Mach-E can only achieve 3.01 miles per kWh based on Ford's current projections.
If you're looking for a new EV that makes the most of its electrons at an entry-level price, the Chevy Bolt EV LT remains at the front of the pack.
Performance
With the Mustang name so controversially attached to the Mach-E, it should go without saying that the Ford has the Chevy beat in this category. A look at the specs, however, shows the gap isn't as wide as we might expect, at least for the entry-level trims.
The Ford Mustang Mach-E Select has a 0-60mph time in the low 6 seconds, for example. GM puts the Bolt EV in the mid 6 seconds range, which is near enough to make very little difference.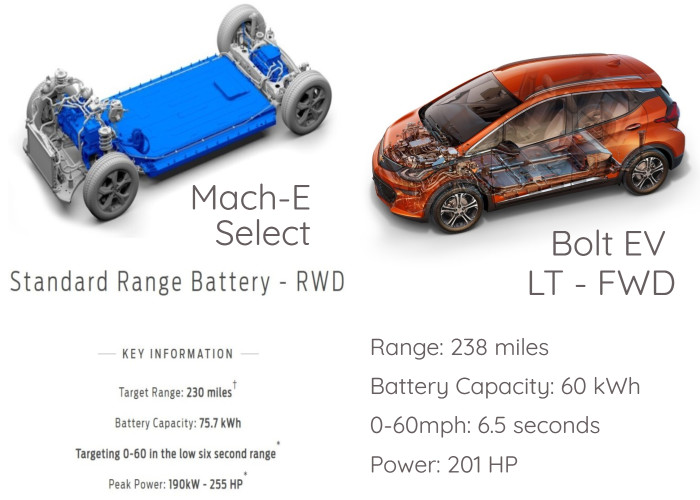 Similarly, the power of both vehicles isn't a whole lot different, with the Bolt EV capable of providing 150 kW and 200 HP, while Ford says the Mach-E Select will deliver 190 kW and 255 HP. The Mach-E has the edge in terms of power, but propelling its presumably heavier battery pack and vehicle form means it doesn't translate into significantly better acceleration.
What will certainly attract many buyers from a performance perspective is that the Mach-E is rear-wheel drive, while the Chevy Bolt EV is pushing its not insignificant power to the front wheels. That might help the Bolt EV on slippery roads, but the Mach-E should hold the edge in normal driving conditions.
Watch comparing the 2021 Ford Mustang Mach-E price with the Tesla Model 3, Audi E-Tron, Jaguar I-Pace and click to subscribe to Torque News Youtube channel for daily automotive news analysis.
Technology
This category is where the Ford should really offer a major upgrade over the Chevrolet. We haven't seen everything the Mustang Mach-E has to offer yet, but even at this early stage, it appears to check off most of the items that prospective Bolt EV buyers have been asking for since 2017.
Here are just a few of the features it has that the Chevy Bolt EV has yet to offer:
Adaptive Cruise Control (ACC)
Built-in Navigation System
Some level of autonomous driving, via Ford Co-Pilot 360 system
Route Mapping to EV Charging Stations
Learn more about Ford's Co-Pilot technology in the video below and subscribe to the Torque News Youtube Channel for daily automotive news and analysis.
While the Bolt EV's touch screen is larger than most current models and the driver information cluster is very well put together, it will begin to look dated as more EVs adopt the Tesla-led switch to substantial touch screens and semi-autonomous driving. Even the now-discontinued Chevy Volt offered ACC and its own navigation system.
To give the car credit where it's due, the Chevy Bolt has optional aids like the 360-degree parking camera, collision detection, and HD rearview mirror camera, all of which make things easier for the driver. The lack of basic tech that has been available since its inception is telling, however, and leaves GM with a lot to consider heading into a full refresh for the 2021 Chevy Bolt EV.
Price
Although we have to start from the MSRP, the final cost of both vehicles will vary depending on where you are and how much of the federal tax incentive you can claim. Ford can offer buyers the full $7,500 credit if the customer has enough tax liability to take advantage, while GM has only $1,875 to offer prospective Bolt EV buyers, after crossing the 200,000 EVs sold threshold late last year and triggering its phaseout.
Against that backdrop, the current model year of the Chevy Bolt EV LT has a similar MSRP to 2017, with the entry-level Bolt starting at $36,620. This has been the approximate starting price for the vehicle at this trim level since its launch and isn't expected to change significantly for the upgraded 2020 Bolt EV.
The Ford Mustang Mach-E Select is, unsurprisingly, more expensive to begin with. The base model comes with a starting MSRP of $43,895, which plummets to a much more accessible $36,395 for anyone willing to wait until the first half of 2021, when this trim level is slated to arrive.
On paper, and setting the delayed availability of the Mach-E aside for a second, both vehicles inhabit the same price range once incentives have been factored in. If you buy a new Chevy Bolt EV today, would it really be the same eventual cost as if you wait for Ford's next-generation EV?
In reality, the price of a new Chevy Bolt EV LT is much lower than its MSRP. Dealerships in New England, for example, have been offering deep discounts on the Bolt throughout 2019. Often, these discounts more than offset the lower federal tax credit, putting the starting price of a Bolt EV LT closer to $25,000.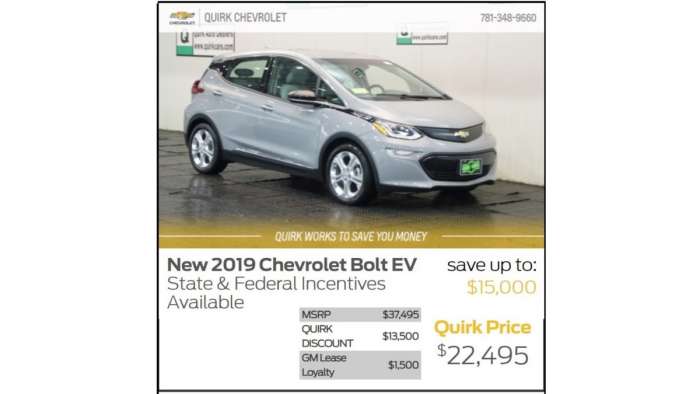 It's too early to speculate what kind of deals Ford will offer on the Mustang Mach-E, but discounts are not typically a feature of EVs when they're first released. Early reservation holders and limited production tend to combine to hold back supply, making it a sellers' market for the first 6-12 months of the vehicle's availability. Look no further than the paucity of Kia Niro EVs or Hyundai Kona Electrics on US roads - or the allegations of dealership price gouging on those models - for a current example of this.
Conclusion:
Although the Ford Mustang Mach-E Select edges the current version of the Chevy Bolt EV LT in most areas, it's not as huge a leap as one might expect given the five-year gap between their respective designs.
The Bolt still lays down a lot of power and speed for such an early contender, beating all but Tesla in the current generation of electric vehicles. It also offers better efficiency than new rivals like the Mach-E, albeit in a smaller form factor and with the Bolt EV weighing in some 800 lbs lighter.
Most importantly - and what I really wanted to demonstrate with this comparison - is how quickly electric vehicles are developing and what GM needs to do to rejoin the front of the EV pack.
In many ways, the Chevy Bolt EV still holds its own against both the current crop of electric vehicles and the next wave of competitors. Even without taking into account the range upgrade coming for the 2020 model year, the Bolt EV's 238 miles average and 300+ miles from a 60kWh pack in optimal conditions make it one of the most efficient EVs out there.
Where the Chevy Bolt EV falls down as more competitors come to market is the limited technology inside the cabin. Electric vehicles increasingly offer all the latest bells and whistles, while the Bolt only offers tech in fits and starts. The parking assist features are great, for example, but there's nothing much beyond basic cruise control in terms of driver assistance while the car is in motion.
Similarly, while Android Auto and Apple Carplay are more functional than most built-in nav systems right now, manufacturers are getting better at navigation. The ability to easily plan a route to a charge station and have the vehicle factor in distance, station power, and your current state of charge, will all soon be a competitive advantage in new models that the Bolt can't yet offer.
In 2016, the Chevy Bolt EV demonstrated that GM has all the fundamentals in place to build a range of compelling electric vehicles. In the three years since then, the Bolt EV hasn't been developed as much as it could but those fundamental qualities of power and efficiency at an affordable price remain in place.
New models like the Ford Mustang Mach-E show that other legacy automakers accept the long-term potential for Tesla to dominate the EV market. They see the need to develop new all-electric models from the ground up and stake their claim in this emerging market. Other manufacturers are lining up to compete with Ford and Tesla, so the field is only going to get more crowded as we move further into 2020.
Most of us agree that GM needs to act soon, building on the foundation laid by the Bolt EV and Chevy Volt before it. However, the window they have to do so in North America just got a little shorter, with models like the Ford Mustang Mach-E looming on the horizon and the GM's sole EV in that market feeling increasingly limited with every new model that's announced.
Would you still buy a Chevy Bolt EV with so many new models arriving in the next 18 months? What does a new EV need to deliver to be considered a viable contender in 2020? Let us know in the comments!
Update: Ford Mustang Mach-E is sold out.
Steve Birkett is an electric vehicle advocate at Plug & Play EV. You can follow him on Twitter at @Plugandplayev, Instagram and Youtube at Plugandplayev Channel to send him EV news tips.