The automotive landscape is changing so fast that often drivers find it hard to stay ahead of the innovations. Should you choose an EV? Should you buy a truck or something smaller? What type of vehicle truly suits most of your needs? That is why members of the Rocky Mountain Automotive Press drive different vehicles giving you impressions and summaries of what the different models have to offer. This year's Rocky Mountain Driving Experience featured a wide range of vehicles. Some like the 2022 Grand Cherokee 4xe offer the best of everything. It is a plug-in hybrid so you can drive on gasoline or EV power, and it handles well on or off-road. The beautiful Red Rocks in Morrison, CO, provided the perfect backdrop for the Jeep Grand Cherokee 4xe.
Off-Road Vehicles are Always Popular
As I mentioned, the 2023 Nissan Pathfinder Rock Creek was one of the highlights of the gathering. Nissan representative Steve Parrett says that off-roading has become so popular that Nissan has developed the Rock Creek into its own Pathfinder model. The Rock Creek Edition features more rugged all-terrain tires and an off-road tuned suspension. The 2022 Toyota Tundra TRD Pro was a big draw as journalists from Wyoming, Nebraska, Utah and Colorado gathered to see it perform.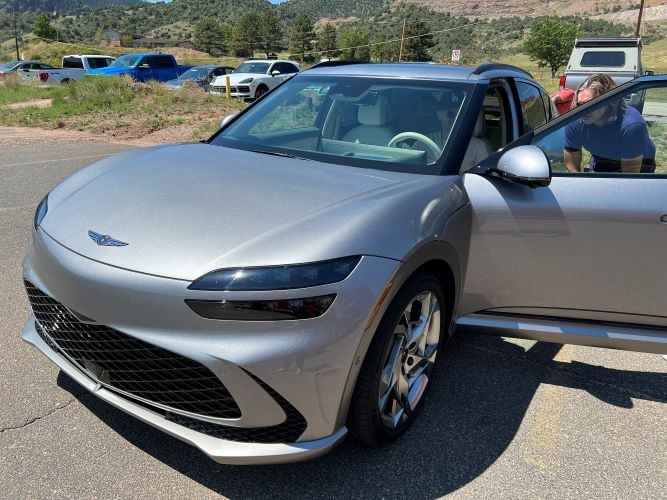 Latest EVs on Hand
The 2022 Kia EV6 showed that an EV can carry five passengers comfortably and still manage up to 310 miles of EPA estimated all-electric range. While the Genesis 2023 GV60 surprised many of the drivers with the power of its boost button. The GV60 is a luxury mid-size SUV and the few times it wasn't being driven, writers gathered around it to study it inside and out.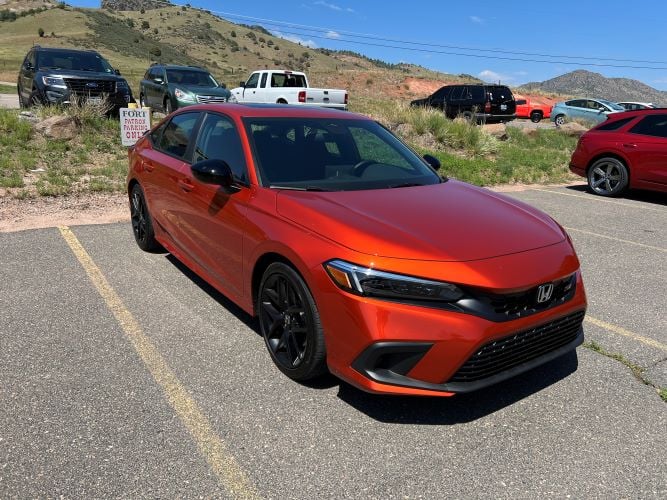 Family Vehicles
There were several examples of great family vehicles, from the subcompact to the luxury models. The 2023 Kia Sportage, 2023 Hyundai Palisade and 2023 Honda HR-V proved why they are growing in popularity. All three models are known for affordability and great handling. Mazda provided its 2022 CX-50, which demonstrated that it is more than capable of handling mountain driving. The 2022 Honda Civic Si always performs well, as does its luxury cousin the 2023 Acura Integra.
Luxury Always Draws Well
The 2023 Nissan Z was in high demand as journalists wanted to drive the sports car. It may be one of the most affordable sports toys but it has admirable horsepower and always looks like it is in motion. The 2023 Lexus LX and 2023 Lexus NX are more expensive than most of the family haulers but always last forever and capable of handling almost anything that life throws at you. Very comfortable vehicles, you almost forget that they can also handle off-road terrain.
That is just a sampling of the vehicles the RMAP members are driving and reviewing. As a proud member, it is always a great day to see the vehicles that are sure to be popular in the future.
Mary Conway Photos
Mary Conway is a professional automotive journalist and has decades of experience specializing in automotive news analysis. She covered the Detroit Three for more than twenty years for the ABC affiliate, in Detroit. Her affection for the Motor City comes naturally. Her father ran a gas station while Mary was growing up, in Wisconsin.
Follow Mary Conway at @maryconwaymedia and send her car news tips for future stories.