When Jeep started teasing the 2022 Easter Jeep Safari earlier this month, it promised an electrifying and ultra-capable group of vehicles. Today, the fifth teaser debuted and although the sketch is dark, you can clearly make out an open-air vehicle, probably a 2022 Wrangler with a big rack on the top.
Jeep's only clue about what it is calling Trail Marker 5 is this:

"Pushing Jeep open-air freedom to the extreme, this concept carries the latest custom innovations from Jeep Performance Parts and Mopar, while standing ready to prove its legendary 4x4 capability and class-exclusive, off-road, 4xe plug-in hybrid power on some of the toughest trails in the world."
The vehicle appears to be a Wrangler 4xe that has either modified or removed the back doors. The huge JPP rack covers the cargo area and gives plenty of room for storing equipment and gear. The Jeep Performance Parts logo is very apparent on the sketch. This is the sixth vehicle that Jeep has teased for the Easter Jeep Safari, that appears to grow in popularity every year.
Jeep is also Teasing a Military Style Rubicon 4xe for 2022 Easter Jeep Safari
The vehicle for Trail Marker 4 appears to be a 2022 Jeep Wrangler 4xe styled to look like an older military styled Jeep. All Jeep is saying is, "The Jeep brand loves a good trip down memory lane, especially during Easter Jeep Safari. This year, the Jeep design team is hard at work on an off-roader that pays homage to a Jeep vehicle of the past. Hint, it blends military grit and determination with 4xe electric vehicle technology."
The vehicle could also possibly be a 2022 Jeep Gladiator because the front ends look so similar. The only visible clues are a charging port, a trail-rated badge and the letters RU31-CON/4XE that in the sketch appear to spell out Rubicon 4xe. At this point Jeep has not confirmed a Gladiator 4xe. So far, Jeep has teased a wide range of vehicles including a few electrified vehicles.
Jeep Gladiator Concept Trail Marker 3
Jeep asks the question, "Ever wonder what blending two mighty off-roaders like the Jeep® Wrangler and Jeep Gladiator might look like?" We are about to find out what would happen "if a truck dared to be more like an SUV to increase its departure angle? The Gladiator Jeep concept heading to this year's Easter Jeep Safari reinvents what the ultimate terrain tackler dares to be, delivering an abundance of four-wheeling confidence and a pinch of open-air freedom."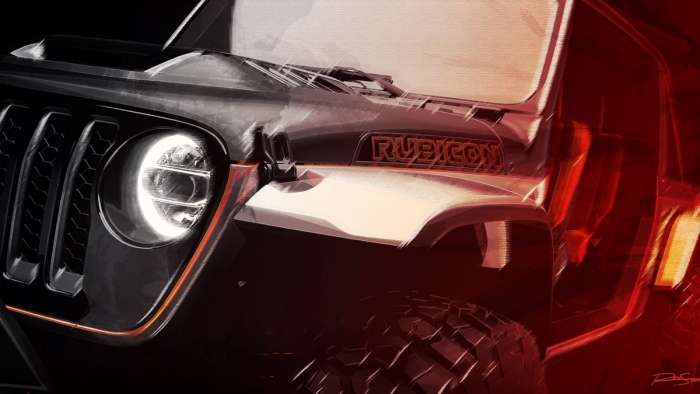 2022 Easter Jeep Gladiator Concept
The image that Jeep released of the 2022 Jeep Gladiator concept shows a vehicle with no doors and massive tires. The lack of doors will give that open-air freedom. I'm guessing there will be a significant lift package and at least 35" tires. The lift kit coupled with the massive tires would improve the approach angle. The concept could even have a Jeep Performance Parts package similar to the Wrangler's Xtreme Recon package.
The $3,995 Xtreme Recon Package gives the Jeep Wrangler Willys the best-in-class approach angle, departure angle, ground clearance and water fording ability. The approach angle for the Wrangler with that package is an astounding 47.4 degrees. Any package close to that would give the Gladiator an incredible advantage on the trails compared to other pickups. We'll have to wait for final details from Jeep, because so far they are only teasing us with sketches and images.
Other concepts that are being teased for the Easter Jeep Safari so far include:

An Incredible Off-Roading Jeep Wrangler 392 Rubicon
The tease photo shows what appears to be the ultra-capable Trail-Rated Jeep Wrangler Rubicon 392.

This is Jeep's clue about the tease photo:
"Iconic off-roading spots like the historic Rubicon Trail and the backcountry scenic trails of Moab, Utah, are where rock-climbing SUV legends are born. Twenty years ago, the Jeep brand introduced the most capable production vehicle of its time. Now, the newest Easter Jeep Safari Jeep concept celebrates the legendary 4x4 capability that continues to drive the Jeep brand and defy performance boundaries, decade after decade."
Jeep Wrangler Rubicon 392 four-door model offers a 6.4-liter V-8 HEMI engine, rated at 470 horsepower and 470 lb.-ft. of torque. To handle the increased torque, the HEMI V-8 pairs to a TorqueFlite 8HP75 eight-speed automatic transmission and Selec-Trac full-time active transfer case. The 392 rockets from 0-60 mph in 4.5 seconds and the quarter-mile in 13.0 seconds. Plus, the combination comes with a factory-backed warranty.
2022 Easter Jeep Safari
The 56th annual Easter Jeep Safari is scheduled to take place April 9-17, 2022, in Moab, Utah. Thousands of die-hard off-roading fans gather every year to see the latest in trail-performance Jeeps. Moab's Red Rock 4-Wheelers club hosts the annual event. Jeep will once again send several one-of-a-kind concept vehicles for the off-roaders to test out on the grueling trails.
If the Easter Safari concept vehicles are extremely popular, they may end up as special custom models that can be ordered straight from the factory. Jeep has several custom shops set up near their main plants that customize the vehicles so that they can be produced with factory-backed Jeep Performance Parts. Jeep has built a strong business offering the factory-produced custom models, because the cost of the custom upgrades can be added into the purchase price of the vehicle and financed over a longer period of time. The Jeep Performance Parts all carry the factory-backed warranty. JPP sells special upgraded axles, lift kits, winches, skid plates and wheels to satisfy the most hard-core off-road enthusiasts.
Earlier, Jeep Teased Two Other Easter Safari Vehicles
This year, Jeep is promising the premiere off-roading event will be "Bigger, Better, Greener, Faster Ultra-capable and Undeniable Jeep"! The vehicles appear to be a 2022 or 2023 Jeep Grand Cherokee 4xe and a Jeep Gladiator, heavily modified with Jeep Performance Parts.

Gladiator with Jeep Performance Parts for Easter Jeep Safari
Jeep Grand Cherokee 4xe for Easter Jeep Safari?

Jeep is only giving a few details on the 4xe SUV at this point. It looks like the front end of the Grand Cherokee with a door for the charging port over the left front fender. There is a lot of blue trim on the vehicle which typically signifies Jeep's electrified models. Jeep is only saying there are two vehicles "including one 4xe electrified Jeep SUV that will certainly conquer even the most tumultuous terrain along the backcountry trails of Moab and further highlight the Jeep brand's vision of accomplishing Zero Emission Freedom."
We can expect to see more vehicles and many more details before the 2022 Easter Jeep Safari kicks off April 9, 2022.
Jeep Photos
Follow Mary Conway at @maryconwaymedia and send her car news tips for future stories.