It was 75 years ago that the Allied troops landed at Normandy and freed France from Nazi oppression. D-Day really marks the turning point when the American, British and Canadian forces helped save the rest of Europe during World War II. Ford Motor and Roush Performance are teaming up on a special commemorative Mustang GT that will honor one particular pilot, Colonel Bud Anderson.
Fighter Pilot Colonel Bud Anderson
Col. Anderson flew six continuous hours on that fateful day, in his P-51 Mustang airplane that he had nicknamed "Old Crow". The "Old Crow" Mustang GT will carry the same paint scheme and forever honor Col. Anderson.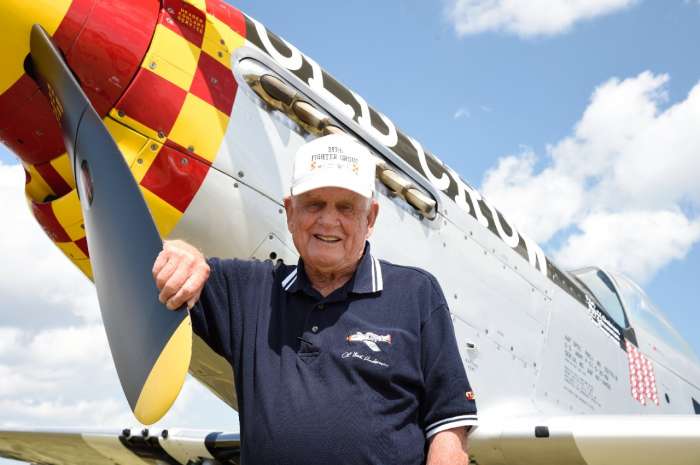 According to Ford, "Anderson, a triple ace fighter pilot, flew two combat tours and 116 missions in his P-51 Mustangs he nicknamed Old Crow. He was never hit by enemy fire, including while providing aerial support to Allied troops on D-Day. Anderson, 97, earned more than 25 decorations, including the Distinguished Flying Cross, Bronze Star and Air Medal. He flew two tours with the 363rd Fighter Squadron of the 357th Fighter Group and is recognized as the third leading ace with 16 aerial victories."
High Performance "Old Crow" Ford Mustang GT

The "Old Crow" Ford Mustang GT will have an authentic paint scheme and badging similar to that of Anderson's P-51 Mustangs. The one-of-a-kind high-performance Mustang GT features the signatures of Anderson, Roush Enterprises Founder Jack Roush, Edsel Ford II and members of the Ford design team. While it won't fly, it will come close! It features a ROUSH/Ford Performance supercharger that gives it 700+ horsepower.
Jack Roush is a close friend of Col. Anderson. Anyone who knows Jack Roush, knows that the "Cat in the Hat" was a dedicated pilot who loved to fly when he was younger. Previously, Roush restored a vintage P-51 Mustang airplane with "Old Crow" badging to honor Anderson. The NASCAR team owner has a plant outside Detroit where his crew builds performance parts and custom performance vehicles, usually custom Ford Mustangs and Ford trucks.
How You Can Buy the "Old Crow"

The "Old Crow" Ford Mustang GT will be sold to the highest bidder at an auction July 25, 2019, during the Experimental Aircraft Association's 2019 AirVenture in Oshkosh, Wisconsin. All proceeds from the auction will be donated to the Experimental Aircraft Association's Aviation Foundation, which encourages and educates the next generation of pilots.
"This year's design is especially fitting for the 75-year commemoration of D-Day and the special place we reserve for heroes like Col. Anderson and countless others who demonstrated unparalleled valor and sacrifice," said Craig Metros, Ford design director. "It's an annual highlight for many on the Ford design team to pay homage to our war heroes by creating a custom tribute vehicle to support the next generation of aviators."
Ford has been involved with the Experimental Aircraft Association's annual AirVenture for more than two decades. Ford has built and donated 11 custom vehicles over the years to raise money for the EAA. So far, they have brought in a total of $3.5 million. Of the vehicles Ford has donated for auction at AirVenture, the 2008 Mustang AV8R sold for the highest price of $500,000.
According to Ford, bidding at the auction is open to all interested parties. Bids can be made in person or online.
For more information on bidding on the "Old Crow" Ford Mustang GT, email [email protected].
Follow Mary Conway at @maryconwaymedia and send her car news tips for future stories.