This week, as powerful tornados whipped through Central Texas, an amazing story of grit and survival emerged. A young man named Riley Leon, from Elgin, TX, was driving home from a job interview when he was caught in a powerful twister. A storm chaser, named Brian Emfinger, caught the incident on video. The tornado knocked Leon's Chevrolet Silverado on its side and then picked it back up, leaving the truck on its wheels. Miraculously, the 16-year-old was able to drive to safety.
Local Chevrolet Dealer Rushes in to Help
After seeing the incredible video, a Fort Worth Chevrolet dealer stepped in to help the teen replace the truck that was dented and scratched, with the windows shattered. GM and Chevrolet also decided to help. Today, Chevrolet and Bruce Lowrie Chevrolet of Fort Worth, TX, donated a 2022 Chevrolet Silverado 1500 LT All Star Edition in Cherry Red to Riley Leon and his family. A GM executive posted pictures on social media.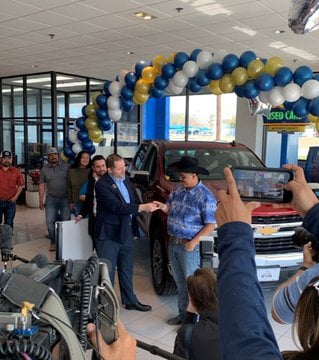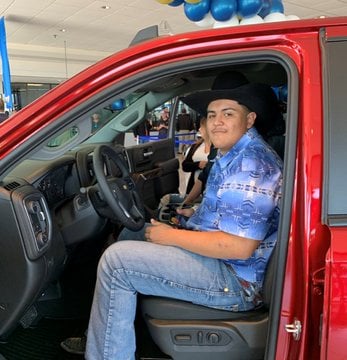 Chevrolet Statement
In a statement Chevrolet said, "We are thankful Riley is safe, commend his driving skills during a frightening situation, and our hearts are with other families in Texas that have been affected by these storms. To help aid the recovery efforts in Texas, Chevy Cares is donating $50,000 to the American Red Cross Disaster Relief Fund. Due to the quick action of the team at Bruce Lowrie Chevrolet, the new truck will be presented to Riley and his family on Saturday, March 26, at the dealership."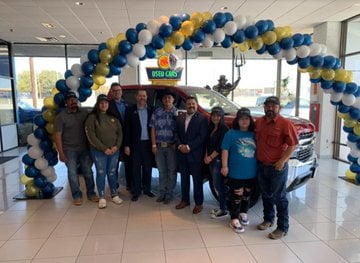 The dealership also gave Riley a check for $15,000. The other good news in this story is that Riley got the job he was applying for at a local Whataburger. Emfinger's video has gone viral with over 6 million views at last check.
Chevrolet Photos
Still Photo From Brian Emfinger's Video
Follow Mary Conway at @maryconwaymedia and send her car news tips for future stories.