It was delayed by 15 months but the Colorado Concours D'Elegance is back for 2021 and classic car enthusiasts were happy to see it. The show displayed more new cars this year, especially electric vehicles, including a 2021 Ford Mach-E, dressed up in Star Wars Storm Trooper graphics.
2021 Ford Mach-E Impressed New Owners

Brian Kjaer and his wife have owned the 2021 Ford Mach-E for about a month and the couple is very happy with the purchase. They had planned to buy a Tesla but the wait was six months, so they opted for the available Mach-E instead. It was Brian's idea to add the Star Wars graphics to the white Mach-E. Kjaer says they really like the vehicle and find it easy to charge at home. They have not had time yet, to venture to the nearby mountains but they know they will have to plan ahead when they do. Even though the Mach-E has considerable range, Kjaer says "We have to leave ourselves a buffer, in case of traffic backups." Many drivers worry about being stranded in an electric vehicle because traffic tie-ups can last for hours. Kjaer says "We can always pull off and charge at a Walmart along the way if we need to." The larger mountain resorts like Vail and Aspen have installed charging stations, the concern is being delayed on the way.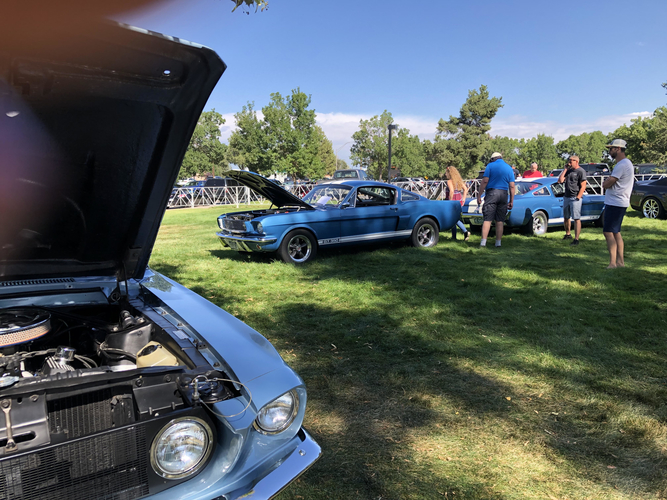 Classic Ford Mustangs
The Colorado Concours is always known for having a large area set aside for classic Mustangs and this year was no different. However, the number of classics on display was smaller than previous years. The lower number could be attributed to the later date this year. The show usually takes place in early June. Also, there are lingering COVID concerns.
Fundraiser for Children's Education
Proceeds from this one-day event go Ability Connection Colorado's Creative Options for Early Childhood Education Centers. Over 400 children of all abilities and economic circumstances receive developmental screening and assessment services, individualized mental health services and comprehensive educational experiences each year. Early intervention and specialized education can often offset or minimize many children's developmental delays.
Incredible Variety of Vehicles

Thousands of car enthusiasts have the opportunity to see everything from a cherry 1957 Chevrolet Suburban to the newest Ford GTs, BMWs and Ferraris. Car clubs representing Porsche, Jaguar and Chevrolet Corvette all have distinct areas set up for beautiful displays.
It is especially nice to know that car lovers get the chance to see pristine examples of beloved autos while helping children at the same time.
Follow Mary Conway at @maryconwaymedia and send her car news tips for future stories.