Lucid's electric motors are currently the best in the electric car business. With lower mass, higher power density and better efficiency than Porsche and Tesla, Lucid's electric motors produce up to 670 horsepower while weighing just 67 lbs.
In Lucid's latest Tech Talk video CEO/CTO Peter Rawlinson is joined by VP of Powertrain Emad Dlala to deconstruct the Lucid Air's motor and show what makes it so advanced. Here's a summary of the video in case you don't have a free hour and twenty minutes to watch it.
Physics
Before getting into the motor's design and construction Rawlinson gives us an explainer of the physics involved in electric motors and their transmissions. This is all theta values and radians and frankly it's all Greek to me. Ultimately the physics lesson deals with the relationship between torque and rpm in electric motors, with Rawlinson demonstrating that adding a gearbox increases torque at the cost of efficiency and rpm.
Therein lies the challenge of designing a motor like this, and Dlala remembers Rawlinson's diagram and this challenge from his job interview at Lucid. While, yes this is a PR video, it's nice to watch the two discuss an engineering achievement that they're rightly very proud of.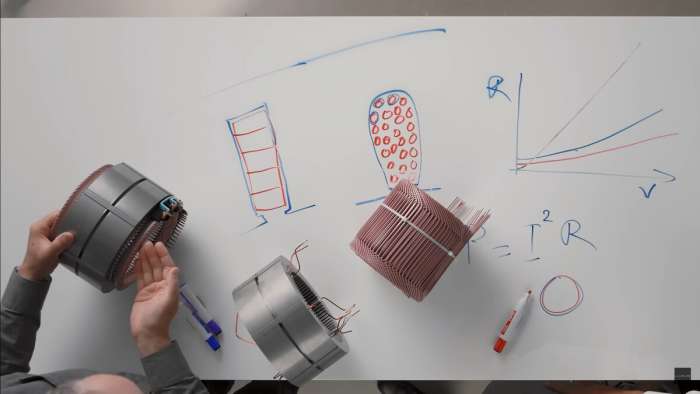 Stator
The stator is the main housing of the motor and remains stationary while the rotor spins within it. Lucid's design simplifies the traditional stator construction using what they term "continuous wave winding" for the motor's copper components, which reduces the number of laser welds required and aids efficiency. Rawlinson also says that the only machine in the world capable of this wave winding is in Lucid's AMP-1 factory with the whole process automated by CNC equipment.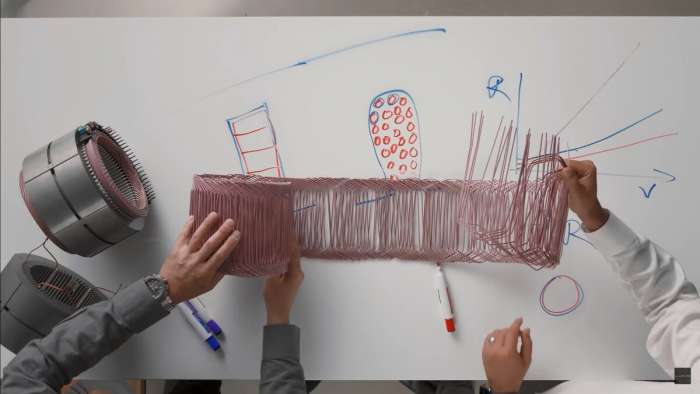 Heat is the enemy of efficiency and cooling is of the utmost importance. Lucid uses automatic transmission fluid to carry heat away from the motor's copper elements with channels located right beside the wiring, as opposed to on the outside edge of the stator like Tesla. Porsche's motor uses a water cooling jacket which fits over the stator. Both Porsche and Tesla (referred to as the German and American machines) use traditional circular copper wire to fill the slots in their stators while Lucid uses rectangular wire to better fill the gaps and boost efficiency.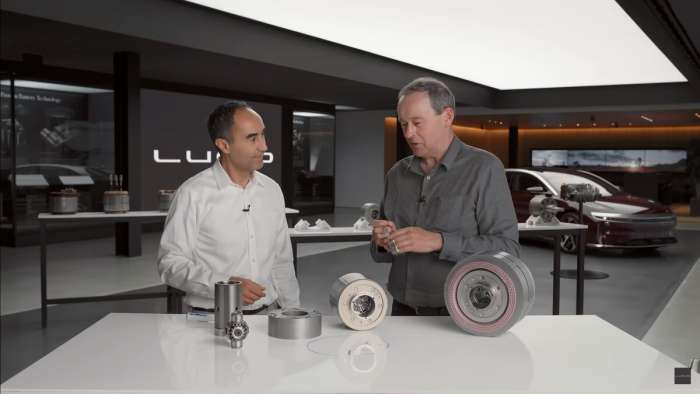 Rotor
Lucid uses a six-pole rotor capable of 20,000 rpm in its motors. The center of the rotor is hollowed out and contains a four-element planetary gearset though it's still one of the smallest and lightest rotors in the industry. Porsche's eight-pole rotor is larger and heavier, spinning to 16,000 rpm, while Tesla's Plaid rotor features a carbon wrap to boost mechanical integrity, increasing cost and complicating manufacturing.
Weight and Power Density
Rawlinson and Dlala weigh each component to compare them with Lucid's equipment proving to be lighter than its competition while coming together to produce a motor with better power density. The results speak for themselves: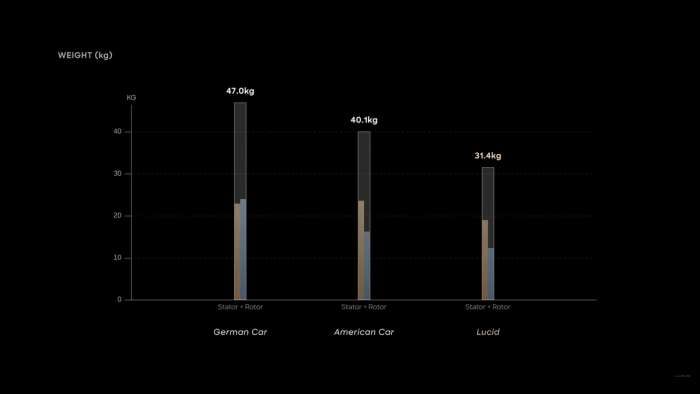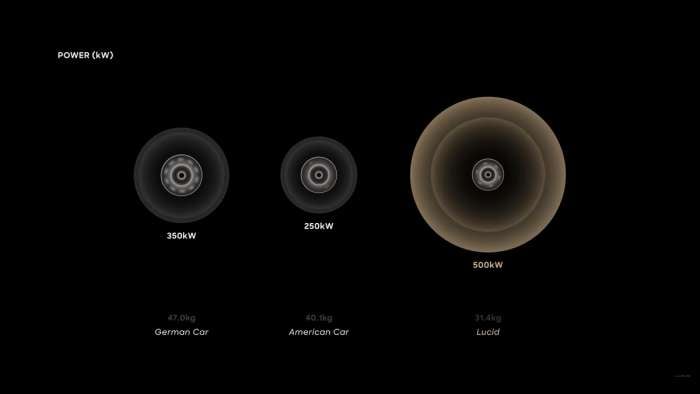 It's a measure of Lucid's achievement that their motor puts up numbers like these against the world's biggest EV company and a storied marque with the might of Volkswagen behind it. What's more, Lucid's motors are designed, developed and produced in-house giving the company control over every aspect and attribute. Lucid's technology is a huge part of its value and, for now at least, positions it at the head of the EV pack.
Here's the full video:
Images by Lucid Motors licensed by CC BY 2.0.
James Walker is an Automotive Journalist at Torque News focusing on Lucid Motors. If it's got wheels he's interested, and he's looking forward to seeing what kind of cars the EV revolution brings us. Whether it's fast, slow, new, or old, James wants to have a look around it and share it in print and on video, ideally with some twisty roads involved. You can connect with James on Twitter, Instagram, and LinkedIn.