Lucid's Stock Price Has Fallen By 30% In The Past Month, Despite The Company Taking Steps In The Right Direction
Greenshoe Cash Rolling In
Lucid managed to raise a combined $2,012,500,000 from the combination of its convertible senior notes offering and the full exercise of the "greenshoe" option attached to it.
A greenshoe option is an agreement between the corporation issuing shares and a syndicate of investment bankers (AKA underwriters). In return for agreeing to buy and promote the corporation's shares at its initial public offering, the corporation sets a date at which the syndicate can buy more shares at the initial IPO price, even if the price of said shares has risen. In Lucid's case this was the entire 15% allotment.
18% Single-Day Drop
As we covered at the time it happened, the move appeared to rub existing investors the wrong way, causing an 18% singe-day drop in Lucid's share price, though this could also have been contributed to by sell-offs caused by the stock's then-high price. The greenshoe option alone brought Lucid over $262,000,000.
The funds raised will be put towards manufacturing, research and development, and more, with Lucid stating in a press release:
Comprised of green bonds, this offering means that Lucid will spend an amount equal to the proceeds on eligible green investments in its business, underscoring the company's commitment to addressing climate change and environmental challenges.
If those green investments help Lucid to gain an edge in any area of its business, well isn't that just a happy coincidence?
Lucid CFO Sherry House also had this to say:
This funding will allow Lucid to carry out key milestones and growth plans further into the future, thereby mitigating risk in the business. It's also one of the largest green convertible offerings in market history, reflecting the strength and mission of our business, our track record of performance, and the enormous growth opportunity that lies in front of us... We are also pleased to begin trading as part of the Nasdaq-100 Index, with Lucid added as a member of this impressive index of technology and innovation leaders.
Still Sliding
Despite all this, and the vote of confidence that comes from Lucid Group's addition to the Nasdaq-100 Index, which tracks 100 of the largest non-financial companies in America, the company's share price has continued to fall throughout December.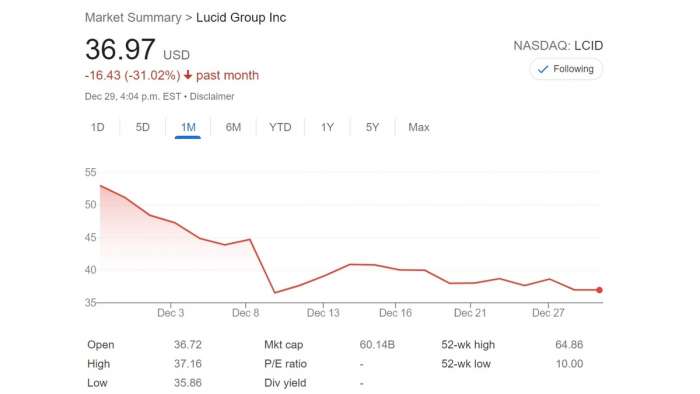 Perhaps due to uncertainty surrounding the SEC investigation, perhaps due to natural ebbs and flows in share price, LCID has fallen by 31% in the past month. From November's boom fuelled by customer deliveries commencing with the Lucid Rally, the company expanding in Saudi Arabia, and the Air being named Motortrend's Car of the Year, some of the wind appears to have disappeared from Lucid's sails.
Do you think this is the end of the hype, or are you confident in Lucid's ability to keep hitting their own targets? Let us know in the comments below, and stick with Torque News for anything and everything Lucid.
Cover image by Lucid Motors licensed by CC BY 2.0.
James Walker is an automotive journalist at Torque News focusing on Lucid Motors electric vehicles. If it's got wheels he's interested in it, and he's very excited to see what kind of driver's/performance cars the EV revolution brings us. Whether it's fast, slow, new, or old, James wants to have a look around it and share it in print and on video, ideally with some twisty roads or a track involved. You can connect with James on Twitter, Instagram, and LinkedIn.