It's been a tough old week for Lucid's stock. On Monday came the announcement that the SEC had subpoenaed the California automaker over events surrounding its SPAC merger with Churchill Capital IV and certain reservation numbers-related details that could have potentially been used to mislead investors.
This set shareholders on edge, and when Lucid announced on Wednesday that it would be offering $1.75 billion worth of convertible senior notes to institutional buyers, said shareholders began running for the hills.
While it had recently been flirting with all-time high levels, Thursday saw Lucid's share price slide by a whopping 18%, though it rebounded by 3.12% during the course of today's trading session as investors got to grips with the reality of the notes sale, which will hopefully provide Lucid with nearly $2 billion in cash to use for a variety of purposes.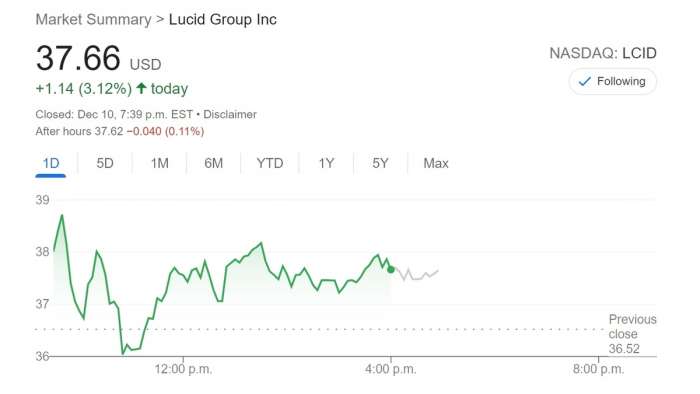 What Are Convertible Senior Notes?
In case you're unaware of the function of these notes, as I was before researching this, here's a quick explanation of what they're for.
Notes are sold by a borrower (in this case Lucid) to an investor. The investor earns interest while they hold the notes and are repaid their principle investment by the borrower at a predetermined time.
Convertible senior notes like the ones being offered by Lucid can be repaid to investors in cash, shares, or a combination of both. In this instance, Lucid decides which form the repayment will take.
Lucid's Convertible Senior Note Sale
The $1.75 billon worth of CSNs Lucid is selling will be offered exclusively to institutional buyers, and will be due for repayment on or before December 15th, 2026. Buyers will also have the option to purchase an additional $265.5 million worth of notes within 13 days of their original purchase.
As stated above, Lucid will convert the notes into shares, cash, or a combination thereof, and the form the conversion takes will be Lucid's decision when the time comes.
Thursday's Slide
The issue that existing shareholders had, and the reason for the sell-off that caused an 18% decline in Lucid's share value, is that their stake in the company could become watered down when the terms of the institutional buyers' CSNs is up, should Lucid elect to convert the notes to shares.
Additionally, details on the reasons for the SEC subpoena remain scant at best.
Morgan Stanley Stands With Lucid
Investment bank Morgan Stanley disagrees with the investors who sold off Lucid stock because of the note sale news, stating yesterday that it's a prudent move for Lucid to strike while its stock's iron is hot and bring in close to $2 billion worth of breathing room while it remains a good way off from profitability.
With Lucid's stated plans to use the money generated from the sale to invest in its manufacturing, retail, and service operations, as well as research and development, the investment bank maintains a "hold" rating for the EV startup. Spending the money wisely will increase the size of the Lucid pie for investors and offset the shares converted from its senior notes sale.
Images by Lucid Motors licensed by CC BY 2.0.
James Walker is an automotive journalist at Torque News focusing on Lucid Motors electric vehicles. If it's got wheels he's interested in it, and he's very excited to see what kind of driver's/performance cars the EV revolution brings us. Whether it's fast, slow, new, or old, James wants to have a look around it and share it in print and on video, ideally with some twisty roads or a track involved. You can connect with James on Twitter, Instagram, and LinkedIn.