Lucid Stock Cools After A Run To Near All-Time High Territory
Edit: This article has been quoted by other news sources in relation to a 90,000-car production target mentioned below. This was an early target from Lucid that has since been made unattainable by supply chain issues. The section quoted reads "should give the company the ability to produce 90,000 vehicles a year by 2023" where it should have read "by the end of 2023."
Lucid's stock price has seen its fair share of the volatility affecting the rest of the EV market in the past couple of days. From a high watermark of $56.31 at close on Tuesday LCID had fallen to a low of $43.55 around 2.30 pm yesterday. The stock price fell by 17% on Thursday alone, though appears to have rebounded to the tune of a 12% gain as of the time of writing today.
Tuesday's highs saw the stock price come within spitting distance of its mid-$60s all-time high, achieved during February's "meme stock" bull run. The recent gains can be ascribed to general bullishness in the EV market as a whole, the start of Air deliveries, and to the information that Lucid presented during its Q3 earnings call.
Staying The Course
November 15th began brilliantly for Lucid with the news that the Air had been awarded the coveted MotorTrend Car of the Year award for 2022. Later that evening came the much-anticipated Q3 earnings call filled with resoundingly positive news from the Silicon Valley-headquartered automaker.
While, of course, Lucid is not yet at its break-even point, the company announced that it's still on track to deliver the 20,000 vehicles that it previously promised for 2022. It also reported 17,000 reservations for Air sedans on the books, with 13,000 of those cars being ordered in Q3 alone. Clearly consumers are warming up to the prospect of full-electric vehicles, even if they do carry a premium price tag.
Lucid also announced that the second phase of expansion at its factory in Casa Grande, Arizona is well underway during its Q3 earnings report. The expansion will add 2.85 million square feet of production space, streamline existing facilities, and should give the company the ability to produce 90,000 vehicles a year by 2023. With $1.3 billion worth of orders on the books and more coming in each day, Lucid will need all the production space it can get its hands on if it is to become a profitable Tesla-caliber player in the EV market.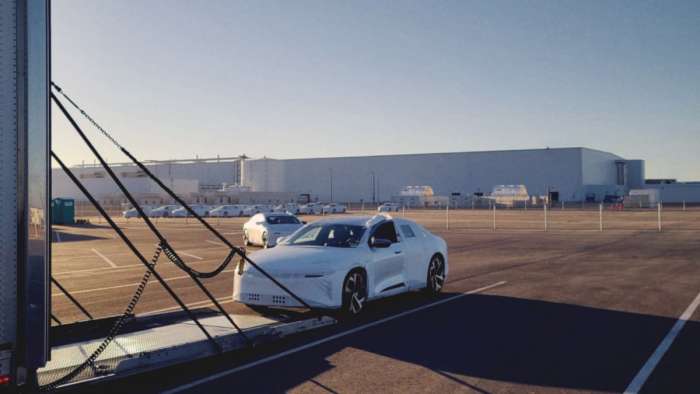 A Dangerous Game?
Lucid's stock price rollercoaster comes amid monster surges in Rivian's valuation following its November 10th IPO, with the stock's price more than doubling before retreating somewhat since. The comparisons between the current EV market and the 1999 dot-com bubble continue to grow, as companies losing hundreds of millions (if not billions) of dollars annually are repeatedly valued higher than legacy automakers who build hundreds of thousands of vehicles each year.
Do you think the prices of stocks around the EV market represent its status as the next big thing in transportation, or are these halcyon days too sweet to last? Let us know in the comments below, and check back with Torque News for all the latest news on Lucid and the EV market as a whole.
Images from Lucid, Google, licensed under CC BY 2.0.
James Walker is an automotive journalist at Torque News focusing on Lucid Motors electric vehicles. If it's got wheels he's interested in it, and he's very excited to see what kind of driver's/performance cars the EV revolution brings us. Whether it's fast, slow, new, or old, James wants to have a look around it and share it in print and on video, ideally with some twisty roads or a track involved. You can connect with James on Twitter, Instagram, and LinkedIn.