Lucid has been awarded Newsweek's "Powertrain of the Year" award for 2023. The accolade is part of the publication's annual World Greatest Auto Disruptors list, which recognizes "the people, companies, teams, strategies and products that are innovating most boldly at a time of unprecedented change in the business." The seven categories provide what Newsweek believes to be a "watch this space" list for the future.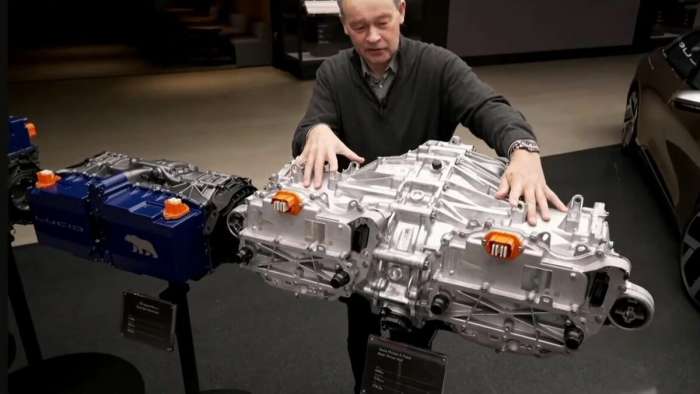 Lucid CEO Peter Rawlinson shows the size difference between the dual-motor rear drive unit from the Lucid Air Sapphire and the Tesla Model S Plaid.
Powertrain of the Year
Lucid's proprietary motors and battery systems were named Powertrain of the Year based on their philosophy of doing more with less. The judges highlighted the extra importance of this tenet in the electric vehicle market, as adding more weight from heavy motors and bigger batteries often saps range. Efficiency is the name of the game, and it's something that Lucid has been obsessed with since day one.
Newsweek points to Lucid's motors' compact dimensions and power density as examples of this, praising the power unit's stator for producing a denser magnetic field than competitors, in turn allowing for smaller and lighter permanent magnets to produce more power than the Tesla Model 3's motor while being 30% smaller. One of Lucid's 67 lb. motors can produce up to 670 horsepower.
Lucid's motors can also be assembled robotically whereas the competition has to do it by hand. Extra oil cooling channels built into the motor's body improve cooling and efficiency, while the entire unit is simpler than those of GM with fewer joints and less opportunities to fail.
For an in-depth look at Lucid's motors click here.
The Lucid Air's battery was also praised by the judges for its world-beating range and ability to add up to 200 miles worth of charge in as little as 12 minutes under the right conditions at a DC fast charger.
In Good Company
The awards honored people, technology and systems from across the automotive world. Here are the other category winners and what the judges liked about them.
Technology Rollout of the Year - Ford Pro, Ford Motor Company
Ford's commercial-grade system helps business owners save up to 20% a year on ownership with five areas of focus: software, service, charging, financing and vehicles. The system is designed to help businesses large and small run more efficiently, and therefore more profitably.
Marketing Strategy of the Year - Genesis
Genesis was given the nod because of Genesis House, a three-storey space in New York's Meatpacking District where visitors can take in a fashion shop, sample Korean food and maybe even have a look at some cars.
Designer of the Year - Luc Donckerwolke
Donckerwolke won his award for the work he's done to bring Hyundai and Kia to the forefront of design and styling innovation as CCO and President of Hyundai Motor Group.
Sustainability Achievement of the Year - Lamborghini
The fire-breathing supercar manufacturer won its award for the environmental friendliness of its factory. Highlights include certified carbon neutrality, biomethane heating, cooling and electricity production plus an 85% reduction in shipping emissions by moving Urus body shell transport from road to rail-based travel. On top of all that, the company's leftover leather and carbon fiber is upcycled into watch bands, wallets and other luxury goods.
R&D Team of the Year - BMW
The judges praised BMW's R&D team for not losing sight of the "Ultimate Driving Machine" mantra with the move to electric powertrains.
Legacy of Disruption - Torsten Müller-Ötvös
Mr. Müller-Ötvös previously led the revival of the Mini brand before moving over to Rolls Royce. He has overseen the new generation of Phantom and Ghost as well as the launch of the Cullinan SUV and the all-electric Spectre. In the words of the judges, "Müller-Ötvös has been at the helm of Rolls-Royce, elevating it from an afterthought with a storied history to a choice of the world's elite," with a staggering 500% sales increase taking place under his leadership.
Related Story: Lucid Air Stealth Deliveries Are Underway
Images by Lucid Motors licensed by CC BY 4.0.
James Walker is an Automotive Journalist at Torque News focusing on Lucid Motors. If it's got wheels he's interested, and he's looking forward to seeing what kind of cars the EV revolution brings us. Whether it's fast, slow, new, or old, James wants to have a look around it and share it in print and on video, ideally with some twisty roads involved. You can connect with James on Twitter, Instagram, and LinkedIn.