Deliveries of Lucid Airs equipped with the optional Stealth Appearance package have begun at the brand's Costa Mesa, California service and delivery center with the rest of the country to follow in coming weeks.
Announced in early August of last year, Stealth Appearance swaps out the Air's silver and platinum trim pieces for black gloss and satin graphite ones with unique wheels also available. Lucid says the new pieces are "reminiscent of the spéculaire black polishing technique employed in fine horology and jewelry."
"The highly-anticipated Stealth Appearance will delight those who prefer a darker, more enigmatic look to Lucid Air. Side by side, Stealth and Platinum are like seeing two altogether different vehicles, two facets of the Air personality." - Derek Jenkins, SVP of Design and Brand, Lucid Group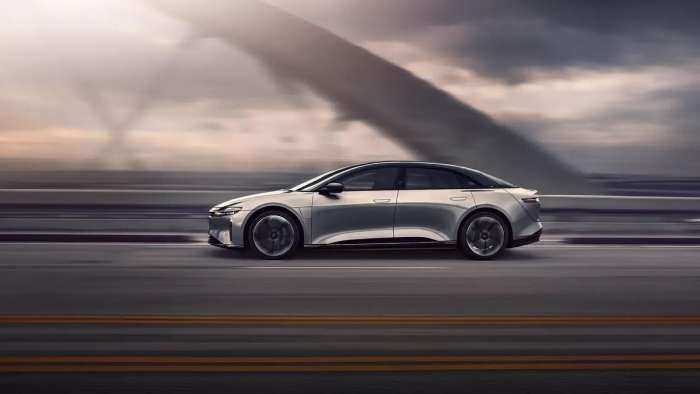 Stealth Appearance Changes
The most immediately noticeable change with Stealth Look are the roof rails on vehicles equipped with the Glass Canopy roof, which change from platinum to the aforementioned satin graphite finish. Elements of the exterior trim found on the wing mirrors, lower body and around the headlight/taillight assemblies are also given the murdered-out treatment.
The Stealth package is available as an option for the Lucid Air Grand Touring and Touring with both the glass and metal roof. It's a $3000 option for metal roof Tourings and will set you back $6000 if your Air has a glass lid. You can have your stealthy Air with Stellar White, Infinite Black, Cosmos Silver, Quantum Grey or Zenith Red paint.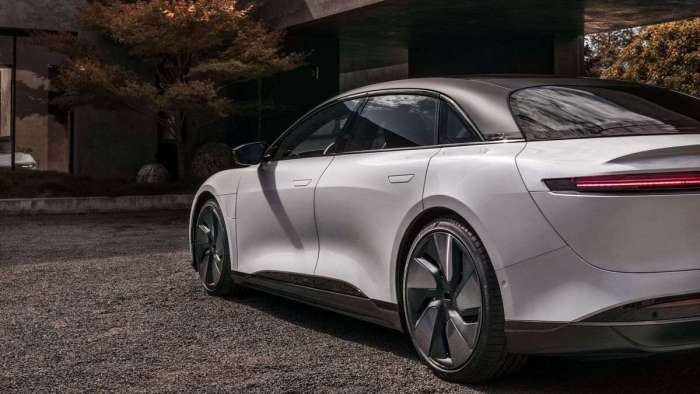 No appearance package would be complete without some matching wheels, so buyers can opt for 20- and 21-inch Stealth-exclusive designs complete with satin black aero inserts with size depending on which variant of the Air they purchase.
Related Story: Lucid Gravity SUV Begins Road Tests
Images by Lucid Motors licensed by CC BY 4.0.
James Walker is an Automotive Journalist at Torque News focusing on Lucid Motors. If it's got wheels he's interested, and he's looking forward to seeing what kind of cars the EV revolution brings us. Whether it's fast, slow, new, or old, James wants to have a look around it and share it in print and on video, ideally with some twisty roads involved. You can connect with James on Twitter, Instagram, and LinkedIn.