Peter Hochholdinger, Lucid's Vice President of Manufacturing has been replaced by VP of Global Quality Nicolas Minbiole reports Business Insider. Minbiole's new role will see him oversee Lucid's manufacturing operations as well as supplier relationships and packaging concerns. The move comes as Lucid struggles to ramp up production despite a positive April during which it reported delivering 300 new Lucid Airs to customers.
Hochholdinger has not been fired and has not resigned according to Business Insider's sources but he won't be responsible for overseeing manufacturing anymore. A 16-year veteran at Audi, Hochholdinger was VP of production at Tesla before taking the job at Lucid. Both men have worked for Lucid for around three years, with Minbiole previously working in "corporate turnarounds, program rescues and improvement of manufacturing processes."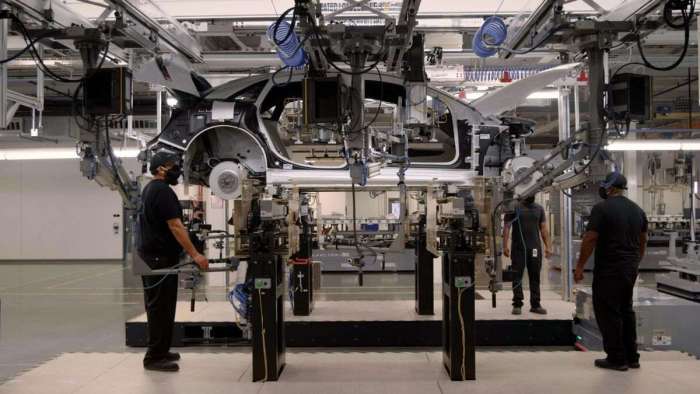 Related Story: Lucid Adds New Executives To Help Production Ramp-Up
Lucid In Need
Lucid Motors will need to use all of Minbiole's experience in these fields to turn around the sluggish production numbers and quality issues that have been plaguing the brand as of late. The company recently issued a safety recall for 1117 Lucid Airs over concerns that the wiring behind the car's Glass Cockpit instrument panel could become dislodged causing the screen to shut off and fail to notify drivers of their speed or show any warning lights. This is Lucid's second safety recall, with the first issued to fix a potential issue with the front suspension.
The Air's glass roof has been another sticking point for Lucid with issues arising from damaged examples showing up at the factory and not fitting properly. We've also heard that deliveries are being further delayed by the addition of a third quality assurance inspection introduced to make sure everything leaving the factory is of the highest quality.
Related Story: New Lucid Tech Talk Video Shows The Advantage Of Making Your Own Puzzle Pieces
Images by Lucid Motors licensed by CC BY 2.0.
James Walker is an Automotive Journalist at Torque News focusing on Lucid Motors. If it's got wheels he's interested, and he's looking forward to seeing what kind of cars the EV revolution brings us. Whether it's fast, slow, new, or old, James wants to have a look around it and share it in print and on video, ideally with some twisty roads involved. You can connect with James on Twitter, Instagram, and LinkedIn.