Lucid has announced two new additions to its executive lineup with Evelyn Chiang brought in as VP of Process Transformation and Walter Ludwig entering as VP of Global Logistics. Their collective experience spans automotive and technology markets across the world with both specializing in smoothing the processes that get products out the door.
With Lucid in a pivotal growth period and being dogged by production delays their hiring will come as welcome news to shareholders. LCID has been buoyed recently by glowing reviews for the Lucid Air GT and the new execs could well be the icing on a week that's seen investors claw back some of their recent losses.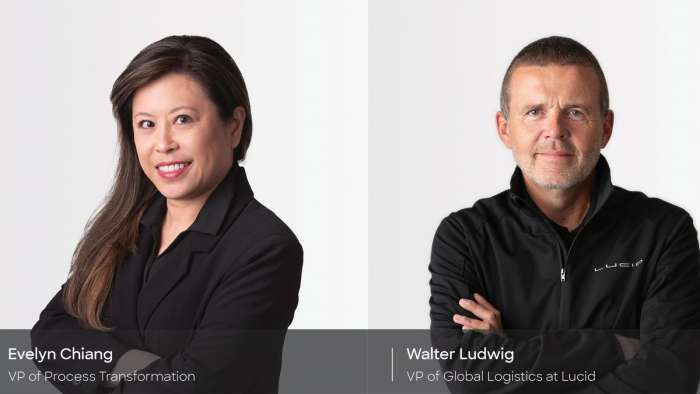 Evelyn Chiang, VP of Process Transformation
Chiang comes most recently from software-as-a-service firm Siteimprove where she served as Chief Operating Officer. With executive leadership stints at Tesla and German software multinational SAP on her resume she enters with experience in both the automotive and technology businesses; handy for a company like Lucid which embodies both.
Ms. Chiang will be tasked with streamlining and harmonizing Lucid's operations, trimming the fat to keep the company lean so its resources can be maximized for growth. She has over 30 years of experience managing mass-scale programs, global supply chains, and implementing automation solutions to help businesses grow and run as smoothly as possible.
Walter Ludwig, VP of Global Logistics
Ludwig comes to Lucid with more than 28 years of experience at Mercedes-Benz, 20 of which were spent opening and ramping up production facilities in Germany, Argentina, Russia and the US. While at Mercedes, Mr. Ludwig held titles including Head of Operations, Head of Quality, and Head of Central Logistics; all areas where Lucid wants to make improvements as its production numbers continue to grow.
We've all seen the reports of minor quality issues in a small number of cars, lowered production targets and Lucid's pair of safety recalls. Ludwig's hiring will bring his experience in global logistics, parts management and working with suppliers to launch and manage changes to Lucid's physical operations where appropriate.
Both of Lucid's new executives will report directly to CEO and CTO Peter Rawlinson.
Related Story: Lucid Unveils Sinister "Stealth Look" Package
Images by Lucid Motors licensed by CC BY 2.0.
James Walker is an Automotive Journalist at Torque News focusing on Lucid Motors. If it's got wheels he's interested, and he's looking forward to seeing what kind of cars the EV revolution brings us. Whether it's fast, slow, new, or old, James wants to have a look around it and share it in print and on video, ideally with some twisty roads involved. You can connect with James on Twitter, Instagram, and LinkedIn.