Lucid has issued a recall for 1117 Dream Edition and Grand Touring vehicles over concerns about the wiring behind their Glass Cockpit instrument panel. According to the NHTSA website, the issue centers around the panel's ethernet wiring harness which may not have been properly secured during assembly.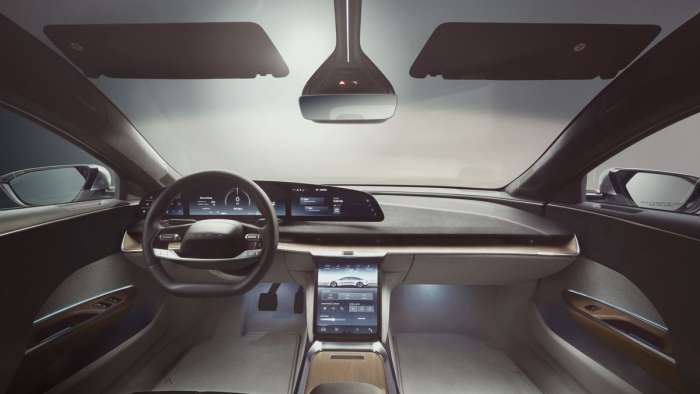 The Glass Cockpit serves as the Lucid Air's instrument panel and also displays music and navigation information.
Falling under the "Controls and Displays" recalled category, issues with the harness could result in the instrument panel shutting off and failing to display the speedometer, gear selection and warning lights thus increasing the risk of a crash. Lucid had this to say in a recall email notice sent out to customers:
"For Lucid, the safety of our customers and their families is the highest priority. Lucid is recalling certain model year 2022 Lucid Air vehicles because of the possibility that the wiring connection to the instrument panel may not have been secured properly during assembly. The recall applies to 1,117 vehicles that have been delivered to customers, and it is estimated that the defect is present on 1% of cars. Lucid is not aware of any instances when these components have failed in a vehicle or caused an interruption to the instrument display panel."
Related Story: Lucid Air Owner Receives Ominous Warning From Failed OTA Update
Inspection and Fix
Lucid owners have been instructed to bring their cars into a Lucid Service Center for an inspection which takes around 30 minutes. Lucid says the harness could be damaged by rubbing against other components and if this is found to be the case the repair would take up to eight hours. The quoted time is likely that long to give Lucid's techs time to juggle all the cars being brought in as a source in the Lucid owners' forum mentioned that his advisor told him it was a fairly quick fix.
In other news from the owners' forum it appears Lucid has added a third quality assurance inspection to all Airs before they head out the door for delivery which is slowing down the rate that cars are making it into customer hands. This tracks with recent Bear's Workshop flyovers that have shown cars steadily building up in the lots outside AMP-1 without many heading off for delivery. The recall comes as another hurdle for Lucid to overcome closely following the news that the company had made 300 customer deliveries in April.
This is Lucid's second safety recall. The first affected up to 203 vehicles and was caused by a potentially faulty snap ring on the car's front strut dampers which could fail causing a sudden drop in ride height and a loss of control. No Lucid Airs were reported with this having happen but in these cases it's always better safe than sorry.
Related Story: Lucid Reshuffles Executives In A Bid To Speed Manufacturing
Images by Lucid Motors licensed by CC BY 2.0.
James Walker is an Automotive Journalist at Torque News focusing on Lucid Motors. If it's got wheels he's interested, and he's looking forward to seeing what kind of cars the EV revolution brings us. Whether it's fast, slow, new, or old, James wants to have a look around it and share it in print and on video, ideally with some twisty roads involved. You can connect with James on Twitter, Instagram, and LinkedIn.