Lucid's fond of saying that the Air has the interior space of an S-Class Mercedes with the exterior dimensions of an E-Class. In the company's latest Tech Talks video CEO Peter Rawlinson takes us for an in-depth examination of the ways this has been achieved.
Discussing vehicle packaging as a 3D puzzle, Rawlinson tells us that Lucid's advantage is that it can decide on the shapes of its various pieces because it manufactures them in-house.
Driver's Car, Passenger's Car
Rawlinson states that the Lucid Air has long wheelbase stability with short wheelbase agility thanks to its trim front and rear overhangs. This allows wheelbase to be maximized while reducing the overall length of the vehicle, provided exciting driving dynamics with plenty of room inside for passengers. Discussing the rear of car, Rawlinson says that the challenge was to minimize the distance between the passenger's hips and the centerline of the axle while keeping occupants safe in an accident and leaving room for the suspension.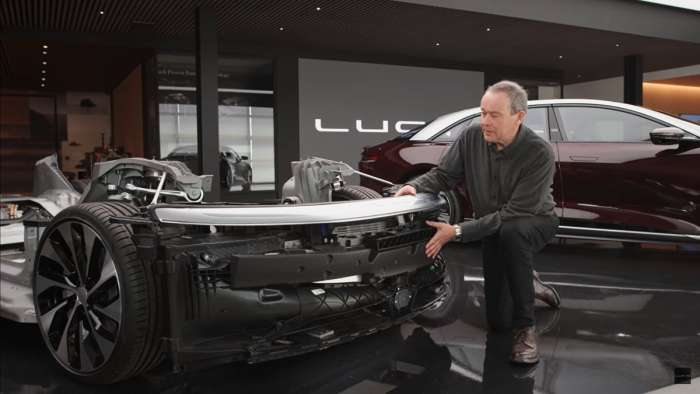 He then takes us through the Air's injection-molded front end module which combines the headlights, long- and short-range radar sensors, the solid-state lidar system with energy-absorbing foam and vortex induction pathways for cooling. It's a beautifully packaged unit, just don't think about the cost of a front-end shunt.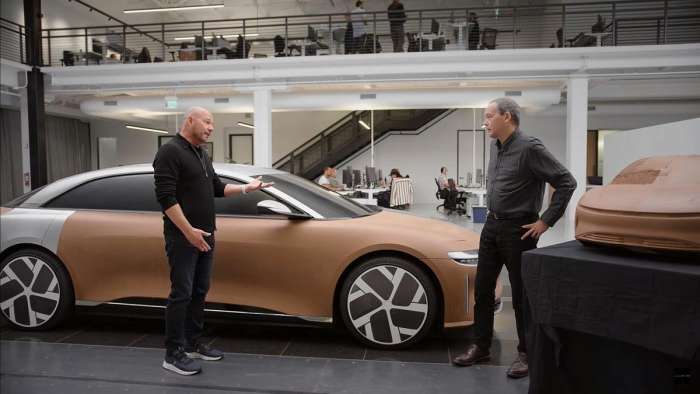 After that it's into the design studio to meet with Derek Jenkins who runs Peter and the audience through the clay modelling process Lucid used with the Air and provides insight into how clay is CNC milled into the right shapes.
Related Story: Lucid Announces Financial Services Providing Leasing And Loan Options To Buyers
Finally, Rawlinson drives home the advantage in packaging afforded to Lucid by making their own components and shows off the Air's drive unit which combines the motor, transmission, and inverter to make 670 horsepower while being compact enough to fit in a small suitcase. It's another interesting and insightful video from Lucid and you can watch it right here.
Images by Lucid Motors licensed by CC BY 2.0.
James Walker is an Automotive Journalist at Torque News focusing on Lucid Motors. If it's got wheels he's interested, and he's looking forward to seeing what kind of cars the EV revolution brings us. Whether it's fast, slow, new, or old, James wants to have a look around it and share it in print and on video, ideally with some twisty roads involved. You can connect with James on Twitter, Instagram, and LinkedIn.