Just about everything that LCID investors could want to hear was covered in Lucid's Q1 2022 earnings call. From production numbers to expansion and hitting its targets, everything sounds like it's going great for Lucid Motors at the moment.
Despite a couple of supply chain-related hiccups the outlook for 2022 is overwhelmingly positive and Lucid's global expansion plans are on track with the first European Studio to open in a matter of days in Munich.
Deliveries and OTA Updates
Lucid delivered 360 vehicles to customers during Q1, nearly tripling the 125 units delivered in Q4 2021. On top of this, CEO Peter Rawlinson reported that around 700 Lucid Airs have been built so far this year with over 300 cars delivered in April alone. This shows that after a slow start and some missed targets Lucid's production arm is really starting to get up to speed. Deliveries of the Lucid Air Dream Edition are almost complete.
In discussing supply chain issues, Rawlinson and CFO Sherry House mentioned that the company had seen some production slowdowns as a result of the ongoing lockdowns in China, causing the line to run at reduced capacity for around a week with a couple of days in April where production stopped altogether.
A total of 11 over-the-air updates were sent out to Air drivers during Q1 with an increase in key fob battery life given as an example of the purposes they served.
Reservations and Updated Pricing
Lucid has over 30,000 reservations on hand at the time of writing worth a potential $2.9 billion in revenue. As previously announced, Lucid Air prices will rise at the end of the month with the Air Grand Touring starting at $154,000, Touring at $107,400, and Pure at $87,400 before government incentives. Lucid brought in $57.7 million in revenue during Q1, largely from vehicle sales, and ended the quarter with $5.4 billion worth of cash on hand which should fund the company's operations and expansions well into 2023.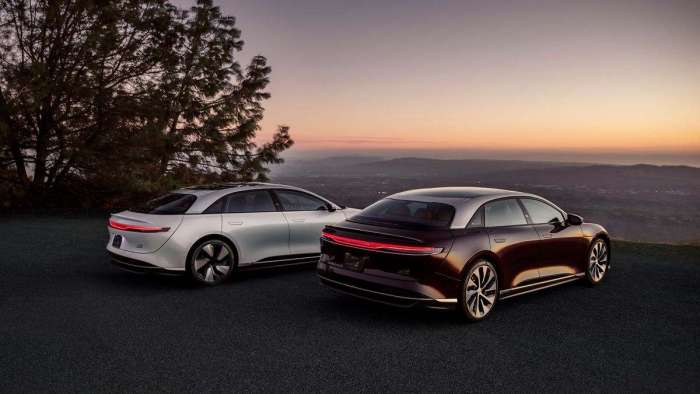 Looking Forward
The call reiterated the earlier 12,000-14,000 car production target which is seen as very attainable with the speed that production is ramping up and barring any further supply chain issues. Lucid has contingency plans in place for such events if and when they occur.
The much-anticipated Gravity SUV is still on track to begin production in the first half of 2024, and more detail was given on the recent 100,00-unit deal with the Saudi government. Under the terms of the deal, Lucid will supply between 1000-4000 vehicles per year with that number rising after 2025.
Delivering cars to customers was listed as Lucid's top priority, and when questioned about competing with Rivian and Tesla Peter Rawlinson said that they're competing with the automotive industry as a whole, not just the EV companies.
Lucid's energy storage system also came up in the questions, with Rawlinson saying that they already have an operational prototype which is working well.
All in all this is great news for Lucid and its investors, and it certainly looks like the plans are working. How do you feel about Lucid? Does this call make you want to invest or buy more shares? Let us know in the comments below.
Related Story: Semiconductor Shortages From China Are Lucid CEO's Main Concern
Images by Lucid Motors licensed by CC BY 2.0.
James Walker is an Automotive Journalist at Torque News focusing on Lucid Motors. If it's got wheels he's interested, and he's looking forward to seeing what kind of cars the EV revolution brings us. Whether it's fast, slow, new, or old, James wants to have a look around it and share it in print and on video, ideally with some twisty roads involved. You can connect with James on Twitter, Instagram, and LinkedIn.