Lucid Plans Second Life For Recycled EV Batteries In Energy Storage
As with anything else used to build a car, EV batteries have a finite lifespan after which they cease to be suited for powering a vehicle. With more and more EVs hitting the road each year, battery recycling is a vitally important issue for the industry. Lucid believes that it can recycle every battery from its vehicles and make a handsome profit at the same time.
The Problem
The lifespan of a battery used to power an EV averages out to roughly eight years or 100,000 miles. Once the battery hits this age it begins to lose capacity and develop problems with achieving a full charge. The batteries must be replaced, but the issue then is what to do with the old batteries. Due to the fact that these batteries retain 70-80% of their original capacity they're far from useless, and certain EV manufacturers are planning for this inevitability from day one.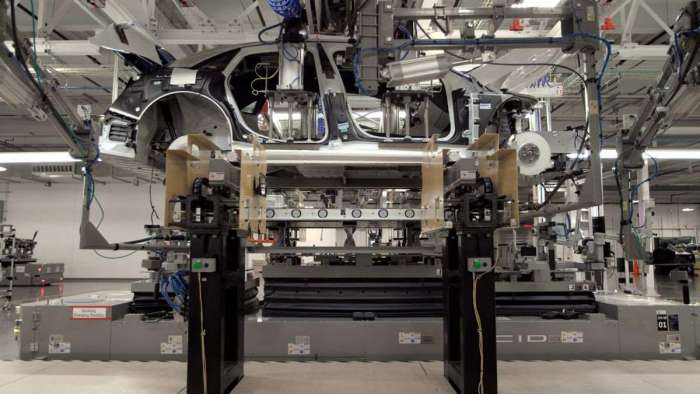 Lucid's Solution
Lucid plans to recover as many of its fast-charging batteries as possible and put them to use in stationary energy storage applications. If all goes to plan, batteries will be recovered at Lucid service centers or when a customer trades in their vehicle. After that, the batteries will undergo testing to certify them for their new role and then they'll be installed in a storage system.
Such systems require additional peripherals like safety switches and inverters, but the batteries they use can be identical to the ones found in Lucid's cars.
The company already has a prototype 300 kWh storage system built using first-life batteries, but it sees no reason why an identical design wouldn't work with second-life power cells. Indeed, when interviewed by Axios on HBO Lucid CEO Peter Rawlinson stated that energy storage could overtake the EV business as Lucid's major money-maker:
Right now it's probably, in terms of effort… one-half of 1% of our endeavor, but I wouldn't be surprised if in five years from now it was bigger than our automotive business. I wouldn't be surprised if ESS [Energy Storage Systems] didn't generate more revenue than our cars.
Applications
Lucid sees potential for its second-life storage systems in both residential and commercial settings. In a way, the company already offers a product that works this way, as the award-winning Lucid Air supports bi-directional charging, allowing it to feed power back into a home in the event of a blackout or other power cut emergency.
Tesla already offers a similar service with its Powerwall and Powerwall+ systems, although these use first-life batteries exclusively.
Similar second-life systems are in the works at Audi, Ford, and General Motors, with the latter's Ultium battery pack featuring a self-contained and managed modular design, allowing old modules to be replaced with new ones and letting the pack as a whole adjust how it operates to incorporate the new modules.
In most jurisdictions the EV manufacturer is ultimately responsible for ensuring the battery packs from its vehicles are recycled or disposed of properly. Second-life storage systems like Lucid's solve the issue of what to do with packs that are no longer serviceable for vehicle duty while easing the load placed on electrical grids and delivering continuous income to the manufacturer. I for one wouldn't be surprised to see the majority if not all EV manufacturers implement programs like this in the future. Everybody wins, would you agree?
Images by Lucid Motors licensed by CC BY 2.0.
James Walker is an automotive journalist at Torque News focusing on Lucid Motors. If it's got wheels he's interested in it, and he's very excited to see what kind of cars the EV revolution brings us. Whether it's fast, slow, new, or old, James wants to have a look around it and share it in print and on video, ideally with some twisty roads involved. You can connect with James on Twitter, Instagram, and LinkedIn.