Lucid Motors Reveals NVIDIA As Major Partner Behind DreamDrive Pro Autonomous Driving
Lucid Motors has revealed the big-name partner behind its advanced driver assist systems, AKA DreamDrive Pro. NVIDIA, which also makes high-end graphics cards and other computer parts, provides the platform upon which DreamDrive Pro is built. It's known as DRIVE (their capitalization, not me shouting). NVIDIA has been working on AI systems related to self-driving cars for some time, and now counts a large number of Chinese EV companies as well as legacy brands like Jaguar and Volvo among its clients.
Lucid Group's Senior Vice President of Digital, Mike Bell, announced the partnership and stated that the NVIDIA DRIVE platform allows DreamDrive Pro to be constantly updated and enhanced through over-the-air updates. NVIDIA DRIVE is at the core of DreamDrive Pro functionality in all current and future Lucid models.
Related: Lucid Air Named Luxury EV Of The Year By Cars.com
What Is NVIDIA DRIVE?
According to NVIDIA's website, DRIVE is an "end-to-end, modular development platform and reference architecture for designing autonomous vehicles" which functions as the central nervous system and AI brain for current and future self-driving vehicles. DRIVE's adaptability allows Lucid's DreamDrive Pro to gain additional capabilities through said over-the-air updates, and they architecture is designed to evolve across EV generations. The Lucid Air features a wealth of scanners and cameras which will serve to govern and improve the vehicle's self-driving functions as capabilities increase.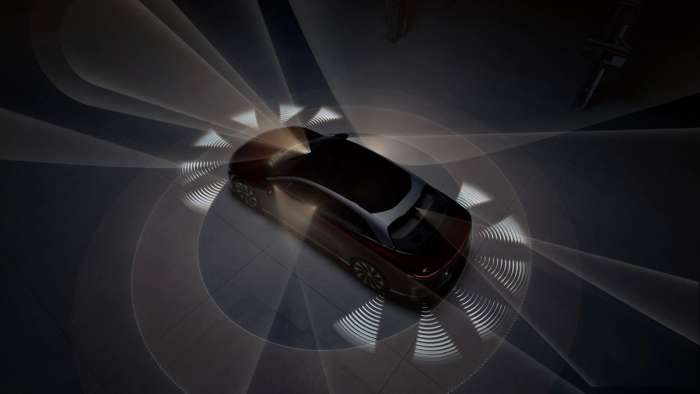 DreamDrive Pro
DreamDrive Pro is Lucid's brand name for its suite of advanced driver assistance systems, and comes standard on Dream Edition and Grand Touring Lucid Airs. It is available as an optional extra on the Touring and Pure versions of Lucid's award-winning sedan. The system makes use of a large array of cameras and sensors featuring 14 cameras, a lidar unit, five radar units, and 12 ultrasonic sensors to govern the car's behaviour and reactions to its surroundings. The hardware's all there, now the system is just waiting on the software for full autonomous driving to become a reality. Lucid Airs are already capable of entering/exiting owners' garages by themselves, and can manage semi-autonomous driving thanks to OTA updates released soon after Dream Edition deliveries began.
Related: Lucid Air Grand Touring: In The Metal At Lucid Studio Toronto
Lucid's partnership with NVIDIA will give the Air the capabilities it needs to continuously supply DreamDrive Pro with the latest artificial intelligence advancements in the field of autonomous driving, and will feature heavily in the upcoming Gravity SUV, as well as any other Lucid vehicles further down the pipeline. Lucid supercar that teaches its driver the fastest lines around a racetrack anyone?
Images by Lucid Motors licensed by CC BY 2.0.
James Walker is an Automotive Journalist at Torque News focusing on Lucid Motors. If it's got wheels he's interested, and he's looking forward to seeing what kind of cars the EV revolution brings us. Whether it's fast, slow, new, or old, James wants to have a look around it and share it in print and on video, ideally with some twisty roads involved. You can connect with James on Twitter, Instagram, and LinkedIn.