Today marks Lucid's expansion into another lucrative market: the Greater Toronto Area. The doors to Lucid's newest Studio are open, giving shoppers at Toronto's Yorkdale Shopping Centre the chance to see for themselves just what all the hype is about. Waiting for my scheduled time as part of Lucid's media preview day on Thursday, I saw just about every passerby's head turned by the Stellar White Lucid Air Grand Touring sitting pride-of-place inside the new Studio. The Toronto location marks the 23rd Studio opened in North America, and the second in Canada after one in Vancouver. An accompanying service center is slated to open this year.
Lucid At Yorkdale
Located in a part of the mall which features a range of tech companies and Canadian brands, the Studio is flanked by Samsung and iconic Canadian clothing store Roots, while the almost comically dramatic matte black Dyson store is just round the corner. The location, chosen to highlight Lucid's groundbreaking technology while tying the manufacturer to familiar Canadian brands, couldn't be better. I'm no fan of malls, with the endless tinny jazz and blinding lights, but even a curmudgeon like myself can enjoy ogling the nearby Cartier window displays while waiting for my appointed time to meet the Air and the people behind it.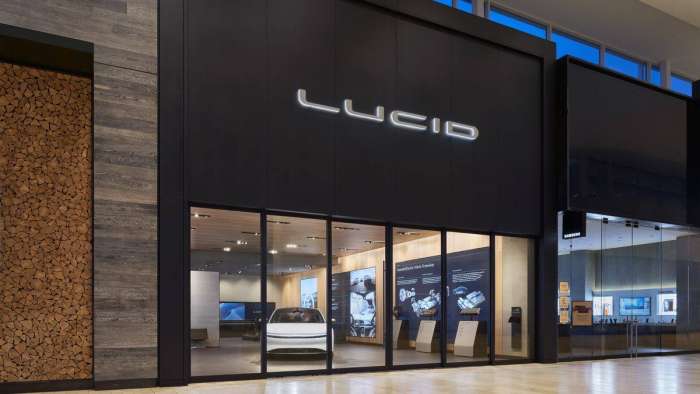 Air In The Metal
After writing so many thousands of words about the Lucid Air before one arrived near where I live in Toronto, I wondered if the car would live up to all the hype. I can faithfully say that it did. It looks every bit as futuristic in person as it does on film, and has a real presence defined by its clean, unique styling. With Lucid Interior Design Manager Zeb Coughenour showing me around the car the main thing that struck me was just how slick and well-planned every detail seemed to be, to the extent that the honeycomb shapes stamped onto the underside of the hood provides rigidity but also simply looks good. The interior nails its brief extremely well too, and I was able to find all the major functions intuitively (lights, heaters, door handles, etc.) without trawling through pages of menu screens. The Air boasts plenty of headroom (remember that S-Class interior in an E-Class exterior they like to tout) and the glass roof installed on Lucid Toronto's Grand Touring demonstrator gives the cabin an open, airy feel.
VR Design
One of the standout moments of my visit to Lucid's Toronto Studio was using the VR buck, which allows customers to try out different interior and exterior combinations. With a limited amount of demo cars available the system will be a huge boon for Lucid as it gives the customer the ability to experience their perfect Lucid Air spec without having to keep a ton of inventory lying around. Maybe that'll change a few years down the road when the number of Airs built rises into the tens of thousands, but with the VR system there's little need for it. Customers can design their Air with staff in-house, or they can do so with the brand's configurator website and then use a code to load in their settings once they arrive at the Studio. Samples of available interior materials and body colours are on hand to let buyers see and feel the Air's components in real life.
Related: Lucid Announces Free Charging Partnership With Electrify Canada
Canadian Deliveries
Deliveries to the first Canadian Lucid customers are slated to begin in Spring 2022. The 800 horsepower Grand Touring parked in the new Studio comes in at $191,300 CAD, with the 620 hp Touring and 480 hp Pure selling for $131,300 and $107,300 respectively. As in the States, Lucid will deliver the higher-spec models first followed by the Touring and Pure.
Thanks to Dave Buchko, Martin Paquet, and the rest of the Lucid Toronto team for inviting me to check out the Air in person.
Images by Lucid Motors licensed by CC BY 2.0.
James Walker is an Automotive Journalist at Torque News focusing on Lucid Motors. If it's got wheels he's interested, and he's looking forward to seeing what kind of cars the EV revolution brings us. Whether it's fast, slow, new, or old, James wants to have a look around it and share it in print and on video, ideally with some twisty roads involved. You can connect with James on Twitter, Instagram, and LinkedIn.