Lucid Group Will Be Added to Nasdaq-100 Index Next Week
Lucid needed some good news after last week's difficulties, which saw the American EV manufacturer announce that it had been subpoenaed by the SEC over claims and figures surrounding its SPAC merger with Churchill Capital IV.
On Wednesday Lucid declared that it would be offering $1.75 billion worth of convertible senior notes to institutional buyers; a decision which evidently rubbed investors the wrong way, and caused an 18% single-day drop in Lucid's share value.
Lucid announced its inclusion in the index via press release earlier today:
"We are proud to join the prestigious Nasdaq-100 Index, a recognition of our progress establishing Lucid in the EV market and our future growth strategy," said Sherry House, CFO, Lucid Group. "Since our successful public listing on Nasdaq in July, and with customer deliveries of the Lucid Air beginning in October, our differentiated EV technology continues to drive a clear demand for, and confidence in, our products and company."
Benefits For Lucid
Being included in the index is a good sign for investors and is emblematic of the stock's future potential. On top of this, being added to the index means that a company's stock also gets included in mutual funds and index funds that track the Nasdaq-100 Index.
Lucid's stock is already seeing the benefits of the announcement a week out from it actually being included, rising by nearly 4% over the course of trading today and reversing the downward trend seen through much of last week.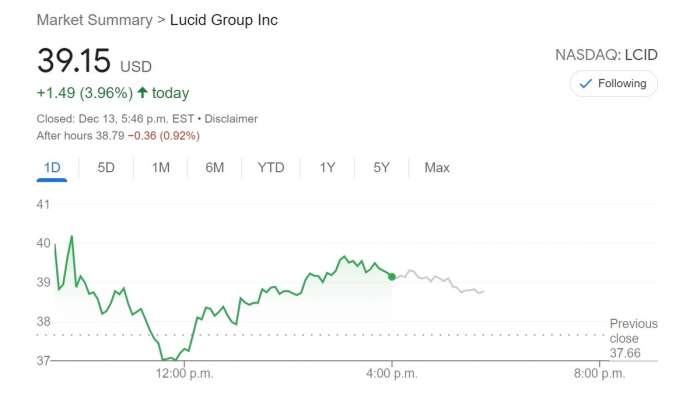 Class Of 2021
The Index gets evaluated around this time each year, with underperforming stocks dropped to make room for the newcomers. Airbnb and IT security firm Zscaler will also be added to the Index next Monday, while Fox Corporation and Trip.com are being given the boot. All told, six stocks will be dropped and six included.
The announcement of Lucid Group's inclusion in the Nasdaq-100 Index comes as its first international Studio showroom opens in Riyadh, Saudi Arabia, and customer deliveries continue to roll out across the US. Lucid's next big test will be scaling production at the AMP-1 production facility to match reservation demand. With that accomplished, an entry-level $70,000 version of the Air launched next year, and the Gravity SUV following that, Lucid's stock could be in for a meteoric rise.
Images by Lucid Motors licensed by CC BY 2.0.
James Walker is an automotive journalist at Torque News focusing on Lucid Motors electric vehicles. If it's got wheels he's interested in it, and he's very excited to see what kind of driver's/performance cars the EV revolution brings us. Whether it's fast, slow, new, or old, James wants to have a look around it and share it in print and on video, ideally with some twisty roads or a track involved. You can connect with James on Twitter, Instagram, and LinkedIn.