The Lucid Air Pure is addicting to drive and has the same magic any other Lucid according to one owner's comprehensive review posted to the Lucid owner's forum.
User Noobzilla's Air Pure is painted Fathom Blue and features 19" wheels, DreamDrive Pro, Surreal Sound Pro and Lucid's PurLuxe vegan leather interior. There are good and bad aspects but on the whole the he's very pleased with the Air Pure. These are his thoughts after two weeks of ownership.
Delivery Checklist
There's a delivery checklist on the forum covering everything from panel gaps and door seals to key fob function and signing into Tidal. Noobzilla's Air Pure passed every test but one: the trunk was slightly misaligned with a larger gap on the driver's side than the passenger side.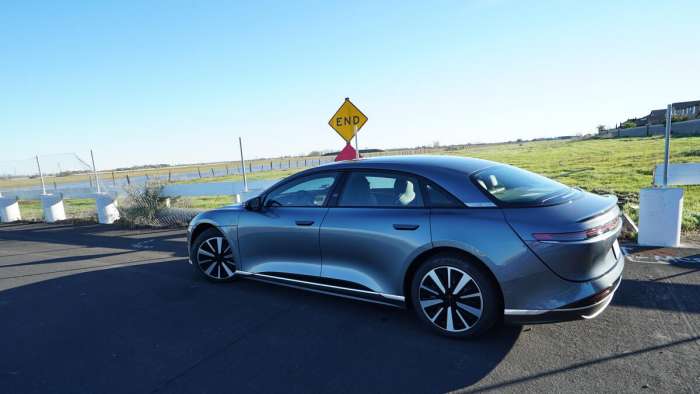 Driving Experience
This was one of the areas in which the Pure really shone, with Noobzilla stating that his Air feels about the same size to drive as the Mazda 3 it replaced on daily driver duty. Considering the Air outweighs the Mazda by nearly 1000 lbs. and is larger in every dimension that's quite a statement. The Pure's 480 horsepower is plenty for everyday life and it accelerates quickly and smoothly when called upon. Its silky ride and quiet interior reportedly make it easy to start exceeding the speed limit without feeling like you're driving hard.
The highest praise for the Pure's driving characteristics comes from the effect it's had on Mr. Z's driving habits. Before owning the Air he would have said that he didn't really like driving but now he's taking the car out just for the fun with no destination in mind. Other forum users echo the sentiment. So much for the electric future not producing any driver's cars.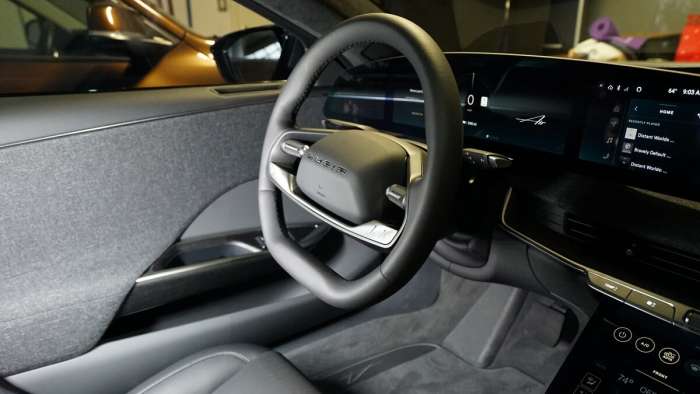 It wasn't all good news for the Pure, however, with poor visibility reported under heavy rain. Noobzilla speculates that the water droplets obscuring his view out of the car are caused by its aerodynamic profile (it's more pronounced at high speeds) and perhaps a lack of hydrophobic coating. He applied his own ceramic spray coating which helped a great deal and other forum users responded saying that they hadn't experienced anything like this. The car also claimed its frunk was open when it was closed after a charge; this was fixed by pushing down on the panel's leading edge.
A more worrying quirk showed itself during a couple of three point turns. If the car was switched from drive to reverse without depressing the brake it would stop moving and prompt the driver for a PIN code before it would shift again. The PIN entry screen was reportedly a bit of a faff to get to, especially in a situation where you've got traffic bearing down on you.
After its first charge up to 100% Noobzilla's Lucid Air Pure showed that it had 434 miles of range remaining.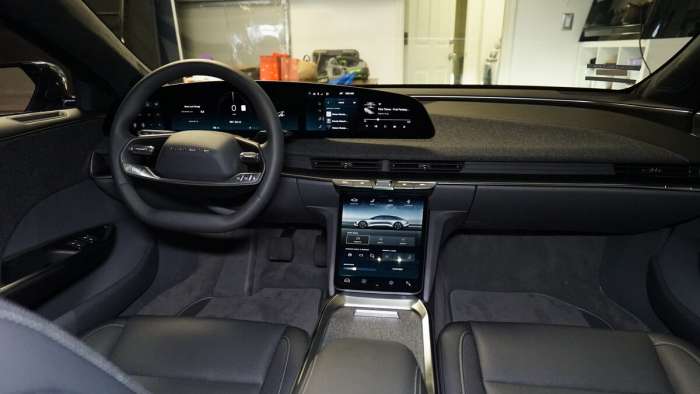 Interior
Noobzilla's review of the Pure's interior is mostly positive with a couple of minor annoyances. He praised its luxury feel and materials as well as its build quality which he felt surpassed that of the Teslas he had encountered. He praised the Air for its tactile buttons that control the stereo and said that Surreal Sound Pro sounded "clean and detailed" if missing a little low-end oomph that a larger subwoofer would provide.
He finds the built-in Alexa system frustrating when searching for addresses and reports that the HVAC system isn't the greatest (par for the course with EVs), though the seat and steering wheel heaters are more than powerful enough.
There have been no issues with charging that were the car's fault, and the Pure reportedly blocks out road and wind noise very well, with the latter only slightly noticeable at highway speeds. NZ would also like the cabin LED lighting to be color-adjustable.
Driver Assists
The Air Pure again received praise here though there was room for improvement. Highway Assist kept the car centered in its lane with a slight bias to the right, though it was deactivated after a truck accidentally peppered the Lucid with a sawdust-like substance which, according to the car, obscured its windshield cameras. They appeared to reset themselves after pulling over to clean the screen.
Adaptive cruise control handled a sudden 80-10 mph slowdown confidently, braking smoothly and getting backup to speed without the driver having to touch anything. Noobzilla reports feeling very safe with the cruise control engaged and would recommend both features, which allow the driver to adjust their following distance from around 4-7 car lengths behind the vehicle ahead. The only issue with this Pure's cruise control arises when a car ahead merges into the Lucid's lane, with the EV being slightly slow to react to its presence and back off the accelerator.
All in all Noobzilla is happy that he decided to buy a Lucid Air Pure. It has its problems, absolutely, but these will hopefully be ironed out in time. What it also seems to have is the character to get its owner excited about driving, and that means a lot. Noobzilla's Pure is one of the 7,180 cars that Lucid built in 2022.
Related Story: Cantor Backs Lucid's Tech With Buy Rating For LCID
Images taken by the owner and used with permission.
James Walker is an Automotive Journalist at Torque News focusing on Lucid Motors. If it's got wheels he's interested, and he's looking forward to seeing what kind of cars the EV revolution brings us. Whether it's fast, slow, new, or old, James wants to have a look around it and share it in print and on video, ideally with some twisty roads involved. You can connect with James on Twitter, Instagram, and LinkedIn.