Andres Shephard, Lead Equity Analyst for EVs, EVTOL, charging, LIDAR, renewables and more at financial services firm Cantor Fitzgerald has backed the Californian company with a 'Buy' rating for its stock.
Despite LCID's nosedive (-80% in the past year) thanks to production difficulties and supply chain issues, Shephard is standing by the stock because of the company's technology giving its cars more range than any competitor.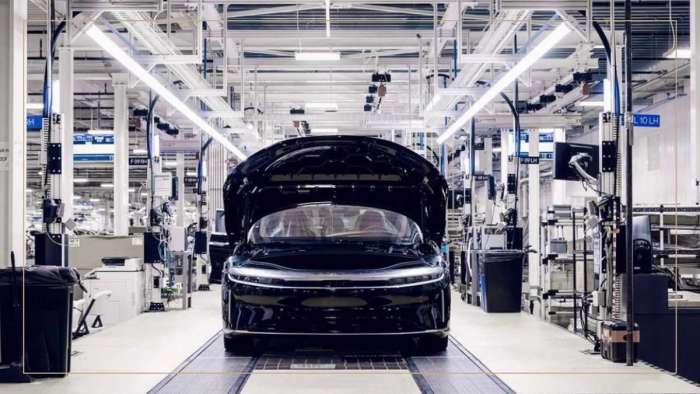 Lucid lowered its production guidance twice in 2022 from 20,000 vehicles to 12,000-14,000 and then down to 6000-7000.
Good News, Everyone
The new year has been kinder to Lucid's stock price thanks to the announcement that it had produced 7,180 cars in 2022 and exceeded its production target. Even better news was that nearly half of those vehicles were built in Q4, showing that the production line at AMP-1 is finally starting to gather speed.
"We are encouraged by LCID's 4Q22 production and delivery numbers. LCID's FY22 production vehicles are above company guidance and a good sign that production is beginning to scale and ramp up, in our view. We remain bullish on LCID over the long term, and we continue to believe that the company's vehicles are able to provide greater battery efficiency, longer range, faster charging, and more interior space relative to peers."
Shephard also said that his outlook on Lucid could change with information from its Q4 and FY report on February 22nd, but for now he thinks the stock is worth buying.
The wider pool of analysts is less convinced, with LCID maintaining a 'Hold' consensus rating according to Yahoo at 3 Buys, 2 Holds and 3 Sell ratings. Lucid delivered 4,369 vehicles in total during 2022.
Also helping LCID's recent climb is the news of the company's good fortune in a pair of lawsuits. The first was brought against Lucid and Rivian by the Illinois Automobile Dealers Association over their direct-to-consumer sales models, while the second dates back to December of 2021 when Lucid was subpoenaed by the SEC over allegations that it was dishonest on production targets prior to the SPAC merger which took it public.
Related Story: Latest Flyover Shows Progress At Lucid Factory
Images by Lucid Motors licensed by CC BY 4.0.
James Walker is an Automotive Journalist at Torque News focusing on Lucid Motors. If it's got wheels he's interested, and he's looking forward to seeing what kind of cars the EV revolution brings us. Whether it's fast, slow, new, or old, James wants to have a look around it and share it in print and on video, ideally with some twisty roads involved. You can connect with James on Twitter, Instagram, and LinkedIn.