Lucid has emerged victorious in a lawsuit brought against it by the shareholders of Churchill Capital Corp., the special purpose acquisition company that Lucid merged with to become a publicly traded entity back in February 2021. The plaintiffs accused Lucid and its management, specifically CEO Peter Rawlinson, of lying about its production outlook.
Rawlinson's Statements
The SPAC's investors claimed that the Lucid CEO made allegedly misleading statements in a February 5th interview on CNBC's "Squawk on the Street" where he said that Lucid was hoping to build 6000-7000 vehicles in 2021 and that the AMP-1 factory was "already built".
U.S. District Judge Yvonne Gonzalez Rogers ruled that "despite media speculation, Churchill Capital Corp IV shareholders who brought the proposed class action had no reason to know in early 2021 that the SPAC would merge with Lucid" according to Reuters. This, Judge Rogers said, means that Rawlinson's statements on February 5th "could not have been material to their decisions to invest in the SPAC."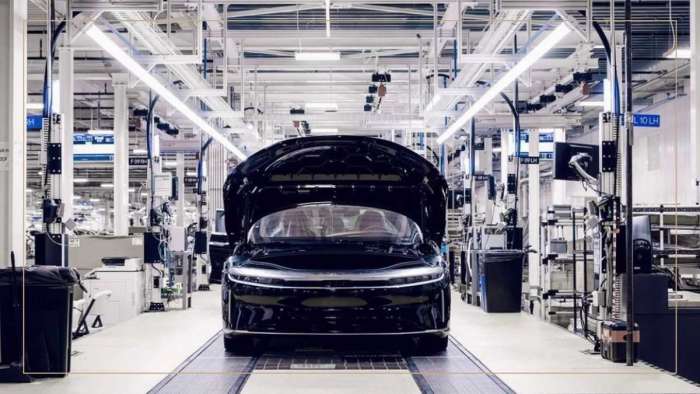 Scaling production has been anything but easy for Lucid, though things seem to be improving at AMP-1 now.
Rogers referred to the pre-merger jump in Churchill's share price as a function of "the public's perception of the likelihood of the merger, not its actual likelihood. The latter is what matters."
"The court cannot conceive of how plaintiffs could reasonably think a merger was likely when Lucid and CCIV had not even publicly acknowledged that a merger was being considered."
Fallout
The merger was finalized, then Lucid clarified that the factory wasn't finished and that they were aiming to build 577 vehicles before the year's end. Churchill's share price fell by 50% in two days. Churchill's value dropped by $7.4 billion while Lucid made $4.4 billion from the deal.
The SEC subpoenaed Lucid for information and documents related to the merger in December of 2021 and also wanted information on the number of preorders Lucid had received for the Air up to that point. Lucid said it was cooperating with the investigation.
Lucid's stock opened at a recent high of $8.42 this morning before retreating, up 1.5% to $8.06 at the time of writing. It's been a good couple of days for LCID, with news of America's growing appetite for electric vehicles boosting it at the start of the week.
There's still a long and rocky way to go for the company to nail down its supply and quality issues before becoming profitable but Lucid investors will be pleased with the way their shares have been trending this week. Beating the fraud case is another step in the right direction.
Related Story: Lucid Exceeded Its Production Target By 180 Cars In 2022
Images by Lucid Motors licensed by CC BY 4.0.
James Walker is an Automotive Journalist at Torque News focusing on Lucid Motors. If it's got wheels he's interested, and he's looking forward to seeing what kind of cars the EV revolution brings us. Whether it's fast, slow, new, or old, James wants to have a look around it and share it in print and on video, ideally with some twisty roads involved. You can connect with James on Twitter, Instagram, and LinkedIn.