The Kia EV6 GT is set to debut at this month's Goodwood Festival of Speed with a dual-motor all-wheel drive setup good for 585 horsepower and 546 lb-ft of torque.
Featuring a slew of driver-focused upgrades over the standard EV6, the GT is Kia's most powerful production car to date.
It comes with the larger of the two batteries offered by the standard EV6 (77.4 kWh over 58 kWh) to balance the power with "first-class long-distance travel capabilities" and can charge to 80% in 18 minutes at a DC fast charger. There's no word on GT driving range yet, but it'll be interesting to see how frugal the more powerful e-motors can be compared to the longest-range AWD versions of the non-GT EV6 with their EPA-estimated 274 miles between charges.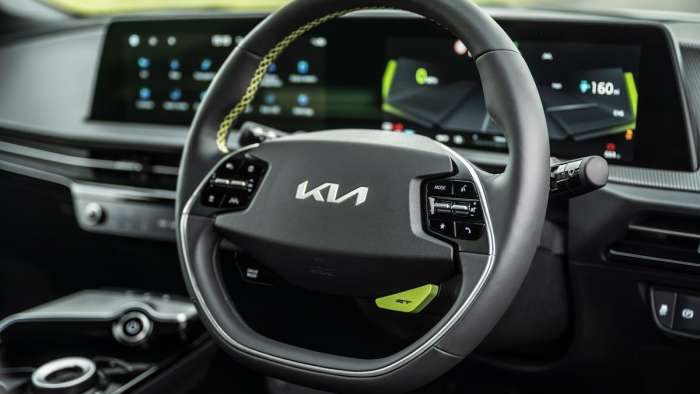 Performance
The EV6 GT comes with a GT button on the steering wheel which, when pressed, turns the crossover's motors, brakes, steering, suspension and stability control up to their most aggressive and sporty settings. It also features a system that Kia calls e-LSD which uses software to mimic the function of a limited-slip differential despite there being no mechanical connection between the rear wheels.
There's also a "My Drive" mode which allows drivers to tailor each of the characteristics mentioned above to suit their individual preferences.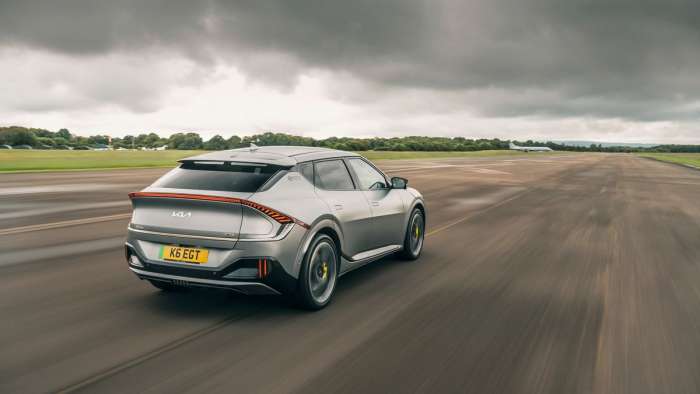 Kia claims the EV6 GT can make the 0-60 mph sprint in an extremely rapid 3.5 seconds (eclipsing the 4.6 of the fastest non-GT version) and will go on to hit a top speed of 162 mph.
Visual upgrades include more aggressive styling at the front and rear as well as yellow-painted brake calipers and yellow accents throughout the cabin.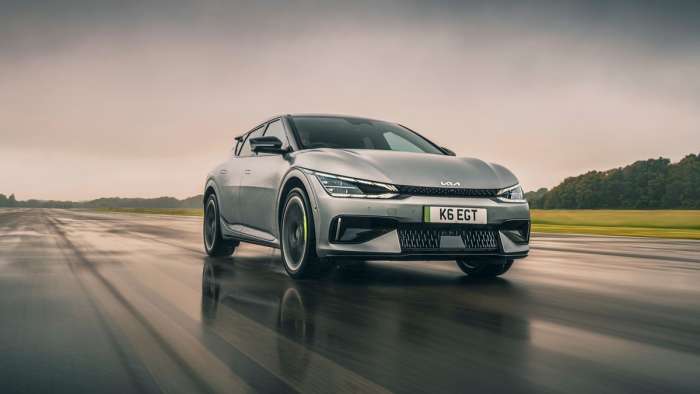 Professional rally driver Jade Paveley will be at the wheel of the EV6 GT as it makes numerous runs up the Goodwood hill climb course at this year's Festival of Speed taking place from June 23rd to 26th. Customer deliveries of the Kia EV6 GT are expected to begin towards the end of 2022.
Images from Kia licensed by CC BY 2.0.
James Walker is an Automotive Journalist at Torque News focusing on Lucid Motors. If it's got wheels he's interested, and he's looking forward to seeing what kind of cars the EV revolution brings us. Whether it's fast, slow, new, or old, James wants to have a look around it and share it in print and on video, ideally with some twisty roads involved. You can connect with James on Twitter, Instagram, and LinkedIn.