Review: 2022 Kia EV6 Wind RWD Auto
Kia's new EV6 comes at a time when almost all manufacturers are releasing similar vehicles. Toyota, Subaru, Hyundai, Nissan, and Genesis are all following the Jaguar I-PACE, Tesla Model Y, and Ford Mustang Mach-E into a segment that is very tightly packed with vehicles all with similar dimensions, if not target audiences. So what makes the EV6 special? A few things, but it also follows the pack in some ways we don't like, as we will explain.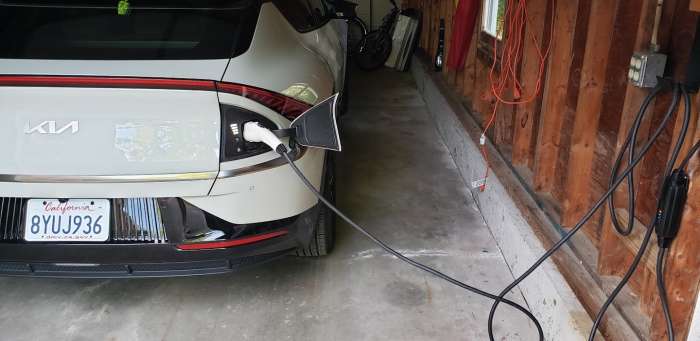 Kia EV6 Wind RWD Auto - What Is It?
The Kia EV6 is a battery-electric vehicle in the shape of a five-door hatchback car or crossover if your definition of crossover is broad. It seats five comfortably and the cargo area is generous. The EV6 is a rear-wheel-drive car in its lower trims, and all-wheel drive is available. Our RWD media test vehicle was one step up from the base model of the five available trims.
Kia EV6 Wind RWD Auto - What Does It Cost - What's Its Value?
The Kia EV6 starts at around $43K and the top trim has a price that comes close to $60K. Kia's EVs still qualify for the federal EV tax incentive of up to $7,500, and many states and municipalities offer generous rebates and incentives as well. Our sample car had a price including Kia's Inland Freight and Handling Charge of $48,710.
Our state applies a $2,500 rebate to battery-electric cars under $50K, so the consumer cost before dealer markups of the EV6 in our area would be about $39K. At that price point, this car is a fantastic bargain. Imagine also saving around $20K in lifetime energy costs by buying this car instead of a gas-burner. As you can see, the Kia EV6 is a downright steal. That is unless Kia dealers spoil the fun with markups as high as $20K. Hopefully, as inventory stabilizes that common practice will start to fade away.
One big plus of the Kia brand is its outstanding warranty. Spanning ten years or 100,000 miles for the original owner, it is nearly twice as long as many of the brand's peers. Kia does not include routine maintenance in the price of the vehicle like Hyundai, Toyota, Honda, BMW, and VW do. Since EVs are supposed to be very low maintenance, we find it odd when manufacturers don't include it in the car's price.
Kia EV6 Wind RWD Auto - How Is It Powered? What's Its Range and Efficiency?
The EV6 has an electric motor with 258 lb-ft of instant torque, powered by a traction battery with a 77.4 kWh storage capacity. Its range is 310 miles, and in our mild weather testing, that range seemed spot on. The EV6 earns a whopping 117 EPA-Estimated Combined energy efficiency value.
Kia EV6 Wind RWD Auto - How Does It Drive?
We quite liked the ride quality and handling of the EV6. Acceleration is more than anyone will ever need for normal driving on public roads. The torque is amazing with all EVs, and the EV6 is no exception. Braking was also very good. Paddle shifters allow you to vary your brake regeneration rate and use one-pedal driving if you wish. We found the ride a bit stiff for our taste, but suspect many shoppers interested in a sporty ride will consider it a good trade-off.
At over 5,000 pounds, and with a long wheelbase, the EV6 is not a car you toss around. Rather, it feels refined and instills confidence. Just be aware that the turning circle is wider than most crossovers in its size due to the long wheelbase.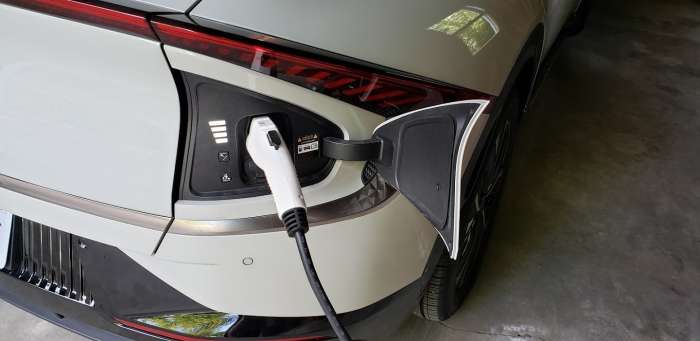 Kia EV6 Wind RWD Auto - Living Electric - How Fast Can It Charge?
One of the EV6's many strong points is that it can quickly accept a DC Fast Charge. Kia calls this "Ultra-Fast DC Charging Capability." Based on our media group's testing over the past few weeks, the EV6 has proven to charge as quickly or faster than any other EV our group has tested. However, the charging rate depends entirely on the output rate of the DF fast charger. Kia's ratings are all based on a 350 kW charger. Despite testing EVs regularly, I have never seen a 350 kW charger in person. In Metro Boston, the DCFCs are almost all 50 kW and there is only one I know of that has a 150 kW rate of charge. Still, the EV6 is as good as it gets with regard to public DC fast charging.
I charge almost entirely at home on a 20-amp Level 2 charger. I found the EV6 to charge very well on this inexpensive setup, and the socket's rear hatch was convenient, but not the best we've tried (that would be Tesla's design).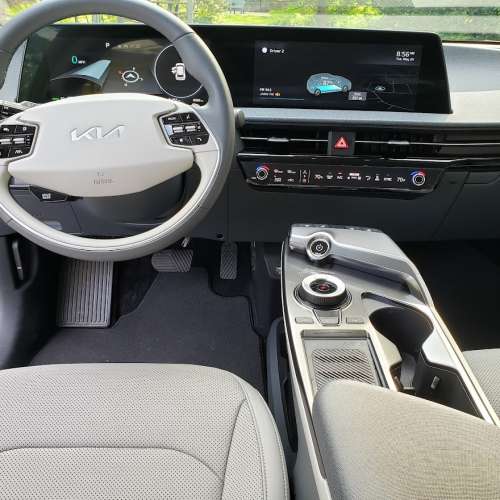 Kia EV6 Wind RWD Auto - Interior, Infotainment, Features
The interior design of the EV6 follows the path laid out by BMW's i3 and Tesla's line of cars. Kia uses perforated plastic "Vegan Leather" seating surfaces. Paired with the hard plastics on the doors, seatbacks, and other locations plus the recycled fabric dash material, the EV6 won't be mistaken for a luxury car. Society is now woke to the "horrors of genuine leather" after millennia of use. Instead, we opt for polymers made from fossil fuels. Which, if you think about it, are originally made from plants and animals.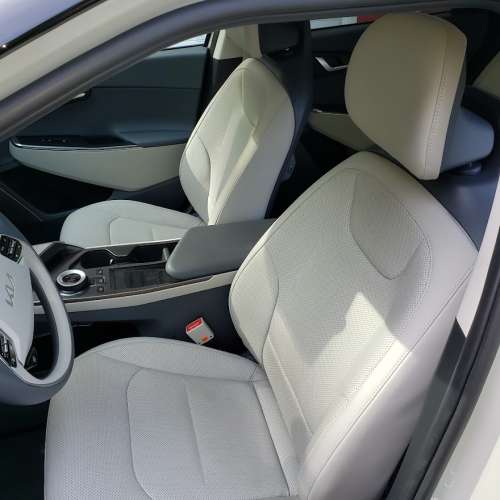 We rate the Kia EV6's infotainment system a B-. Kia uses the same type of wide curved infotainment screen and driver information display that Hyundai does in its Ioniq 5. It works, but enable Android Auto and you will find that about a quarter of the screen goes unused. Also, you need a cable to pair a phone with Apple CarPlay or Android Auto. When plugged in, we could find no happy place for a phone. There is no volume knob. So passengers must rely on the driver to adjust the audio.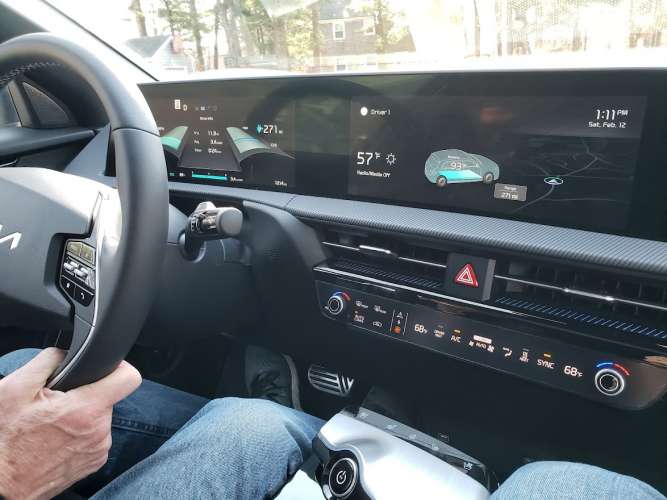 Kia EV6 Wind RWD Auto - What's Missing, What Would We Change?
Many new green vehicles, particularly BEVs, are being delivered by manufacturers with no spare tires. The EV6 is among the models without one. Our $48K tester didn't have a head-up display or a heated steering wheel, something we feel a vehicle at this price point should have.
After a week with the vehicle, the flush door handles were still a hassle and I could not make them work without using two hands. These are personal observations and you may not be bothered by the EV6's design and content at all.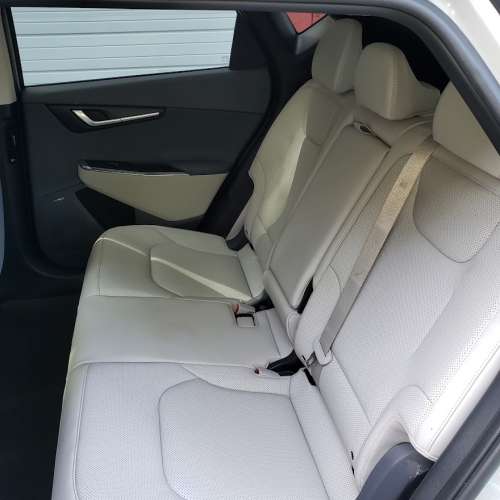 Conclusion
Among its many plusses, the EV6 Wind RWD Auto charges at a public DCFC quickly and offers a great range for the dollar ratio. The car is enjoyable to drive, quick, and downright affordable unless your dealer marks it up above MSRP. During our time with the EV6, more than one stranger came over to see and photograph the EV6. It has a style many find appealing. Those looking for a roomy, stylish, five-passenger battery-electric vehicle with great range and ample cargo space will find it in the EV6.
Images of Kia EV6 by John Goreham
John Goreham is a long-time New England Motor Press Association member and recovering engineer. John's interest in EVs goes back to 1990, when he designed the thermal control system for an EV battery as part of an academic team. After earning his mechanical engineering degree, John completed a marketing program at Northeastern University and worked with automotive component manufacturers, in the semiconductor industry, and in biotech. In addition to Torque News, John's work has appeared in print in dozens of American news outlets and he provides reviews to many vehicle shopping sites. You can follow John on TikTok @ToknCars, on Twitter, and view his credentials at Linkedin
Re-Publication. If you wish to re-use this content, please contact Torque News for terms and conditions.