Lexus GX 460 SUV presents rare V8 powered mega SUV drive and ride experience
There's simply something unique about a V8 powered SUV that can't be replaced with a turbocharged low displacement engine regardless of horsepower and torque. Lexus GX just happens to be one of the finest full-size SUVs running the road today, albeit widely panned by the press.
Spending a week in the driver's seat of the big, in your face, Lexus GX 460 SUV, was a treat for this gearhead. Although I've long embraced the evolving world of auto-electric-hybridization, like many North Americans, I learned to drive behind the wheel of a rather large, obnoxious, gas guzzling, and not so safe, V8 powered station wagon.
While Lexus GX, in my case, a very low mileage 2017 model, is a far cry from the station wagons and vans of last century, it is very large, V8 powered, and as road comfortable as your favorite easy chair on hydraulically dampened, air suspended, Teflon rollers. Wish to go hybrid, check out this Toyota 3 row.
Putting Lexus GX 460 into perspective takes some thought

For me, an automotive journalist that primarily covers the ever-evolving world of auto-electrification, to step back into the day of mid-displacement V8 gasoline powered, 6-speed automatic torque transferred rear-wheel drive, is somewhat of a guilty pleasure. Toyota's luxury division Lexus does produce several premium hybrid crossovers, GX 460 is not one of them.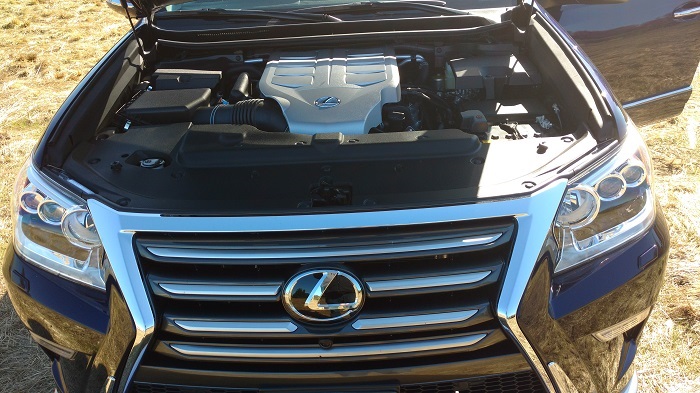 In effect, much like the Toyota Tundra, or in the case of a full-size SUV, Chevrolet Tahoe, Suburban, etc, Lexus GX 460 utilizes a truck on frame auto-architecture, albeit Lexus refined to a fault -- I'll get back to that in a moment. Apparently, there is a place for this very substantial V8 powered fashion statement on the road today, perhaps in Dubai, or Houston Texas -- you don't find many used examples sitting around.
Lexus GX 460 loves the nightlife
Yes, I know: The tech-rich, leather-wrapped, wood detailed, premium sound Lexus GX 460 is specified to haul your 6500 lb boat, toy hauler, or Airstream Bambi, with ease of maneuverability and mild off-road capability -- so will my Chevy pickup truck. In truth Lexus GX 460 is a statement: 'I've made it, I go big, and fuel efficiency is secondary to my own wants and needs; besides, I feel safe when driving behind the wheel of a semi-truck sized SUV!'
For me, a rather conservative fuel miser, I found myself attempting to justify the $70,000 + MSRP for a premium SUV locked in a time warp. Lexus could absolutely build a luxury, electrified, high torque output, full size, 3-row SUV, they chose not to, for reasons known only to the powers to be. However, GX sales are up in 2017, with an increase of 47.1% for September, in comparison to September 2016.
It would appear that the V8 powered SUV is not dead in the U.S... Much like your uncle Ned when dressing to the nines for a night on the town, Lexus GX 460 looks awesome cruising the town. With well-placed safety and interior accent lighting in full play, our test rides' black leather on dark blue tight weave carpet transported 6 adults in Limo-like comfort and safety.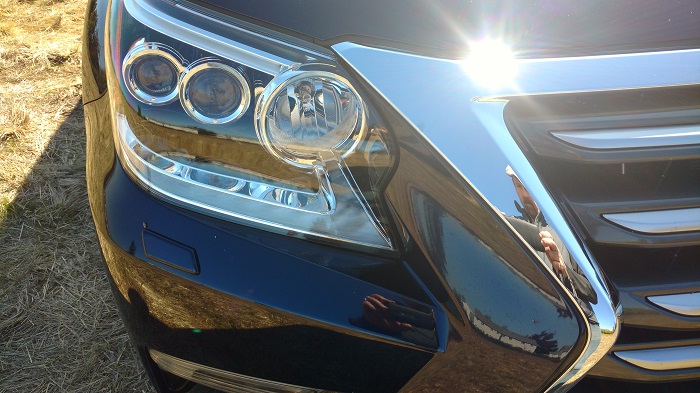 Near blackout side, windows framed the cityscape as concert quality music filtered through the 3-zone climate controlled, cushy interior confines. The hush of the smoothest running cylinder managed V8 engine in the industry easily motivated this surprisingly nimble 3-row through the busy traffic streets of Los Angeles -- as our 3-drive mode 6-speed automatic transmission transferred torque seamlessly through a rather good full-time all-wheel-drive suspension, softened by rear air, and active dampening. Sure, Lexus GX can venture off-road, but she's a bit heavy, and deserves more than dirty! Volvo has a heavy hitting premium hybrid 3 row SUV, it's pricey.
Actually, Lexus GX SUV is a bit more fuel efficient than anticipated

Here's the thing, getting back to those old-school V8 vans, station wagons, and SUVs.. In was not uncommon last century for the average V8 or V6 powered car or light truck to average 12 to 14 MPG.. While not a gas miser by any stretch, during our week in the seat, driving under variable weather and road conditions, Lexus GX in it's full optioned V8 glory, averaged 16.9 MPG, with a true 22 MPG realized in freeway driving at speeds averaging 75 MPH. That is astonishingly good fuel efficiency for a no holds barred, in your face, full size luxury 3-row SUV.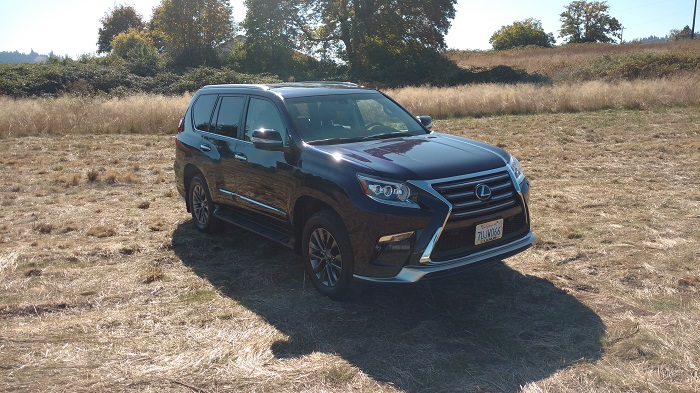 What I like about Lexus GX, what I'd change
Visually, Lexus GX is impressive. Albeit a bit boxy by today's wind tunnel tested design standards, Lexus engineering and design does a commendable job of presenting a rather well-balanced body design while preserving the Lexus luxury mark. The headlight and taillight design are impressive, the grill design is bold but not obnoxious, As to the interior, here we're a bit dated -- a bit too 'squared off' by today's design standards. While everything works well within its premium, brushed metal, and wood-detailed framework, it's time to lose some of the "box."
I find the one-panel moonroof to be a bit antiquated, the second-row seating to be a bit understated in overall size and girth, although it is comfortable. In a world of drop down segmented high-resolution screen rear row entertainment, Lexus opts for a rather small, yet good, seat back mounted viewing monitor. At $70,000+, I'm looking for a bit more theater here.
A little more horsepower and torque please: Unfortunately, at times, Lexus GX 'feels' a bit heavy in acceleration and handling. While the 4.6L V8 is capable, it's been detuned in a quest for greater fuel efficiency. In its present form, this rather good 32 valve V8 produces a rather meek 301 horsepower, and 329 lb-ft torque. Because it's not turbocharged, maximum torque comes on at 3500 RPM, great for passing, but how about the rest of the time? I'll forgive Lexus GX for being a bit understated off the traffic light. After all, luxury performance has many measures, and Lexus GX impresses at most turns.
I recommend a Lexus GX test drive to those discriminating few looking for the ultimate soft-touch full-size 3-row SUV. When compared to the competition, Lexus GX presents a design language unique unto itself. Lexus fans need to look no further.