It's not often that I'll drive a near full size SUV that affords not only descent in-town maneuverability, but fuel efficiency and on-tap acceleration rivaling many premium sedans on the road today. 2017 Toyota Highlander finds itself in good company with Honda Pilot, Kia Sorento, and Mazda CX 9, but they're not hybrid, and Toyota Highlander in hybrid form is available in LX trim for a fraction more than you'd pay for the non-hybrid competitors.
Yet there's more to Highlander Hybrid's story than a favorable MSRP, segment topping in town fuel efficiency, and tech rich interior accommodations.
Highlander Hybrid: 306 net horsepower, 29 MPG city, all wheel drive
2017 Toyota Highlander Hybrid comes to market with a beginning MSRP of $36,270 in base L.E. trim, full time all wheel drive, active safety, and tech rich personal connectivity features are available if not standard equipped.. I recently spent a week behind the wheel of a mid-trim-level XLE, (MSRP $ 41,330) good looking, comfortable and powerful. Within minutes of dropping into the perforated leather, power adjusted driver's seat, I'd realized that Toyota Highlander Hybrid was one of, if not, the best driving midsize SUV in north America.
Our test mule was equipped with premium sound, a full active safety suite, a premium wheel package, and a ceiling mounted, second and third row drop down theater monitor. With a total MSRP of $45,900, looking to Toyota's online build tool, I may have been driving an early " Limited" edition. At any rate, a very impressive, comprehensive package for the dollar spent.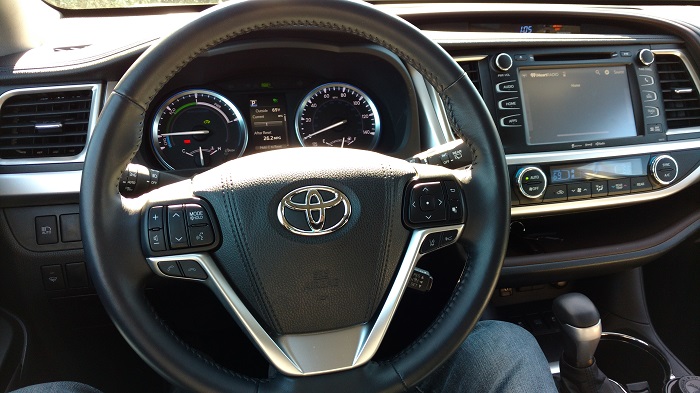 This cylinder managed 3.5 Liter V6, 2 electric motor motivated mild hybrid is surprisingly quick off the light. Producing 306 net horsepower, and adequate torque in the mid RPM range, Highlander transitions onto the highway with ease. Featuring a CVT (continuous variable transmission) with sequential shift, Highlander Hybrid drives more like a conventional SUV, while transitioning seamlessly from electric only to synergy hybrid drive -- I do love the electric-only near silent launch of this Toyota.
When approaching 2017 Highlander, one notices the redesigned grill, front facia, monochrome paint matched mirrors, door handles, and in our case, black-out 19 inch alloy spoke wheels. The body design is well balanced, yet truck-like, with just enough bling to compliment the Shoreline Blue Pearl paint and black leather interior. Due to a high, chunky stance, Highlander is a fat, in your-face, 3 row SUV -- a head turner everywhere we drove it.
Despite curb weight approaching 2.5-tons, Highlander Hybrid proves to be surprisingly maneuverable in town, premium car quiet and refined on the highway. During our 1 week test drive, I averaged a real world 27 MPG combined, city and highway driving -- astoundingly good fuel efficiency for a well equipped all-wheel-drive mid size SUV.
Highlander's interior layout is impressive, but…
As is often said on a road trip: "I'll take shot gun!" The most comfortable seating position in 2017 Highlander Hybrid just happens to be the front passenger seat. While not as infinitely adjustable as the driver's seat, it is power adjusted and heated, affording seemingly endless legroom for the taller passenger.
With dual climate control, and ease of access to the high resolution touch-screen monitor, and a fist full of handy analog knobs, within a few moments of entering the well finished cabin of Highlander, operation becomes very familiar and user friendly. Initially, I perceived Highlander as a 2-row, it's relatively short from the outside, but there is a 3rd row, with easy one-touch slide and tilt access through the second row -- but it's a bit tight back there. I recommend row 3 for the kids or pets in the group. As to cargo space behind row 3, forget about it.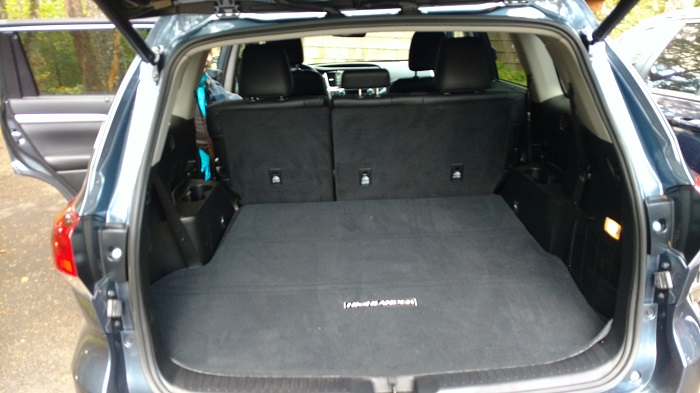 As a detractor, visibility is very limited through the rear window with the seats in the up position. From what I could tell , the headrests are adjustable, but not removable. With seats in the folded position, Highlander features a near flat cargo deck, large enough for air mattress weekend camping, or that weekend outing to your local building center or supermarket. I wasn't anticipation Highlander to drive as well as it does. For me the exceptional fuel economy, while not the highest in the segment, remains astounding for a vehicle of this size and presence -- Highlander Hybrid effectively takes the guilt out of SUV driving. Need a smaller hatchback for the kids?
I've driven better performers, but not better for the $
While arguably not a great sport-handler on the sweeps, Highlander's all weather full time AWD traction is exceptional, and body roll minimal. I found the brake and steering feel to be natural, and seat comfort to be exceptional.
For 2017, Toyota presents a well built, posh, near premium grade hybrid SUV that bests much of the competition, including its very reasonable price point; fuel efficiency is simply the icing on the cake.
What I like
Reasonable MSRP, near full size interior accommodations, ride quality, cabin quiet, and great fuel efficiency.
What I'd change
CVT tends to high rev at times, suspension could benefit from stiffer reactive dampening, I'd appreciate a bit more transparency in the online build tool, could benefit from seat pre sets, and a bit more intuitive driver to car personal electronic connectivity. Other than that, perfect!