The first time I sat behind the wheel of Honda's latest Civic manifestation, all the troubles of American Honda's past melted into distant memory. As I settled into the comfort zone that is arguably the best drive and ride environment available in the compact sedan segment today, the realization that Honda had just hit a proverbial home run with Civic's break out design was a given. Looking to the numbers, 87,303 of your family, friends and neighbors agree with me.
87,303 Honda Civics sold in the first quarter of 2016
Honda Civic sales are up 28% in March with 2016 Honda Accord sales(+12.3% for the year)close on its bumper. Between the two iconic marks, American Honda Motors car division is one of if not the fastest growing automotive brand in the U.S., with 63,378 new compact and midsize sedans and coupes on the road in March. Catch my Malibu Civic drive adventure here.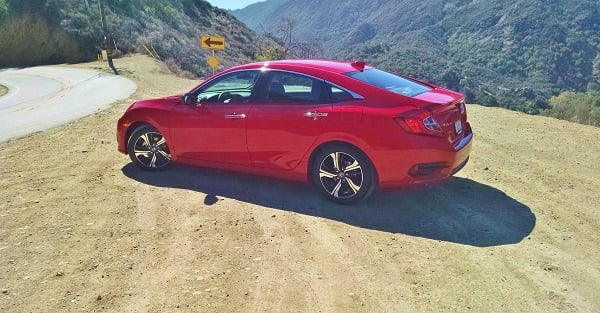 As our friend Mr. Jeff Conrad senior vice president and general manager of the Honda Division so eloquently puts it: "The power of Honda's well-balanced portfolio was on full display in March," said Jeff Conrad, senior vice president and general manager of the Honda Division. "Importantly, we will continue to strengthen both our car and truck lineups throughout the year, with new core and niche products to further extend the brand's appeal."
10th generation Civic is new from the drafting board to you
There's nothing "refreshed" or recycled about 2016 Civic Sedan or Coupe. Constructed on an all new up-sized and refined "world compact platform," Honda engineering goes directly after the European auto makers with what is arguably the most comfortable, quietest and visual refined Civic in the marks 44 year history. Catch my latest 2016 Honda Civic drive review here.