While "hate" may be a bit over the top as to how I felt about Honda Civic prior to driving the 10th generation 2016 Civic Sedan last fall, I wasn't a big fan of a Honda mainstay that I believed had morphed into the 'bread and butter,' downsized Ford LTD of the Honda family.
Outside of a handful of "tuners" rolling around the streets of Eugene, Oregon, Civic, while arguable pleasant looking, was not an exciting car by any measure. And, although 2015 was arguably a great year for Civic as to new found refinement, it was time to shake up the compact segment a bit with the introduction of the most dynamic Civic design in the maker's history.

I've always found Civic to be capable, albeit a bit rough around the edges, as to interior road to cabin noise levels, marginally comfortable seats, and a ride quality that needed a bit of improvement. I reasoned that this comfort and performance "sacrifice" came along with exceptional fuel economy, utility and mostly bulletproof reliability.
"Not exciting, but practical, and pretty good!" That was my personal assessment of Civic prior to the introduction of the 2016, 10th generation lineup.
2016 Civic Coupe is #2 in a 5 variant roll out
Let's get down to it: 2016 Honda Civic Coupe, from the not so bare bones 2.0 Liter normally aspirated, 6 speed manual shifted LX, to the fully loaded 1.5 Liter fuel injected turbocharged CVT shifted Civic Coupe Touring, is the most refined and fun to drive Civic Coupe in American Honda Motors history.
This designed and developed in California world-car moves the Civic brand into the forefront of the compact car segment through the European inspired body line, greater dimension, a new 1.5 inch lower driver's seating position, wider tracking and a midsize comfort cabin feel.
Seriously, unless parked next to a 2016 Accord Coupe, you could easily mistake this compact for its up sized counterpart. "Small" is not the first word that comes to mind when viewing the Civic Coupe.

A substantial injection of "premium"
On a recent press junket to San Diego, California, we took 2016 Civic Coupe through its paces on the highways and back roads of San Diego hill and canyon country. Previously spending some quality seat time in 2016 Civic Sedan, sent the mental wheels rolling as to what this initial test drive of Civic Coupe might be like. Interestingly enough, there is a measurable difference in the drive and ride dynamic of these two cars.
Honda engineering informs Torque News that 2016 Civic Coupe handling characteristics, steering wheel to road feel, shift patterns and torque band has been specifically tuned to the liking of the "Coupe Driver." Honda refers to this inherent characteristic as "Dynamic Performance." Within minutes of taking the wheel the Civic Coupe's driver to car connection becomes second nature and effortless,
Due to the lowered seat position - viewpoint, one feels a closer connection to the road surface, which quickly translates into perhaps a more confident, dare I say aggressive driving style. With 174 horsepower and 162 lb-ft torque, the turbo Coupe brings a new European inspired drive dynamic to the compact car segment, a greatly refined ride, with the suspension and braking to safely control the first turbocharged Civic lineup offered to North America.
Yet, when driven with civility, 10th generation Civic quiets down and rides like an Acura. The truth is, for the dollar spent, no other brand offering in the compact segment approaches 2016 Civic Coupe for overall purchase value.
2.0 L or turbo 1.5 L?
Interestingly enough, after driving the 2.0 Liter 6 speed manually shifted LX, I decided that for my personal daily driving needs, the lower end of the Civic Coupe lineup worked for me. I found that "sweet spot" in fourth gear where torque band converges with horsepower, and basically held it for several miles while driving up a back roads canyon road.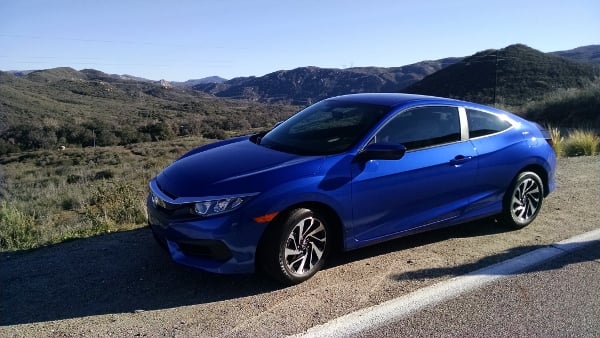 Noted here is an absence of torque-steer off of the light, a reduced clutch pedal pressure, a forgiving manual transmission gear mesh, and perhaps one more gear than required.(I found the manual transmission to be rather long-legged.) But I suppose that that's where we find find the class leading fuel economy.
Civic Coupe danced through the back road two-lane sweeps with ease and stability. It's road-sticky, without being overly stiff, nothing "economy" feeling about it.
I never lost my line, despite pushing 2016 Civic Coupe to its limit with Hondapro Jason riding shotgun. Finding the "Red line" more than once, Civic never so much as hiccuped in protest, as I pushed the engine, transmission and braking to a red glow. Had Honda engineering produced the perfect economy performance coupe?
It was that hang your elbow out the side window kind of driving one does when all systems mesh into a synergy of sorts. Total control one-finger driving meets exceptional braking and transmission gear mesh. Actually, I forgot that I was driving Honda's portal Coupe.
With just enough road feel telegraphed to the cabin through the steering wheel and the low hum of tires meeting a rough surfaced road, I fell back in "like" with the car of my teen hood. With that new found realization I depressed the pedal to the floor mat. After thoroughly mentally measuring the performance difference between the Earth Dreams ™ engine equipped 2016 Civic Coupe LX, and the 9th generation Civic I'd driven the week before -- both were good cars, but 10th generation Civic was better.
For the first time in decades, I'd strongly consider purchasing a Civic Coupe as my full time personal driver. As to the rear seat. It's bigger than you think, and I do appreciate the utility afforded by the folding 40/60 rear bench and pass through trunk access. The pilot and copilot seating and access to manual, touchscreen and voice activated controls is best in class, as is the premium infotainment option available in EX-L and Touring trims.
The greatest Civic value may be found in the basic LX
Producing greater torque and horsepower than the 1.8 Liter Coupe, (158 horsepower, 138 ft-lb torque) 2016 Civic Coupe proves to be very road capable in any trim variant. For me, with a guessed MSRP of -$18,500, is the measurable bargain of the 2016 Civic lineup.
The greatest difference noted between 2016 Civic and past generations, can be found in the wide-track, longer wheelbase stability, bigger car cabin comfort, and new found quiet of the reinvented Civic Coupe. There's a few changes inside as to expanded personal electronics connectivity, active and passive safety features, and a much improved interior.

In closing, What you see on the outside of 2016 Civic Coupe is a hint as to the performance found behind the wheel of Honda's reinvented 10th generation Civic. Is it perfect? While that's personal assessment, 2016 Civic Coupe features, drive performance and body design knocks on the door of European and premium Asian brand offerings costing thousands $ more. But that's just part of the story.
For anyone considering the purchase of a compact or midsize mild performance coupe, with sport-like tendency, I highly recommend test driving 2016 Civic Coupe. The new found performance and comfort is a pleasant surprise, the look, dynamic, the quality of product, pure Honda.