Photo Attributes Hondapro Jason 2016
According to a Thursday article first posted on Motor Trend.com, not only did Honda tuner Hondata demonstrate that the 2016 Honda CVT shifted, turbocharged Civic sedan produces greater than stated horsepower and torque when measured at the drive wheel on a Dyno, but when competing with a manually shifted 9th generation Civic Si on a dragstrip, is quicker not only off the line, but to the finish line.
Looking to the numbers: Hondata demonstrates that Honda may have understated the available horsepower and torque generated by the all new 1.5 liter Earth Dreams ™, fuel injected turbocharged VTEC 4 cylinder gasoline engine.
As noted by Hondata, the CVT transmission makes it difficult to nail down an accurate Dyno reading. Also, Honda's claimed rating of 174 horsepower, 162 ft-lb torque is read at the engine. in the Hondata test, the measurement is taken at the drive wheel.
In the Hondata test, Honda's segment busting Civic registers an impressive 177 horsepower, 190 ft-lb torque. While lower than the 9th generation Civic Si, the CVT does a better job of delivering engine power to the differential than a manual transmission does, no matter how proficient at shifting the driver is.
We noticed the CVT superiority recently in San Diego while driving the manually shifted, turbocharged Civic test mule. The CVT drive experience was superior!

We knew that 2016 Civic was quick, but that quick?
I may have been just a bit preoccupied with the new found refinement and driving comfort exhibited by 2016 Civic turbo EX to realize how quick it was. Experiencing the "world-compact platformed" 10th generation Civic sedan for the first time on the downhill 2-lane that is Malibu Canyon was inspiring. And yes, I did find 100+ mph speed, probably more often than I should have.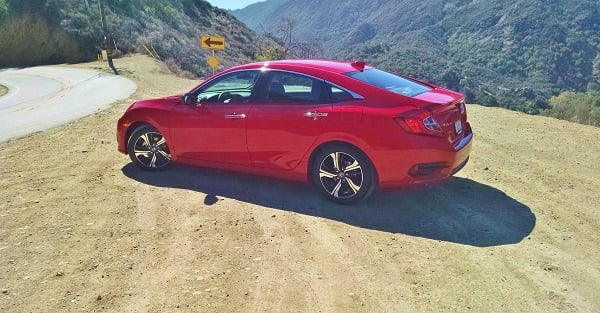 None the less, I successfully returned the test mule to Honda without mishap, later to experience the all new 2016 Civic Coupe Touring Edition. I'll be sharing my initial drive impressions of the Civic Coupe on Monday. Until then, check out the video compliments of Hondata.