Granted, the H.P.D (Honda Performance Development) turbocharged 600 horsepower 2017 Honda Civic super-coupe, has about as much in common with the production version Civic Coupe, as the 2017 Honda Ridgeline Baja Race Truck his in common with your neighbor's barbecue hauling civilian Ridgeline.
Yet, racing sits at the foundation of Honda's manufacturing roots, and Honda engineering embraces race track bench-tested product development, and injects a bit of the magic into every 10th generation turbocharged Honda Civics on the road today. Torque News first reported on Red Bull Honda Civic Coupe in early 2016.
18 year old Oliver Ericksson drives Honda Civic to a 4th place finish in Indianapolis
While race team Olsbergs MSE is a mainstay in the world of Rallycross, Honda's relatively new to this extreme autosport, as is young Oliver Ericksson. However, Honda Civic is on a roll, and within 6 points of Red Bull Global Rallycross points leader VW, with Subaru running a very close 3rd in manufacturer point standing. A winning season for Red Bull Honda Civic. Red Bull GRC comes to Los Angeles.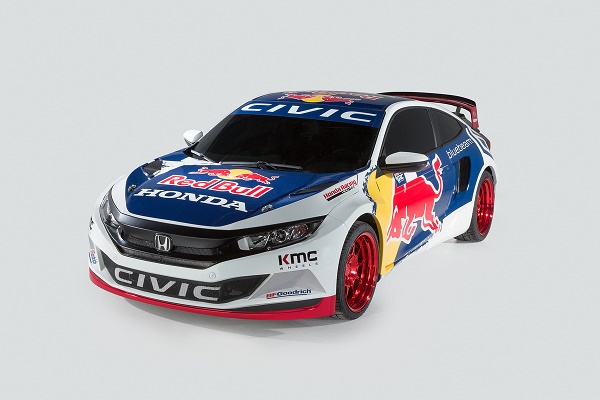 Honda gives us a lap by lap account of last weekend's action. In short, Oliver Ericksson claims his best finish to date, in the 7th round final of Red Bull Global Rallycross at the Lucas Oil Raceway infield in Indianapolis. Held on a .767 - mile circuit, on a mixed surface track, composed of asphalt, dirt, gravel, a water hazard and a high jump, Red Bull GRC is as close as 4-wheels will ever come to indoor arena motocross or X-Games. You will find the season schedule here.