For 2019 along with a total Camry reinvent comes the rebooted Toyota Avalon. Long the flagship of Toyota's North American sedan lineup, Avalon takes on more than a handful of Lexus design cues including a massive grill and body line integrated head and tail light modules.
We take Avalon out on the road for a week in Western Oregon. It's late Winter, the weather harsh, yet Avalon takes it in stride, effectively isolating driver and passenger from the elements in solid comfort and safety.
A face only a mother could love
2019 Toyota Avalon takes a design cue from the Lexus lineup. What's good for Lexus must be good for Toyota, right? While the look has grown on me, others encountered along the drive path are less than enthusiastic.
Many Toyota fans interviewed along our drive route find Avalon's grill design a bit too edgy. Yet, in talking with Toyota P.R., we learn that the new design (first adapted by the Camry lineup) is very popular with younger progressive buyers, a demographic that all makers target to hold the bottom line, if not expand sales in a diminishing sedan segment.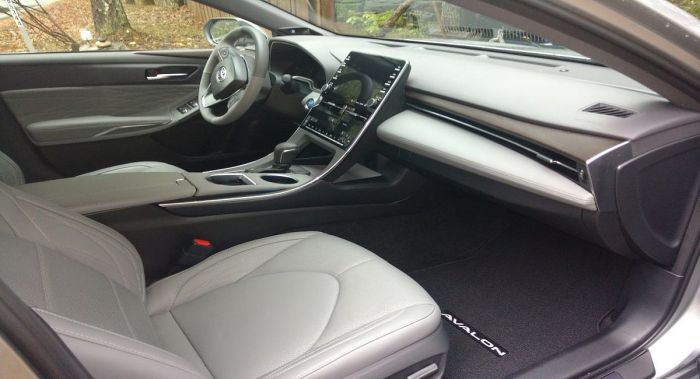 Avalon's futuristic inspired design speaks to performance and prestige
Sliding onto the driver's seat of 2019 Avalon is an affirmation of sorts. The promise of a premium car fit and finish is realized within seconds of entering the well appointed confines of Toyota's largest North American sedan offering. Competing with the likes of Acura RLX, Ford Focus Limited, and yes, Lincoln Continental in a mid-trim offering, Avalon gives the near premium sedan makers a run for your dollar.
This near full size 5 passenger sedan, while not opulent in a Mercedes C-Class sort of way, should not be ignored when quantifying total value component packaging and fuel economy performance. Toyota engineering combines a high compression, low displacement 2.5 Liter, dual injected, high efficiency gasoline engine with a 118 horsepower electric motor, resulting in a torque-abundant, quiet drive and ride experience.
We recorded 45 MPG driving under variable road and weather conditions -- amazing for a near full sized sedan tipping the scales at 3750 LB.
2019 Toyota Avalon Hybrid is a very capable do-all commuter
Viewing the clean, understated slip-stream body line of 2019 Avalon takes us back to a bygone era of long hooded touring cars. Our test car's elegant architecture is accented with just enough bling to catch the eye. Aerodynamic head and tail lights accentuate the futuristic low to the ground wide toothed grin of a shark-inspired automotive behemoth. Impressive, yet nimble in road handling and ease of parking, Toyota presents an Avalon that's as happy in town as it is on the Interstate.
Ease of ingress and egress is assured for driver and passenger through generously sized side doors. Viewing the cabin, premium perforated leather, heated and cooled seats featured in this Limited Hybrid promote a pain free drive and ride experience -- in possibly the quietest Toyota salon we've experienced to date.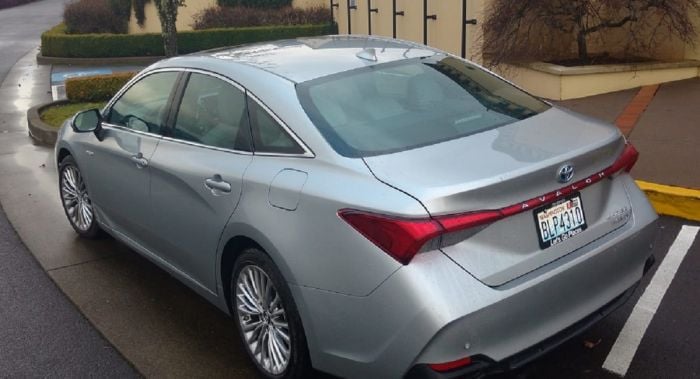 Lean back, set the cruise control, and dial in your favorite premium music source. Our test ride features a JBL Entune 3.0 Audio Plus premium concert hall-like Stereo System with ease of selection and sound level control from the intuitive smart wheel, or center dash touch screen monitor. After driving well over 1,000 miles in Toyota's latest Avalon Hybrid we note little to no drive fatigue.
Price point, fuel economy, good looks and more
With a beginning MSRP of $36,500 * Standard Avalon Hybrid LXE, and a fully optioned price as tested of $44,870 * 2019 Avalon Hybrid Limited with Advanced Safety Package.
We recommend a 2019 Toyota Avalon test drive to anyone considering the lease or purchase of a mid or full size premium sedan. The Advanced Car Team walks away impressed by not only combined horsepower and torque, but refined ride, seat comfort and fuel economy, as well.
Photo Attributes Parks McCants 2019