2017 Accord Hybrid Mainstreams Eco Conscious Cool
For Torque News Accord Hybrid fans anxiously awaiting the availability of the much improved manufactured in Japan 2017 Accord Hybrid, your ship is about to come in. This is the best looking Accord sedan in Honda history.
According to Wednesday's Honda News, select dealerships in Canada and the U.S. will begin taking deliveries of the substantially refreshed 2 motor midsize hybrid sedan the 3rd week in June.
This is good news for consumers that have waited months for the return of the mostly 'sold out' Accord Hybrid since manufacturing transitioned back to Japan in 2015. Read our Accord Hybrid drive experience here.
$300 to $600 MSRP increase offset by greater standard features
For model year 2017, buyers will discover a stylish midsize 4 door sedan of exceptional build quality, uptick interior finishes, a larger trunk,(thanks to improved battery module technology) greater torque and extended electric-only range.
+16 horsepower, Honda Sensing, Park Assist, Increased fuel efficiency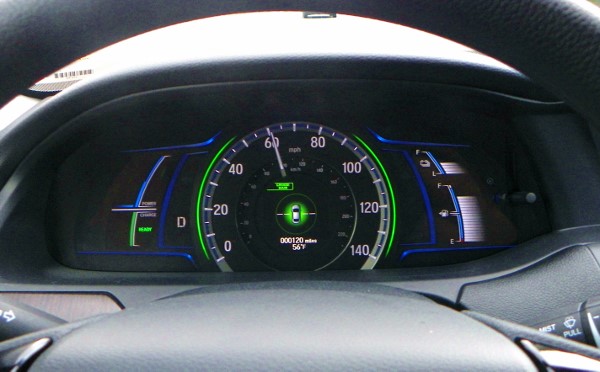 *Accord, America's favorite car 5 out of the past 6 years just set the high water mark for midsize sedan 4 door hybrid fuel efficiency, with an EPA-MPG rating of 49 city/47 highway/48 combined. Sporting class leading interior space, Honda Sensing ™ standard, assisted front and rear parking sensors, Lane watch ™ and more, 2017 Accord hybrid carries forward the legacy of the first gasoline/electric hybrid car in North America while mainstreaming Eco Conscious Cool!
In the words of Mr. Jeff Conrad
"The Accord Hybrid is the ultimate Accord, offering exceptional dynamic qualities with the greatest technological sophistication and fuel efficiency in the Accord family," said Jeff Conrad, Senior Vice President and General Manager of Honda Division, American Honda Motor Co., Inc. "Consumers have made Accord America's top selling midsize sedan, recognizing its unique combination of performance, value, efficiency and refinement, and the 2017 Accord Hybrid ups the game in each of these traits."
The much improved 2017 Accord Hybrid comes to market with a beginning MSRP of $29,605.. Shadowing this car as to available trim levels, I believe that if Honda can keep up with consumer demand, Accord Hybrid will be a segment leader.