2016 Honda Civic Coupe drives 'Dynamic Performance' into the future
While the new European inspired body line speaks volumes as to Civic's new found sophisticated design directive, after experiencing an hour or so in the driver's seat, one truly appreciates what the 10th generation Civic Coupe brings to an often appliance like compact car segment.
For 2016, Civic Coupe shares an engineered and developed in Southern California "World Compact Car" manufacturing platform with the all new 2016 Civic Sedan, upcoming Civic Hatchback, Civic Si variants, and ultimately the eagerly anticipated Civic Type-R.
In short, 2016 Civic Coupe brings to the road a much improved drive and ride experience over the exiting 9th generation Civic.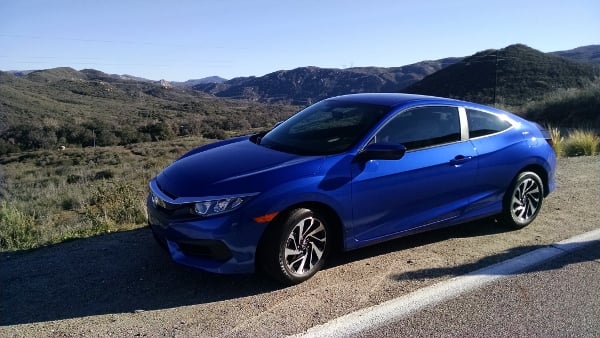 The 10th generation Civic Coupe comes to market a bit longer, wider and nearly an inch lower than previous offerings -- yet weighs less than the outgoing Civic, presenting a midsize car presence through a performance sedan like stance, closer to the road driving visual, resulting in a sport-like drive and ride experience.
The Civic Coupe experience begins with the best seat in Civic memory
Arguably, past generation Civic's have not been known for their exceptional drive and ride comfort, much less a "best in segment" seat design. For me, no longer being "wet behind the ears" (Kid) I can't say enough about Civics latest seat construction - supportive, yet comfortable.
When I sit in what is arguably the best designed, comfortable seat in Civic history, the end result is a feeling of familiarity, a no "break -in" required worn leather shoe human to car connectivity. This Civic Coupe is darn comfortable. And then there's the much quieter interior, greater refinement of finishes, expanded color pallet, and Honda's evident re dedication to manufacturing precision and excellence.
One won't find hubcaps and steel rims available to the Coupe lineup. Honda engineering has fine tuned the suspension and corresponding ride to the liking of the Coupe buyer. Although a mere 8% of Honda Civic owners, Honda looks to this group of mostly young buyers to eventually uptick into an Accord or the Acura lineup -- it's good business for Honda.
Fit and Finish
According to Honda Design and Engineering, 2016 Civic Coupe was in development for no less than 3.5 years. Dedication of "form follows function" is evident throughout Honda's latest Civic Coupe manifestation. Although I could argue that while 'dead on' as to reveal measurement, more than one of the exterior body panel lines, specific to the trunk and hood interface, could be a bit closer.
A handful of my colleagues would like to see the body panel alignment just a bit tighter.
Hey! no big deal --the paint is flawless, as are the alloy wheel designs for 2016 -- the 10th generation Civic screams quality.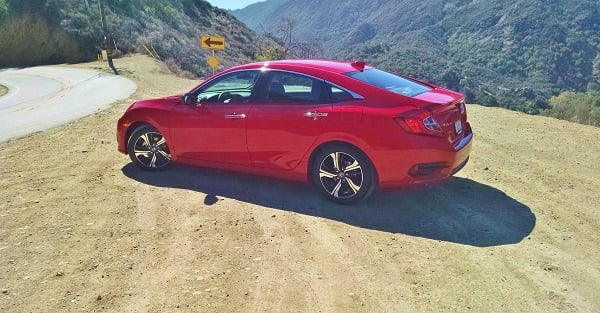 First drive impressions

Finding a compact coupe in the Honda lineup that comfortably fit this super-sized journalist was not only a pleasant surprise, but eased me into a slightly aggressive "coupe-guy-attitude."
I quickly discovered just enough 'active' steering feel,road generated vibration and tire noise, (minimal) to appreciate the fact that 2016 Civic Coupe was the best handling compact I'd driven in the better part of a decade. The road performance was there, as was an unprecedented level of driver and passenger cabin comfort.
With "Hondapro Jason" sitting in the shotgun position, we headed out to the east side of San Diego county for some uphill two lane road carving. Available in 2 engine, and 2 transmission combinations, I found all trim offerings to be highly capable of smoking the best that the "C" segment had to offer -- in the under $25,000 price bracket.

Off and running
We began the San Diego drive event in the all new 2016 Civic Coupe Touring. Honda's top of the lineup Civic proved to be an exceptional exercise in automotive excellence. With a new found 174 horsepower and 162 ft-lb torque, CVT shifting, much improved suspension, braking and wheel designs, Jason and I effortlessly merged onto the freeway at 80 + mph, with plenty of throttle left.
Evidently, Honda engineering had eliminated much of the torque steer associated with front wheel drive, in-fact it was no longer a consideration. 2016 Civic Coupe demonstrated stability of ride, train-track like, one finger steering wheel control, and from where I sit, fade-free braking.
When allowed to do so, Civic Coupe will transition into a comfortable ride that largely ignores road surface irregularities -- there's nothing compact about it! Honda has once again mastered that multi purpose personal conveyance that bridges the gap between daily commute duty and sport driving.
Hydraulic dampening, a more rigid ACE ™ body structure, and superior metallurgy combines to create a lighter vehicle of greater frame rigidity, lower dead weight bounce, and far less transfer of what's going on outside the car to the passenger compartment. Furthermore, there's a noticeable uptick in what Honda Engineering refers to as "Dynamic Performance," something that 2016 Civic Coupe has much of.

Following a day of aggressive, mixed driving, I exited Civic Coupe with an ear to ear grin, something that I'm not necessarily known for. There was no driver fatigue, or discomfort noted, despite the fact that I was sitting in what in the past had been considered an entry level 'economy' compact coupe -- those days are long gone for the Honda brand.
Driving Honda's latest Civic Coupe returns me to the fond memories of the rev-happy Civic of yesteryear -- with a change or two as to comfort, personal electronic connectivity, and a much refined drive and ride experience. Honda has largely removed the "chore" of driving as 2016 Honda Civic Coupe writes the next page in compact auto evolution.