Subaru Corporation and Subaru Tecnica International (STI), Subaru's motorsports partner, announced it will be all about performance at the Tokyo Auto Salon 2018. Subaru will bring new WRX STI rumble with the VIZIV Performance STI Concept which will be a forerunner of the fifth-generation 2020 Subaru WRX STI to the show for performance fans.
This is the car based on the Subaru VIZIV Performance Concept exhibited at the 45th Tokyo Motor Show 2017 held last October. That concept brought the vision Subaru has for the next-generation WRX. Now it's the brands chance to showcase the next-generation WRX STI scheduled to make its global debut in 2019.
The "Subaru VIZIV Performance STI Concept" (coined from the phrase "Vision for Innovation") shows STI's performance car exterior design language with its exclusive front bumper, side sill spoiler, and rear wing. Subaru says the new aerodynamics will improve stability over the current sedan design.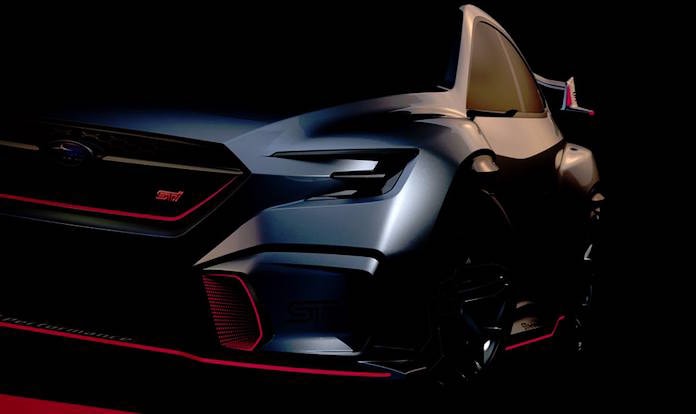 The production model likely won't look like the concept coming to the Tokyo Auto Salon, but if Subaru uses a more aggressive design to enhance the new-generation WRX STI, they will have succeeded. What we don't see is any hint of a 5-Door hatchback body style fans have been asking Subaru to bring back.
Subaru Corp will also bring the Subaru BRZ STI Sport -STI Performance concept to Tokyo Auto Salon 2018. It will be equipped with STI performance parts and give fans an idea of the next-generation Subaru BRZ. The second-generation BRZ/Toyota 86 remodel will launch sometime in 2020.
Subaru brings more performance models with the Subaru Levorg STI Sport -STI Performance concept, the WRX STI NBR Challenge 24-hour Nurburgring endurance race car, Subaru BRZ GT300 Super GT race car, 1993 Subaru Legacy New Zealand Rally car, 1996 Subaru Impreza #555 San Remo Rally car and the limited edition 2018 Subaru WRX STI S208 to the show for performance fans.
Performance enthusiasts are waiting to see what changes are coming to the fifth-generation 2020 Subaru WRX STI. The new VIZIV Performance STI Concept being unveiled at the Tokyo Auto Salon 2018 which will be held January 12-14, 2018 begins new-generation WRX STI rumble. Stay tuned.
We like to hear from our readers, so leave your comments below. What changes do you want to see in the new 2020 WRX STI? If you liked this article share it with friends and tweet it out to your followers!
Photo credit: Subaru Global