Subaru's all-new 2019 Crosstrek plug-in-hybrid is the only plug-in hybrid on the market offering true off-road capability and fuel saving PHEV technology. Active customers looking for extreme adventure and fuel-efficiency can have both. The all-new Crosstrek PHEV making its debut at the LA Auto Show comes with what Subaru calls their StarDrive technology but it won't come cheap. Starting at $34,995 plus $975 destination, it's priced $7,800 more than the top-trim Crosstrek 2.0i Limited trim.
Subaru tapped Toyota Prius Prime technology to build their first-ever PHEV. It's estimated to achieve an all-electric range of 17 miles making it a good city commuter during the week. Subaru says the new powertrain is a full second quicker from 0-60 mph than the standard Crosstrek and gets up to 90 MPGe with a total range of 480 miles when using both gas and electric power. The Crosstrek Hybrid is capable of speeds up to 65 mph when in full electric mode.
The Crosstrek StarDrive employs two electric motors coupled with a 2.0-liter Boxer gas engine and a new Lineartronic CVT (Continuously Variable Transmission). One motor functions as an engine starter and can be powered by the engine to function as a generator for the hybrid battery. The second motor powers the small SUV for hybrid and electric driving modes. It also charges the hybrid battery during regenerative braking.
The Subaru Crosstrek will be best and most efficient when used for city commuting" for EV driving, but this first-ever Crosstrek Plug-in Hybrid will maintain its current all-weather, all-terrain capabilities, improving fuel economy through "bursts of electric power."
Off-Road capability
The Crosstrek PHEV won't lose its "go-anywhere" attitude and customers wanting a vehicle for extreme off-road adventures won't be disappointed. It keeps its standard Symmetrical all-wheel-drive and comes standard with X-MODE and Hill Descent Control for enhanced performance in low-friction and off-road conditions. The Crosstrek Hybrid comes with 8.7-inches of ground clearance and has a 1,000 lb. towing capacity. The small SUV features 43.1 cu.ft of cargo space, enough space for camping or climbing gear.
How it's priced compared with other Plug-in-Hybrids
The new Crosstrek PHEV is only one of three models that offer all-wheel-drive. Here's how it compares with other Plug-in-Hybrids on the market. The Toyota Prius Prime starts at $27,300, Prius Prime Advanced $33,300, Ford Fusion Energy SE Luxury $31,400, the Chevy Volt LT $33,220, Chrysler Pacifica Hybrid $39,995, Ford C-Max Energi $27,120, Honda Clarity $33,400, Kia Niro Plug-In $27,900, Hyundai Ioniq Plug-In $24,950, Kia Optima PHEV $35,210. The Mini S E Countryman $36,800, and Mitsubishi Outlander PHEV $34,595 are the only other models offering all-wheel-drive.
Exclusive PHEV treatments
The 2019 Crosstrek Hybrid is available with a new Lagoon Blue Pearl exterior color, gets exclusive blue headlight projector rings and silver metallic finish on the front grille, lower front bumper and body cladding, and fog light accents. It features a "Plug-In Hybrid" badge on the rear gate and fenders, and "Plug-In" text is imprinted in the charge port door. Inside the Crosstrek PHEV features high-contrast Gray and Navy-Blue leather seats, door panels and armrests. The cabin also comes with blue stitching and accent panels throughout.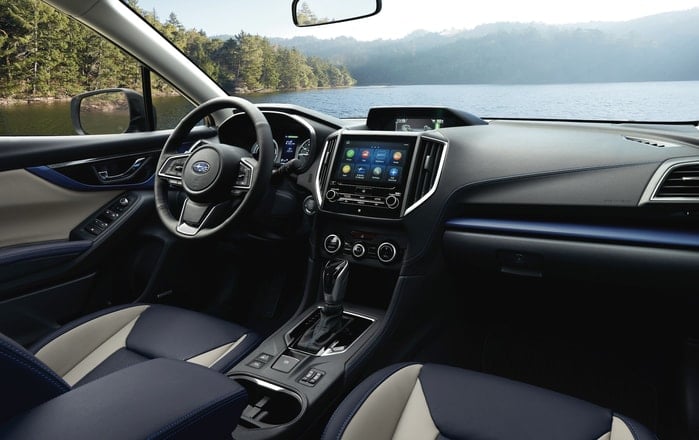 Subaru will offer an option package priced at $2,500 featuring a power moonroof, heated steering wheel and STARLINK 8.0-inch Multimedia Navigation system with voice-activated navigation powered by TomTom. The package also includes a Harman Kardon 8-speaker premium sound system.
The new Crosstrek PHEV will be fuel-efficient when used for city commuting and EV driving, and this first-ever Subaru Plug-in Hybrid will maintain its current all-weather, all-terrain capabilities. The 2019 Subaru Crosstrek plug-in-hybrid will have limited availability and will initially be offered in California. Subaru will expand the PHEV to 9 other states that have adopted California's zero-emission vehicle regulations and will be in Subaru showrooms at the end of the year. The Crosstrek PHEV will make its official debut at the LA Auto Show November 30- December 9, 2018.
Leave your comments below, share the article with friends and tweet it out to your followers!
Follow more Subaru news on Facebook, Twitter and Instagram
Photo credit: Subaru USA