New Kia Forte Gets Stinger Styling And Value Galore
The Kia Forte gets a complete remodel for 2019 with sporty Stinger styling on the outside and it grows 3-inches in length and has been slightly stretched in height and width. The additional length and width gives Forte more legroom and increased cargo room. Let's see if it fits your needs for an urban commuter.
This week we drive the all-new top trim 2019 Kia Forte EX model.
What's new for 2018?
Now in its third generation, the Kia Forte sedan has been fully redesigned for 2019.
Features & Options
The loaded Kia Forte EX trim ($21,990) comes standard with heated and ventilated front seats as well as leatherette upholstery, a standard 8.0-inch touchscreen with rear camera, with Apple CarPlay and Android Auto, as well as dual-zone automatic climate control. It also features push-button start, power driver's seat.
Forte also comes with Kia's suite of Advanced Driver Assistance Systems, which includes blind-spot warning, driver attention warning, lane keeping assist, forward collision avoidance, rear cross-traffic warning.
Options on this tester included The EX Launch Edition package ($3,210) including Harmon/Kardon premium audio, navigation, a power sunroof, LED lighting, wireless phone charger, forward collision avoidance, parking distance warning, smart cruise control, LED headlights, and a rear spoiler. Total MSRP including destination: $26,220.
Interior Highlights
Forte's upgraded cabin gets a new 8-inch touchscreen sitting above a new, clean designed dash. Since this sedan will be driven by a new generation of buyers, Kia added Android Auto and Apple CarPlay. The optional wireless charging tray on the center stack boosts power on compatible Android devices, plus Apple's iPhone 8 and iPhone X.
Everyone wants good tunes playing on the way to work and this EX tester came with the optional 320-watt Harman Kardon sound system. We cranked up the sound and left the world behind. The heated and cooled seats will make the commute as comfortable as you can get.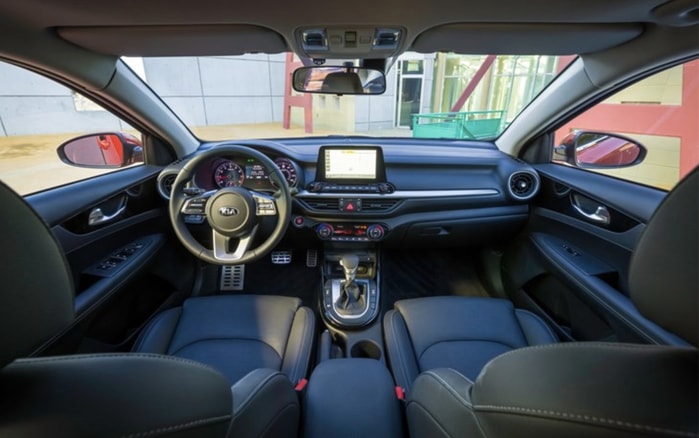 The 2019 Forte is moderately more spacious inside with additional legroom and more cargo room to haul weekend gear. With 15.1 cubic feet of cargo capacity, the Forte is now on a par with the Honda Civic sedan. If you need to haul adult passengers in the back, they will come with the added legroom.
Engine & Fuel Mileage Specs
The Kia Forte is powered by the previous generation 2.0-liter four-cylinder engine, designed for increased fuel efficiency. It comes with 147 horsepower and 132 pound-feet of torque. The South Korean automaker chose to focus on boosting mpg as opposed to power in the all-new Forte. The 2.0-liter engine is mated to Kia's new Intelligent Variable automatic transmission.
The Forte gets impressive fuel mileage. It gets an EPA estimated 30/40 city/ highway and 34 combined mpg.
Driving Dynamics
The Forte doesn't get any more power than the previous generation model, but it's capable for most driving situations you will need this small sedan for. It has enough power to get you up to highway speed, and it allowed us to get past slower traffic heading up I-70 at altitude west of Denver. The CVT automatic shifts somewhat like a conventional transmission but the annoying CVT whine is still there when you push it hard.
The cabin is fairly quiet and the ride is smooth on the open road. It's a comfortable cruiser in the city and you can easily navigate through heavy stop-and-go traffic, parking lots and narrow city streets. Visibility from the driver's seat is good for a sedan and you don't feel closed in like some small cars. What we were impressed most about the Forte, the sedan's fuel gauge didn't seem to drop at all this week as we drove in mountain and city traffic. You'll be able to drive past the gas station and not have to spend a fortune at the pump.
Conclusion
The 2019 Kia Forte EX is a good value and offers plenty of features for the money. It's especially a good value proposition with its strong fuel economy. It's a stylish sedan you won't be ashamed to take your friends in for a drive. Forte also comes with one of the most generous warranty coverages in the industry.
Photo credit: Kia USA