Active consumers in North America who want more attitude for their new fifth-generation 2019 Subaru Forester can get it from LP Aventure in Quebec, Canada. They have produced a lift kit for the new Forester SUV that will give it a more aggressive stance for more extreme off-road pursuits. Pictured here, the LP Aventure edition is a 2019 Forester Sport with Work emotion wheels wrapped in BF Goodrich K02 rubber and it gets the LP Aventure jack spacer.
You can improve the look and ground clearance of your 2019 Forester with the kit, and won't need to worry about scraping the lower body while traveling through scrub brush, a river or a rocky trail.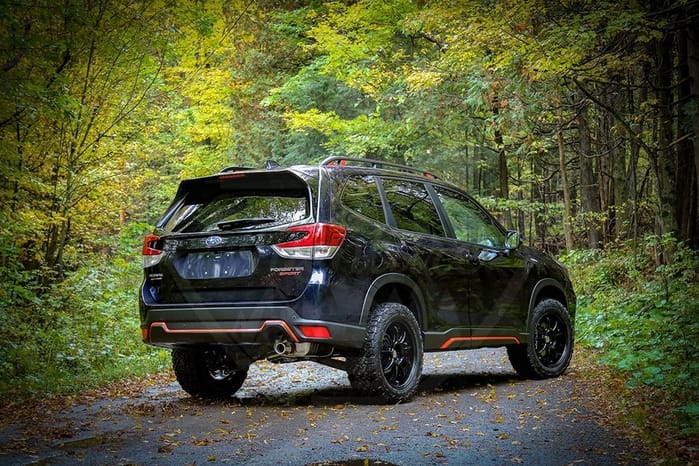 Forester has long been a model in the Subaru stable that is used by active individuals who take it on back-country adventures to go hiking, mountain biking, snowboarding, kayaking, and camping. For more fun in the dirt and extreme off-road situations, Subaru's X-Mode traction assist system is standard on all 2019 Subaru Forester trims.
READ: Chuck the New Subaru Sport, Fans Want a Performance Forester STI
Subaru infused the new Forester with some attitude and the spirit that made the Subaru brand successful in the beginning with lower bodyside cladding standard on all models, which helps protect against mud, rocks, and other road debris. LP Aventure says the full Forester kit will give it more attitude and will be available in a few weeks, in early November.
If you don't live in Canada, LP Adventure has distributors in 16 U.S. states where you can get one of these new Forester lift kits ($839 USD). They also have kits ready to go for the Ascent, Outback, and Crosstrek. LP Adventure says the final 2019 Subaru Forester product will be available soon. You can find a U.S. distributor or pre-order your kit here.
Leave your comments below, share the article with friends and tweet it out to your followers!
Follow more Forester news on Facebook, Twitter and Instagram
Photo credit: LP Adventure