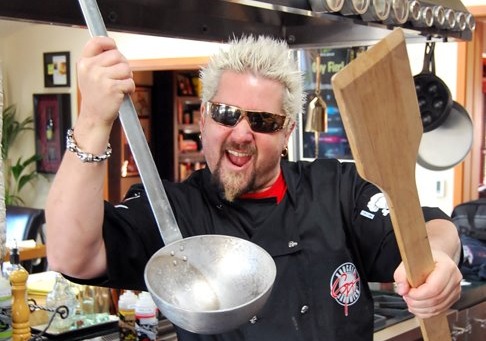 Guy Fieri celebrity chef to pace Indy 500 in 2013 Chevrolet Corvette ZR-1
Please
SHARE
with friends and include TorqueNews in
Google Alerts
for tomorrow's interesting stories.
Long time Chevy guy, celebrity chef, Corvette owner, and game show host, Guy Fieri (Fee-Eddy), will pace this year's Indy 500 in a Chevy Corvette ZR-1. This is the 11th time a Corvette has been the pace car, and the 23rd the pace car has been a Chevy. This year's pace corvette pace car will also be the fastest, most powerful production car to ever pace the race. With 638 hp and a Brembo braking systems complete with ceramic rotors, Guy should have no trouble getting up to speed and back down safely.
Fieri is a car guy's car guy and his driving the pace car is sure to give the race a boost in viewership. Jeff Belskus, Indianapolis Motor Speedway president and chief executive officer is quoted in a press release as saying "We look forward to welcoming Guy Fieri to the Indianapolis 500. He's full of energy and is a longtime 'car guy' – a perfect match for 'The Greatest Spectacle in Racing.' I'm sure he'll remember forever the moment he fires up the incredible 2013 Corvette ZR1 and paces the field to the green flag."
Please include TorqueNews in
Google Alerts
to receive tomorrow's stories and
SHARE
this with friends if it was interesting.
Fans of Fieri know that his signature ride is his 1968 Camaro SS which he drove from location to location in the hit series Diners, Drive-Ins and Dives . His is red with black rally stripes, though in general he has a thing for yellow and has "threatened" to change the original color to yellow one day. He has an impressive automobile collection which is highlighted on some of the many TV appearances he does including DIY Network's Garage Mahal. The garage created for Fieri's garage included over a half ton of vintage auto parts as decorations. The garage featured a bar on wheels with headlights.
Why Guy Fieri
The Indy 500 home page details Fieri's extensive collection of cars which includes the '68 Camaro SS, a 20017 Corvette, a Chevelle SS 454, a Silverado, a Chevy Kodiak C4500, and a Cadillac Escalade. (What gives Fieri? Suburban not good enough for you?) Being a celebrity car guy is not all fun and games though. Recently, Fieri's yellow Lamborghini Gallardo was stolen and then later recovered. Click here for the full story.
Guy Fieri will lead the pack of 33 cars onto the track shortly after noon on May 27th. Get your hot wings ready.
Image from Guy Fieri's Facebook Profile
Please
SHARE
with friends and include TorqueNews in
Google Alerts
for tomorrow's interesting stories.