The 2023 Cadillac Escalade is the flagship of the General Motors brand today. It packs one of the largest V8 engines for sale in America, it is one of the largest vehicles for sale in America, and without a doubt, one of the most luxurious. But how well does it handle grand touring duty? We set off to find out on the backcountry mountain roads of rural New Hampshire.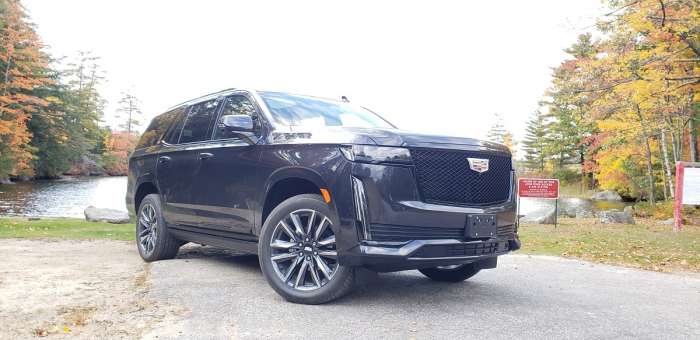 What Are We Driving?
Our test vehicle was a 4WD Sport Platinum edition of the 2023 Cadillac Escalade with a sticker price of $113,915. The five large in options included a refrigerated console special paint, night vision, a power retractable side step and some perimeter lighting. None of which has anything to do with touring, grand or otherwise. However, none of these got in the way of enjoying the Escalade on the open road.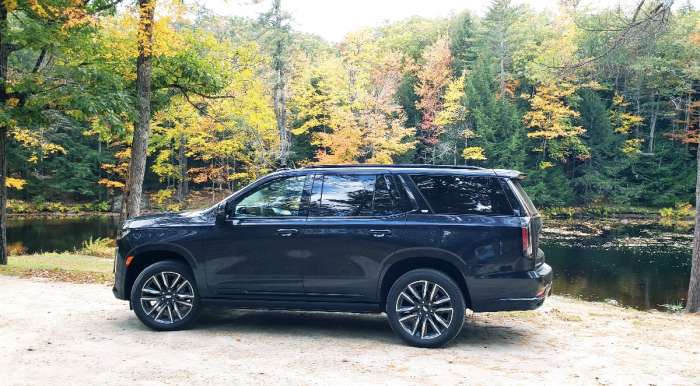 What Makes This Cadillac Special?
A number of things stood out for us in our testing of the Escalade. The suspension is both magnetic and pneumatic. Pretty crazy, but the upshot is that the Escalade handles quite nicely on sweeping turns and when you have a chance to hug a curve. Cornering is not the forte of very large vehicles with wheelbases measured in kilometers, but the Escalade defies all of physics and feels quite nice in a turn.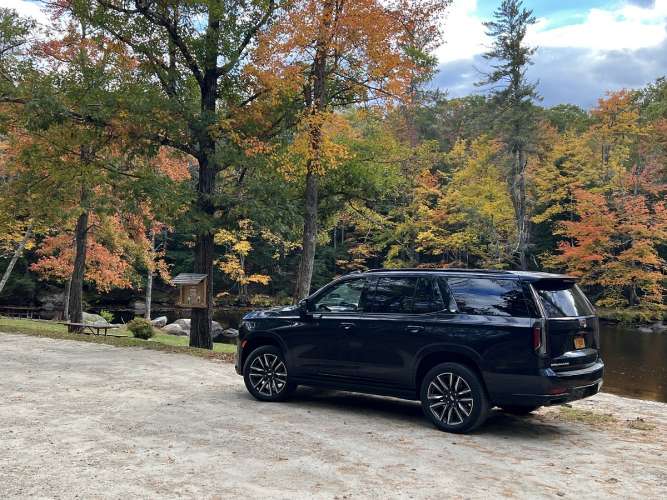 There is a limited-slip differential in the back of the Escalade that helps to put the power down effectively. This is perfect because 4WD is not a positive when you try to steer in tight situations. We like 2WD much better than 4High in the Escalade after trying both modes.
Power is generous from the 6.2-liters of displacement in the big V8. Paddle shifters and a sport mode are both available but unnecessary. All you need to add the speed you want is your toe on the throttle of the "Sport" trim of the Escalade.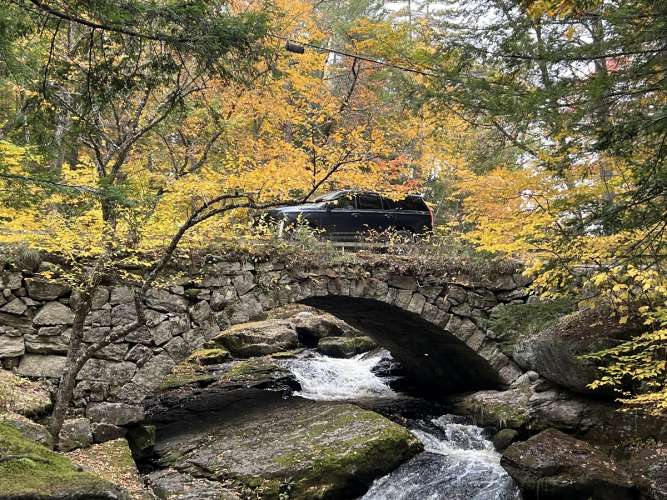 How Does the Escalade Drive On Open Roads?
Grand touring is driving open roads with speed limits above 45 MPH. The Escalade feels great doing this kind of driving. It's smooth, relaxing, responsive, and comfortable on the road. Wearing huge 22-inch low-profile touring tires, the Escalade is firm over bumps, but New Hampshire does a fantastic job of minimizing them. Most of the pavement we covered was a perfect black ribbon.
Bring the Comfort
Cadillac uses semi-aniline real leather seats in the Escalade. If you are a fan of soft perforated leather, these are for you. The steering wheel also has real leather and feels just right. The seats are adjustable every way you want, and the standard massage function doesn't shut off every few minutes like in many European brands' top models.
The Tech Is Perfect In the Escalade
Modern technology helps when grand touring. It does so by keeping your head up and focused on the road via the aptly named head-up display. The driver information display can be one big map view if you wish. The infotainment screen can be touched, or you can use the rotary mouse. Brilliant. There is a perfect phone cradle, and Android Auto and Apple Car Play are wireless and worked perfectly in our testing.
Who doesn't like some tunes when they drive for fun? We sure enjoyed the 36 speakers (yes thirty-six). You can rest assured that the Cadillac sound system rocks.
Safety, Sure Why Not?
There are sixteen different safety features standard on the Escalade, not including that it is the biggest, heaviest thing on the road, not a tractor-trailer. What we liked most about them is that the electronic nannies were never once annoyed us during our week with the Cadillac. In fact, the small vibrations the seat provides when you veer off the centerline of the road are just fine. They sort of tickle. Much better than the yank of the wheel of blaring buzzers many brands force you to endure.
Conclusion - Cadillac Escalade As a Grand Touring Vehicle
Surprisingly, the largest GM vehicle you can buy is quite pleasant in a setting more befitting a Corvette. If you need the hefty Cadillac with three rows of seats, be assured that your driving pleasure will not be compromised. And unlike in a 'Vette, should you get a flat, you can put on the full-size spare and be back on the road in a jiffy. A nice bonus when you are far from home touring the back roads during peak foliage.
Images of the 2023 Cadillac Escalade 4WD Sport Platinum by John Goreham
John Goreham is a long-time New England Motor Press Association member and recovering engineer. John's interest in EVs goes back to 1990 when he designed the thermal control system for an EV battery as part of an academic team. After earning his mechanical engineering degree, John completed a marketing program at Northeastern University and worked with automotive component manufacturers, in the semiconductor industry, and in biotech. In addition to Torque News, John's work has appeared in print in dozens of American news outlets and he provides reviews to many vehicle shopping sites. You can follow John on TikTok @ToknCars, on Twitter, and view his credentials at Linkedin
Re-Publication. If you wish to re-use this content, please contact Torque News for terms and conditions.