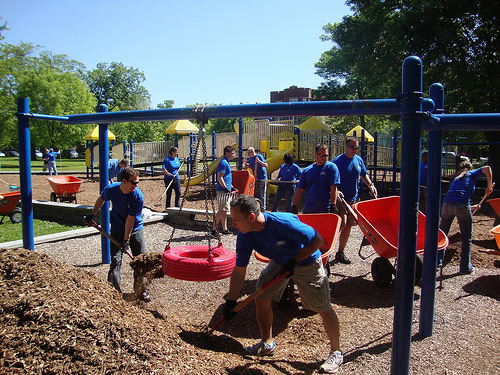 10,000 Ford volunteers working on projects globally this week
Please
SHARE
with friends and include TorqueNews in
Google Alerts
for tomorrow's interesting stories.
Every year, Ford holds its Global Week of Caring to highlight the work that the Ford Volunteer Corps do everyday, all year 'round. This year, Ford says they're expecting 10,000 employees, retirees and dealership employees to participate in projects in twenty different countries. These projects are funded by grants, local donations, and more. Ford is putting up $240,000 in grants funding for the week's events.
More than 200 community projects will be going on during this seventh annual event. These include playgrounds, beautification improvements, helping the elderly, the less fortunate, and more in Asia, Africa, Europe, and the Americas. Projects like repairing schools in Australia and South Africa, organizing an anti-litter rally in India, constructing community water projects in China and Thailand, installing water desalinization equipment in Indonesia, and putting up barn own boxes in the United Kingdom.
Please include TorqueNews in
Google Alerts
to receive tomorrow's stories and
SHARE
this with friends if it was interesting.
Projects in the United States are taking place in fifteen states around the nation, from helping Habitats for Humanity build homes to packing food and offering legal services to veterans.
In addition to the work, a total of $240,000 in grants are being dispersed by Ford to various non-profits associated with the volunteer efforts in order to supply the tools needed for their projects. One of those projects is a Habitat for Humanity house in Detroit.
"Around the world, Ford employees have built a reputation of making a difference with strong hands and huge hearts," said Jim Vella, president, Ford Motor Company Fund and Community Services. "We now have the momentum and resources to start taking the next steps toward realizing our global vision of year-round volunteer activities."
Teams of volunteers are called Model Teams and the Ford Volunteer Corps uses the "Model T" in that title as their logo. In addition to the Global Week of Caring, the Ford Volunteer Corps also runs Community Building events organized by local groups around the globe and in October, will be hosting World Food Day on the 16th in a drive to collect food for local homeless shelters and soup kitchens. More can be found at the Ford Volunteers site.
http://www.newspressusa.com/public/ViewPressRelease.aspx?pr=29932&pr_ref=2983
Please
SHARE
with friends and include TorqueNews in
Google Alerts
for tomorrow's interesting stories.