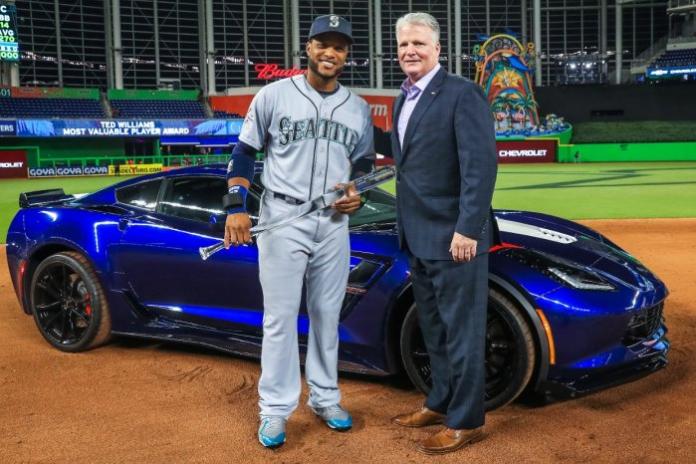 MLB All-Star Game MVP Robinson Cano Wins a Corvette Grand Sport
Each year, Chevrolet gives the winner of the Major League Baseball All-Star Game a new vehicle and for the 2017 All-Star Game, it was Seattle Mariners' second basement Robinson Cano. For winning that award, Cano drove home in a new Corvette Grand Sport.
Winning the Game, Winning a Corvette
Robinson Cano stepped to the plate in the 10th inning of the 2013 Major League Baseball All-Star Game with the score locked at 1 to 1. Cano took a pitch from Chicago Cubs' pitcher Wade Davis and hammered it over the outfield wall, putting the American League ahead for the time being and when they held off the National League batters in the bottom of the 10th – that home run won the game for the American League. The AL won the game 2 to 1 on Cano's homer, making it the 5th straight time where the American League has taken the All-Star Game win.
In hitting the 10th inning home run – which was the first all-star home run in extra innings since 1967 – gave Robinson Cano statistics of an RBI and a run scored, in addition to his 1 for 2 batting average in the game. His late game heroics earned him the 2017 Ted Williams All-Star Game Most Valuable Player award and with that came with Cano's choice of either a new Chevrolet Corvette Grand Sport or a new Chevrolet Colorado ZR2 and not surprisingly, the second basement chose the sports car.
His Corvette Grand Sport will come equipped with the 8-speed automatic transmission and the Z07 performance package, which makes this Corvette one of the best performing sports cars in the US market.
"Robinson Canó turned in a tremendous performance tonight and is an excellent example to all baseball fans, and especially our kids, that hustle, determination and teamwork are what wins, and that is why Chevrolet is proud to present the MVP award," said Brian Sweeney, U.S. vice president of Chevrolet (shown above with Cano). "At Chevrolet, we appreciate the positive effect that playing sports has on our kids and that is why it is so important for our brand and our dealers to support baseball at every level."
This was Cano's first All-Star MVP award in his 8 times in the midseason battle of the league's superstars while being the 3rd time that a Mariners player has taken the honors – with Cano following Suzuki Ichiro and Ken Griffey Jr.
Please
SHARE
with friends and include TorqueNews in
Google Alerts
for tomorrow's interesting stories.