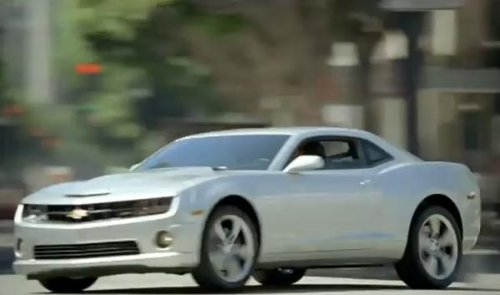 Another Chevrolet Super Bowl XLV ad surfaces
Yesterday, TorqueNews brought you a look at a commercial for the Camaro and Transformers 3 with the help of "BumbleBee" and today, we bring you a look at another humorous Camaro commercial. This commercial takes the approach of two guys discussing how they would make their perfect Camaro commercial. These two Camaro fans poke fun at all of the typical odd shots from car commercials, from racing at excessive speeds through the desert to weaving in and out of mirrors…then the commercial itself transforms into an action flick featuring a variety of gorgeous women and dramatic driving scenes.
Of course, as the two guys discuss their ideal Camaro Super Bowl XLV commercial, there are plenty of shots of the Camaro ripping past the camera – offering a great look and listen at the high performance muscle car. Finally, as the beautiful woman escapes trouble in her silver Camaro SS, she casually strolls into an elementary school where she works as a teacher.
Ok, so on paper (or screen, as the case may be) this commercial sounds a little odd but from all of the Super Bowl XLV commercials we have seen thus far; this one is my favorite. Check out the video below courtesy of Camaro5.com and catch this commercial on television during Super Bowl XLV this Sunday.
Source: Camaro5.com's YouTube
Other General Motors News:
Chevrolet's Super Bowl Commercial Features Transformers 3
Cadillac stays strong, helps GM lead the Big 3 in January sales
Camaro comfortably outsells Mustang, Challenger in January 2011
Chevrolet Volt stomps Nissan Leaf in first month of 2011
Please
SHARE
with friends and include TorqueNews in
Google Alerts
for tomorrow's interesting stories.