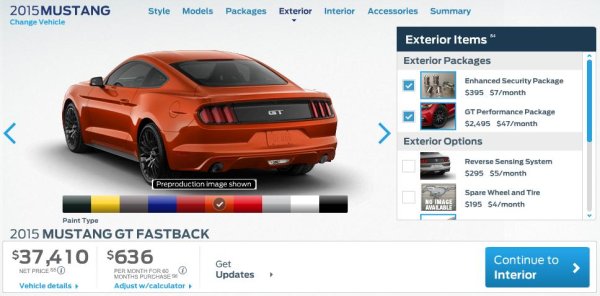 The 2015 Ford Mustang GT Fastback Offers the Most Bang for the Buck
Please
SHARE
with friends and include TorqueNews in
Google Alerts
for tomorrow's interesting stories.
The 2015 Ford Mustang GT Fastback is offered in two basic forms: the Premium 400A package and the non-Premium 300A package. The Premium package includes a bunch of high tech standard features like the high end sound system and leather seats, but it also adds a bunch of weight and it adds at least $4,000 to the price so for someone who truly doesn't care about gadgets that don't improve performance – the 2015 Mustang GT Fastback (300A) is your best choice.
Far Less Options, No Less Performance
When you use the Ford website to build a 2015 Ford Mustang GT Fastback, you do not get the option to pick from any available popular equipment groups like you do with the GT Premium. The base GT Fastback with the manual transmission starts at $32,100 while the automatic transmission bumps the price up to $33,295. After choosing your transmission, you are whisked away to the option screen where you begin by picking your exterior color. Like the GT Premium, there are ten exterior paint choices - Guard, Triple Yellow, Magnetic, Deep Impact Blue, Ruby Red, Competition Orange, Race Red, Ingot Silver, Oxford White and Black – with Triple Yellow adding $495 to the price while Ruby Red adds $395. The other 8 colors are available free of charge and as was the case when I built my ideal GT Premium Fastback, I would be all over Competition Orange for the standard price.
Exterior Options are Kept to a Minimum
Much in the same way that non-Premium buyers cannot pick from a popular equipment group, those buying the "base" 2015 Ford Mustang GT Fastback cannot select the 50 Years Appearance Package – but you can pick the GT Performance Package and in terms of bang for the buck – that package is a great option. For $2,495, you get a strut tower brace, a larger radiator, a larger rear sway bar, heavy duty front springs, a K-member brace, monster Brembo front brakes, a 3.73 Torsen rear differential, unique lightweight aluminum wheels in gloss black and an interior gauge pack. I would call this a must-have for anyone who wants to get the most performance out of their 2015 Mustang GT.
Those buying the base 2015 Mustang GT Fastback can also add an enhanced security package for $395, a reverse sensing system for $295 and a spare tire package for $195, but you cannot combine the spare tire with the GT Performance Package. Also, if you don't get the GT Performance Package, you can opt for a free spoiler delete or a set of machined 18 inch aluminum 5-spoke rims for $155.
Were I to be building a 2015 Mustang GT Fastback to order, I would pick Competition Orange with the enhanced security package and the GT Performance Package, bringing the price of my car to $35,815 after exterior options.
Pages
Please
SHARE
with friends and include TorqueNews in
Google Alerts
for tomorrow's interesting stories.