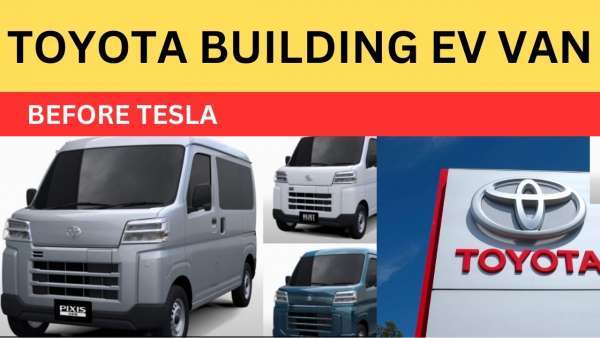 Toyota, Late in The EV Game, Builds an EV Van: Tesla's Countermove
The race to dominate the electric vehicle (EV) market is heating up, and Tesla, the industry leader, is facing an increasing number of challenges. While many eyes are focused on established automakers like Ford, General Motors, and Volkswagen, it's Toyota, along with its partners Suzuki and Daihatsu, that is poised to make a significant impact with its forthcoming electric van. By joining forces and leveraging their unique expertise, these Japanese automakers are set to disrupt the commercial EV market and give Tesla a run for its money.
Known for its pioneering efforts in hybrid technology, Toyota has been relatively slow to embrace the EV revolution. However, in April, the company made a bold commitment to the all-electric vehicle market, announcing plans to launch ten new EV models by 2026. With an ambitious annual production target of 1.5 million electric vehicles within three years, Toyota aims to bridge the gap and emerge as a serious contender in the EV market.
In a strategic move, Toyota partnered with Suzuki and Daihatsu, drawing upon their expertise in designing small cars, to develop a battery-electric mini-commercial van. This collaboration allows each manufacturer to contribute their unique knowledge while leveraging Toyota's electrification technology. By pooling their resources, these Japanese automakers aim to create a vehicle that will rival the likes of Ford's E-Transit, GM's BrightDrop, Volkswagen's ID.Buzz, and even Tesla's future commercial/passenger van.
The Unveiling of the Toyota's EV Van Prototype
To demonstrate their commitment to the EV market, Toyota, Suzuki, and Daihatsu have chosen to unveil a prototype of their battery-electric mini-commercial van at a prestigious exhibition event organized by the Japan Automobile Manufacturers Association (JAMA) and the G7 Hiroshima Summit. This unveiling, which takes place from May 18 to May 21, will showcase the culmination of their collective efforts and mark a significant milestone in their pursuit of electrification.
Tesla's Countermove
It would be remiss not to acknowledge Tesla's position in the commercial van space. Elon Musk, Tesla's CEO, hinted at the development of a commercial/passenger van during the company's Annual Shareholders Meeting. While details remain scarce, Musk's claim that Tesla's new vehicles will surpass industry standards in both design and manufacturing techniques has piqued curiosity. Tesla's potential entry into the commercial van market adds another layer of competition, further intensifying the battle for EV supremacy.
With Toyota, Suzuki, and Daihatsu teaming up to release their own versions of an electric van, the stage is set for a fierce competition with Tesla and other established automakers. Toyota's commitment to the EV market and its collaboration with industry leaders demonstrate a dedication to innovation and sustainability. As these Japanese automakers unveil their prototype at the exhibition, the world will witness the potential game-changing capabilities of their electric van. Whether Toyota can challenge Tesla's dominance remains to be seen, but one thing is certain: the race for EV supremacy has never been more captivating.
Armen Hareyan is the founder and the Editor in Chief of Torque News. He founded TorqueNews.com in 2010, which since then has been publishing expert news and analysis about the automotive industry. He can be reached at Torque News Twitter, Facebok, Linkedin and Youtube.
Reference: The Street, Teslarati.